For months, U.S. parents and caregivers have been facing dwindling supplies of baby formula. But in recent weeks, the products have been especially hard to find, forcing some retailers to limit purchases as the Food and Drug Administration scrambles to react to the crisis.
About 1 in 4 parents exclusively breastfeed their children up to the age of 6 months, according to the Centers for Disease Control and Prevention, leaving a large majority of parents and caregivers at least partially dependent on formula.
Here's what to know about the baby formula shortage.
Q: Why is baby formula so hard to find?
A: The shortage "has been compounded by supply chain challenges, product recalls and historic inflation," said Ben Reich, chief executive of Datasembly, which tracks retail information. Datasembly found that there was a 43% shortage nationally of baby formula last week - up from shortages of 30 to 40% last month.
Lingering supply chain disruptions from the coronavirus pandemic have caused shortages of many goods, but the lack of baby formula was made worse in February when the medical company Abbott recalled a slew of products made at a Michigan plant and sold under the labels Similac, Alimentum and EleCare after four cases - one in Minnesota, one in Texas and two in Ohio - were reported of infants falling ill with bacterial infections.
Two of the infants died, and the FDA said the bacteria, Cronobacter sakazakii, "may have contributed to the cause of death for both patients."
Q: What's being done to address the baby formula shortage?
A: FDA Commissioner Robert Califf said in a statement Tuesday that the agency was "doing everything in our power to ensure there is adequate product available where and when" parents and caregivers need it.
The agency is meeting with major manufacturers to "better understand their capacity to increase production," and the industry is "already working to maximize their production to meet new demands," the FDA said.
It is also expediting reviews of manufacturing changes and the issuing of certificates to "allow for flexibility" in importing approved products.
Still, the FDA is under bipartisan criticism for what some lawmakers say is the agency's failure to react quickly enough to safety concerns at the Abbott plant in Michigan.
Rep. Rosa DeLauro, D-Conn., said in a statement that the FDA may have "reacted far too slowly" to concerns there raised by a whistleblower in October 2021. The FDA did not inspect the plant in person until the end of January, she said.
Abbott did not immediately respond to a request for comment early Wednesday but said in a previous statement to The Washington Post that the company was "doing everything we can" to address the shortage, including increasing production and shipping in products from Europe.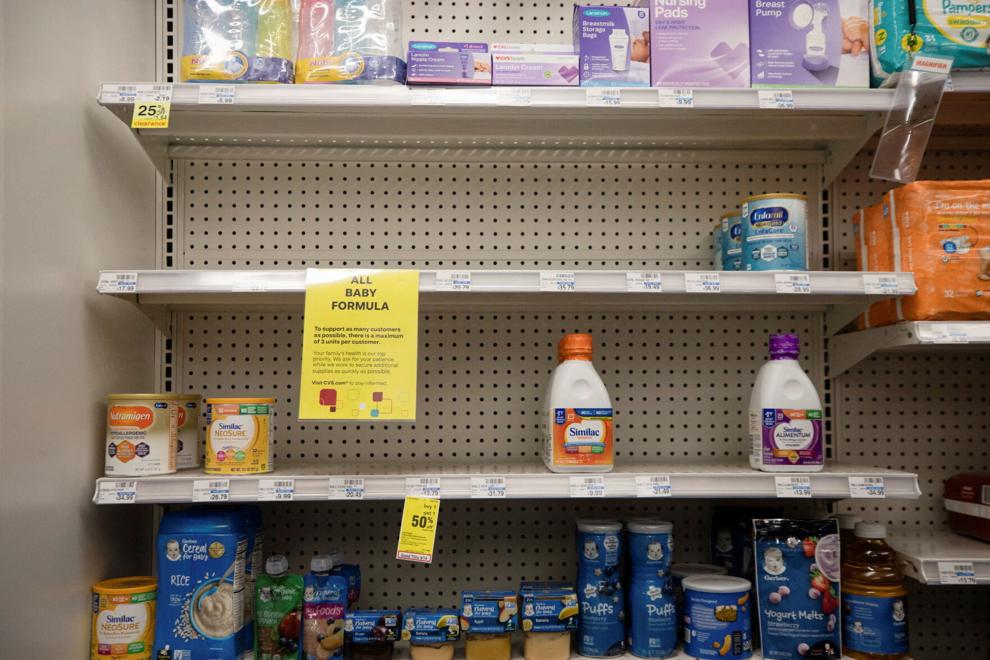 Q: What if I need a specific type of baby formula?
A: For parents and caregivers whose children need a certain type of formula for health conditions or for other reasons, the shortage and recall have been particularly troubling. For Claire Rowan, a Virginia mother whose 16-year-old son has extreme and deadly food allergies, the recall forced her to issue a plea on Facebook that "as of now, he has no food. None." She continued: "Our choices are no food or likely anaphylaxis."
For people in situations like Rowan's, the FDA said it has informed Abbott that it "has no objection to the company immediately releasing product to individuals needing urgent, life-sustaining supplies" of specialized formulas.
Anyone needing specialized formulas can call Abbott at 1-800-881-0876 to request a product on a case-by-case basis.
Still, the FDA warned that the products were made at the Michigan plant at the time when concerns were raised about safety, and that they "carry a risk of contamination."
The FDA said that "those seeking access should consult with their healthcare provider in considering whether the benefit of consuming such product outweighs the potential risk of bacterial infection in the user's particular circumstances."
Q: Can I make my own formula at home?
A: The FDA says not to. The agency said parents and caregivers should not try to make substitutes for approved formulas because homemade formula may lack essential nutrients for infants, whose sole source of nutrition is often the formula.