Nearly a third of those hospitalized with COVID-19 in New Hampshire in recent weeks were fully vaccinated, according to the state health department.
Lori Shibinette, commissioner of the Department of Health and Human Services, said last week that breakthrough cases among those vaccinated for COVID-19 are rising, as immunity from the vaccines wanes amid the spread of the aggressive delta variant.
That makes it all the more urgent, public health leaders say, for eligible adults to get booster shots.
Over the summer, Shibinette said, about 90% of those hospitalized for COVID-19 were unvaccinated.
"We watched that start to change over the last two months, so it was about 80-20 in September and it's about 70-30 in October," she said at a media briefing.
"We would expect that as we get more boosters out, we're going to see that move again the other way," she said. "That's the hope."
Gov. Chris Sununu warned at the same briefing that the more contagious delta variant continues to spread.
"This winter could be tough," he said.
The past 20 months of pandemic, shutdowns and battles over government mandates have been in turn frightening and frustrating, confusing and confounding. Even the arrival of safe and effective vaccines, instead of the promised relief and rebound, has instead been met with distrust and division among many.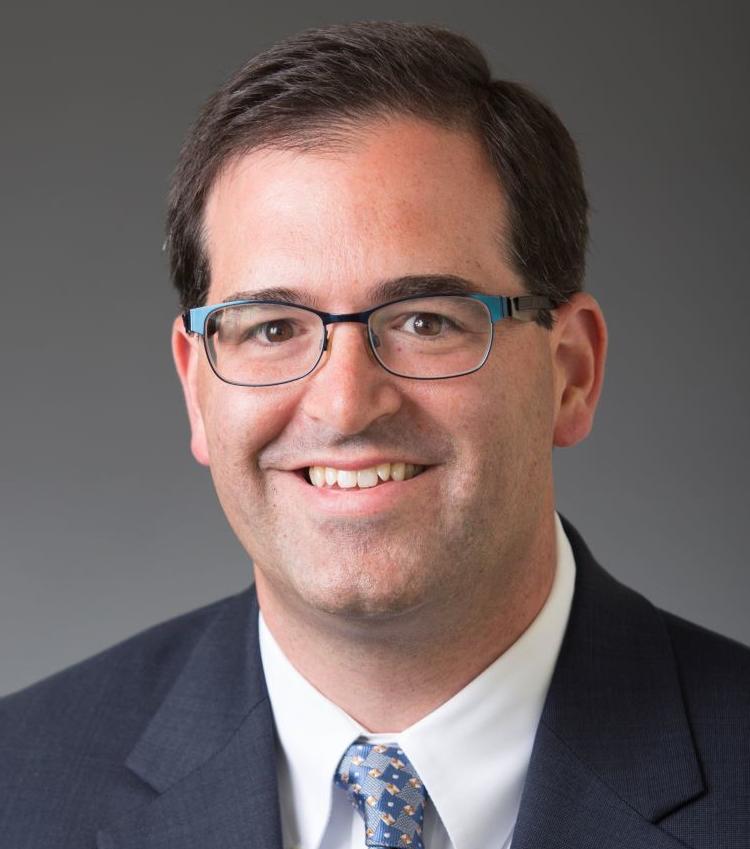 Throughout the health crisis, Dr. Michael Calderwood, chief quality officer at Dartmouth-Hitchcock Medical Center, has been working to bring clarity and science-based information to the public. He recently was recognized for his efforts by the New Hampshire Hospital Association, which named him its medical staff member of the year.
It's not that the vaccines aren't working, Calderwood, an infectious disease specialist, stressed in an interview last week.
The declining protection the data show for COVID-19 vaccines is similar to that seen with other vaccines, notably the flu vaccine, he said.
Booster shots available for homebound NH residents
That decline is most marked among those 65 and older, he said, as well as those 40 and older with underlying medical conditions, such as diabetes and obesity.
"Those are the ones we really are saying should get the booster," he said.
For those who got the two-dose Pfizer or Moderna vaccines, the Centers for Disease Control and Prevention recommends that these groups "should" get booster shots six months after their last dose: individuals 65 years and older; those 50 to 64 with underlying medical conditions; and adults 18+ who live in long-term care settings.
The CDC also says other groups "may" get booster shots, including people ages 18 to 49 who have underlying medical conditions, and people 18 to 64 who work or live in high-risk settings. (See related table, Page A11.)
The agency's list of health conditions that increase the risk of severe illness from COVID-19 includes cancer; chronic lung, kidney or lung disease; dementia; diabetes; Down syndrome; heart conditions; mental health conditions such as depression and schizophrenia; obesity; pregnancy and substance use disorders. (For the full list, go to: cdc.gov.)
CDC says its list does not include all medical conditions that place someone at higher risk of severe illness from COVID-19 and recommends that patients with other conditions talk with their healthcare providers.
For those who got the Johnson & Johnson one-shot vaccine, CDC is recommending boosters for anyone 18 or older, at least two months after the shot.
When people ask his advice about booster shots, Calderwood said, "I'm really encouraging all to consider it."
"It adds a layer of protection. It is well tolerated. And I suspect even in those younger groups that may not have reached the statistical significance at the six-month mark they were looking at, if they had looked at a few extra months, they would have had enough data to say that it was beneficial," he said.
Your best shot
So which booster should you get?
If you received a Pfizer or Moderna vaccination, you can either get the booster from the same manufacturer or you can switch. But Calderwood said there's no added benefit to getting a different booster. "If you got two Pfizers, then you do well with a third Pfizer," he said.
That's not the case with the one-shot Johnson & Johnson vaccine, however.
People who got the J&J vaccine will get the best continuing protection with a Pfizer or Moderna booster, which uses a different technology, called Messenger RNA (mRNA), from that in the J&J.
Getting a second J&J shot, he said, will provide about the same level of protection as the two-shot Moderna or Pfizer vaccines. But getting a Pfizer or Moderna booster instead, he said, will give you a higher level.
"So you're much better off, if you started with a J&J, switching to get your second shot with Pfizer or Moderna," he said.
But there are no data that indicate you should get a J&J booster if you got a Pfizer or Moderna vaccine, he said.
A recent survey by the New Hampshire Institute of Politics at Saint Anselm College revealed the same hesitancy about booster shots as many residents had about the initial COVID-19 vaccines.
The survey of 1,323 New Hampshire residents, conducted Oct. 20-22, found that 46% said they plan to get a COVID booster "ASAP" and an additional 13% will do so "when convenient."
But about 30% said they do not plan to get a booster shot.
Depending on the kids
Health experts say it's essential for children to get COVID-19 vaccines as soon as they're available.
The federal Food and Drug Administration on Friday voted to recommend an emergency use authorization for Pfizer-BioNTech vaccines for children 5 to 11. The two-shot children's vaccines provide one-third the adult dose.
The CDC's Advisory Committee on Immunization Practices is scheduled to take up the matter on Tuesday.
The first doses of vaccine for younger kids could arrive in New Hampshire soon after.
Calling that "very good news," Sununu last week encouraged parents to talk with their children's pediatricians.
Getting younger children vaccinated as soon as they're eligible is important, Calderwood said. "The best thing you can do to protect the entirety of the family is make sure all who are eligible come forward and get vaccinated," he said.
For him, the proof of the vaccines' effectiveness came after homecoming weekend at Dartmouth College, where 98% to 99% of the undergraduate and graduate population is vaccinated, he said.
A week after homecoming's well-attended events, just 10 COVID infections were reported, Calderwood said.
And two weeks later, he said, "They have zero students that are currently quarantined or in isolation despite having a very large event. And the reason for this is because they have such a high vaccination rate."
You will see the same in local schools, he said, "if they can get their vaccination rates up."
Lowering everyone's risk
Unvaccinated people remain "the highest risk population," Calderwood said. "That's really the group that should get vaccines, because they're driving the pandemic."
Among those hospitalized with COVID-19 in New Hampshire and elsewhere, he said, "It really is those who are unvaccinated who are having the most severe illness."
Calderwood acknowledged that many people who are vaccinated and are afraid of getting breakthrough infections are getting angry at those who are not. But getting angry "doesn't change anything," he said.
Instead, he urges individuals to "meet people where they are" and counter the misinformation that is out there about vaccines with science and data.
At some point, COVID vaccines may become more like flu shots, Calderwood said.
"We know that the flu vaccine can change from year to year, and they will add different strains depending on what's circulating. So it may be that over time, we have vaccines against COVID where we change some of the variants," he said.
What happens over the upcoming holidays is up to the choices people make between now and then, Calderwood said.
"The best thing people can do to protect themselves in the holiday season is to get vaccinated," he said.
"And that includes all of their eligible children."
To find a vaccination site and book an appointment, visit vaccines.gov.