They arrived in the New World in November of 1620, exhausted and grateful, resolving to carve a better society from this harsh and unforgiving place.
On the deck of the Mayflower, the ship that had carried them here, the English settlers pledged before God and one another to "combine ourselves together into a civil body politic ... to enact, constitute, and frame such just and equal laws, ordinances, acts, constitutions, and offices ... as shall be thought most meet and convenient for the general good of the colony." The Mayflower Compact is now considered the first "constitution" of what would, more than 150 years later, become the United States of America.
By the time that first harsh winter was over, only 50 of the 102 Mayflower passengers were still alive; the rest had died from deprivation and illness.
Now, 400 years later, the descendants of those passengers say the lessons of the past could help us navigate the current era of pandemic and economic hardship.
As governor of the New Hampshire Society of Mayflower Descendants, Heather Wilkinson Rojo spent the past three years planning for the 400th anniversary of the Pilgrims' landing in the new world.
Galas, children's activities, reenactments, a maritime festival in Boston and other festivities were scheduled throughout 2020, culminating in a 10-day summer celebration in Plymouth and Provincetown, Mass. Members of Mayflower societies from across the U.S., Canada, Europe and Australia were planning to come to New England for the grand occasion.
But like so much else in 2020, those plans were crushed by the arrival and spread of the coronavirus pandemic.
"Everybody's been sewing costumes and getting ready," Rojo said. "They were asking, 'What do we do now?'"
Even the traditional Thanksgiving proclamation at the New Hampshire State House, which Rojo and other Mayflower society members typically attend in costume, was canceled this year. Gov. Chris Sununu issued a proclamation, but there will be no official ceremony.
The newly refurbished Mayflower II, a replica of the original ship, was slated to sail to Boston in May for a maritime festival. "Then she was going to sail back to her home berth in Plymouth. That was going to kick off the summer," Rojo said. "Well of course, that was right when everything fell apart."
The group did manage to salvage some activities — with safety precautions. Members of the Wampanoag tribe held some of their events virtually, Rojo said.
And the Mayflower II was launched as planned and sailed into Plymouth harbor for a socially distanced celebration, Rojo said.
"There were people along the way, along Cape Cod Canal, watching her sail up the canal into the harbor," she said. "But there was no festival, no parade, any of that, that went along with it."
As governor of the New Hampshire society, Rojo, who lives in Manchester, was invited to tour the Mayflower with her family before it was opened to the general public last summer.
Organizers are still hoping to commemorate the 400th anniversary of the first Thanksgiving at Plimoth Plantation next year, she said.
A small observance
New Hampshire Mayflower society members managed one small observance this year.
The group's children, known as junior members, had spent the past three years raising funds for a plaque commemorating the Mayflower Compact. In October, a small group attended a dedication ceremony at Odiorne Point, and a second ceremony was held on Nov. 11, the date the compact was signed in 1620.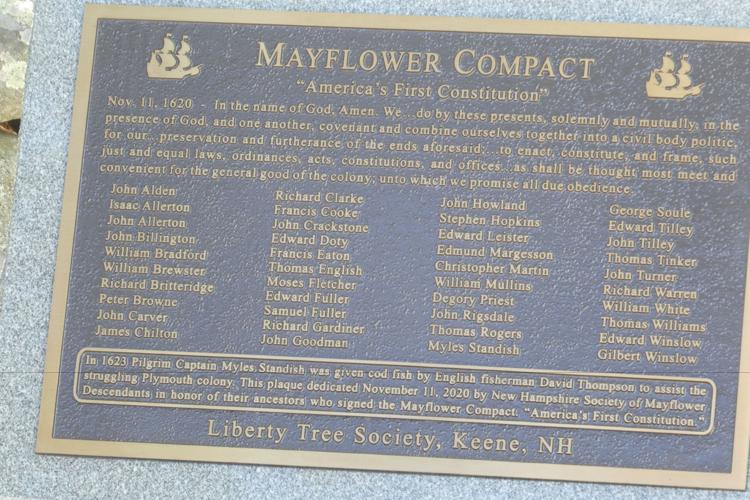 Sophie Morrow, a Brentwood sixth grader, attended both ceremonies, wearing a dress she and her mother, Julie Ford, made. Their Mayflower ancestors are Isaac Allerton and his wife and children.
Morrow, 12, said her Mayflower heritage is important to her. "If they hadn't come over, then we might not have been here," she said. "They were the ones who established the Mayflower Compact which … was what told everyone we have to obey these rules so that we can stick together and that we don't all just break apart."
Placing the commemorative plaque at Odiorne Point was a fitting choice. According to Rojo, it's a key landmark in the survival of the struggling Plymouth colony.
A trader named David Thompson had established a permanent settlement on the coast near Odiorne, catching the plentiful codfish and sending it back to England. In 1623, a group from the Plymouth colony, led by Myles Standish, came to the settlement seeking help.
"By then, two or three ships of settlers had arrived," Rojo said. "They were starving. They didn't have enough food for all the new people who were showing up."
"So they sailed up the coast to Odiorne Point and met with David Thompson and traded for a whole shipload of salt cod, which kept the colony going," she said.
We might not have had a Thanksgiving holiday were it not for that fortuitous meeting, Rojo said. "If Plymouth colony had failed and they had all either died or gone back to England, there never would have been a story," she said. "There never would have been a remembrance of Thanksgiving. It would have just been another failed colony."
"I like to say New Hampshire saved Thanksgiving," Rojo said.
In addition to the 400th gala, the New Hampshire Mayflower society was supposed to celebrate its 90th anniversary in 2020, according to Penny Webster of Milford, who took over as the group's governor earlier this month.
"All of our events that were planned for this year are now planned for next year, but still we're not sure if it's going to happen," she said.
A lesson to remember
Webster suggested one lesson we might learn from our Pilgrim ancestors: "perseverance."
The Mayflower was supposed to land farther south, in Virginia or Maryland. Instead it arrived in what is now Provincetown, Mass., in November.
"It was almost winter, they didn't have enough food to eat, and some people were already getting sick," Webster said. "It was a scary and long voyage. They were arriving at a place in the country that they really didn't know anything about."
There was also dissension among the passengers, who included not only Pilgrims but also what the Pilgrims called "strangers," entrepreneurs seeking their fortunes in the New World.
Despite their differences, Webster said, "They were able to come together, realizing that they had to work as a team to get through whatever they were going to go through. They knew they were in a tough spot."
They also encountered the native Wampanoag people, knowing nothing of their culture or language.
"They had to find ways to work together with these people they had never met before, and survive," she said. "It's really amazing."
Compared to what the first settlers encountered that first winter, current hardships seem bearable, Webster said.
"We're in our homes, we have plenty of food, we can stay in contact with other people through technology," she said. "It would be good for people to realize that, to appreciate that it's not what we all want to do but it's a lot easier than what some people have been through."
Sophie Morrow, who is home-schooled, said the hardest part of the past nine months has been the isolation from those near and dear. She misses seeing her friends and her cousins from Michigan.
But she knows what she's going through pales in comparison to the ordeal of her Pilgrim ancestors. "They left their whole country that they had ever known, and sometimes they left kids and spouses," she said. "They just left."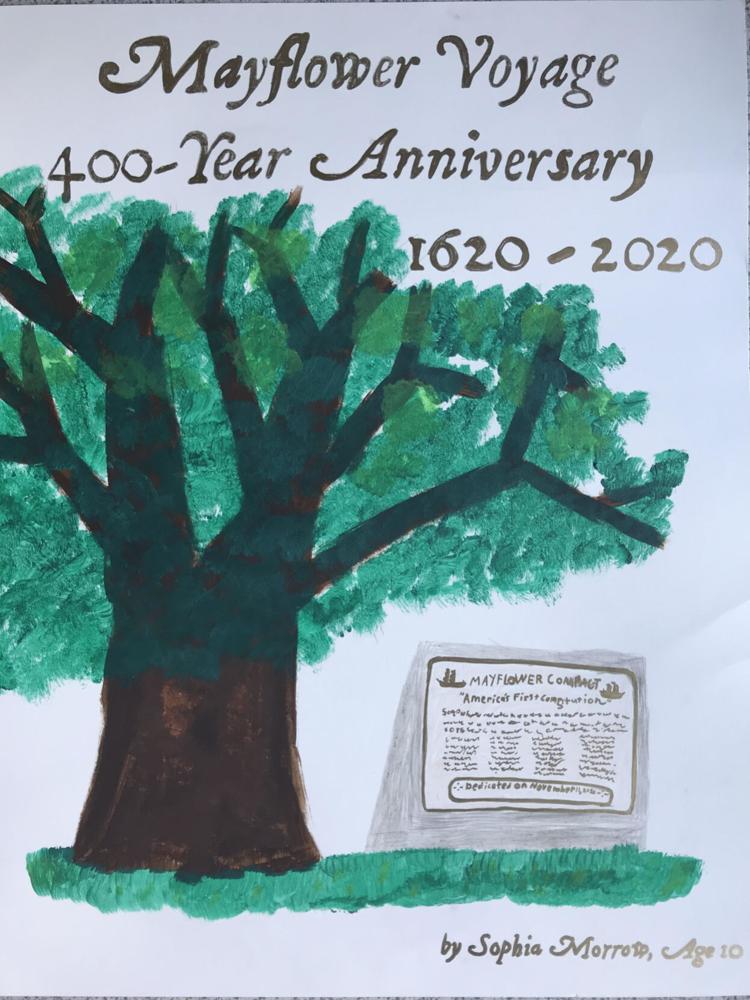 And once they arrived here, she said, "They lost half their people. They had it a lot harder."
Thanksgiving will be different for everyone this year, Rojo said.
But she thinks about her hardy ancestors who managed to survive a perilous sea journey, hunger, illness and the worst of a New England winter.
"When they celebrated Thanksgiving, it wasn't just because it was a good harvest," she said. "They were probably celebrating that they were alive. They made it.
"So I'm sure they would want us all to do whatever we can to stay safe, to keep celebrating future Thanksgivings with each other by doing whatever we can."
Despite the disappointments of 2020, Webster, too, said she takes inspiration from her Mayflower ancestors.
"I just have to be grateful for everything I have and not dwell on what we haven't been able to do," she said. "And look to the future and what we'll be able to celebrate this coming year."
Here's what Sophie Morrow believes those early settlers would say to those living through unsettled times 400 years later: "I think that they would tell us we need to stick together."
"That's how they got through it. They didn't just abandon each other," she said. "They had to stick together and they had to cope with it, and they had to figure out what they needed to do to deal with it."