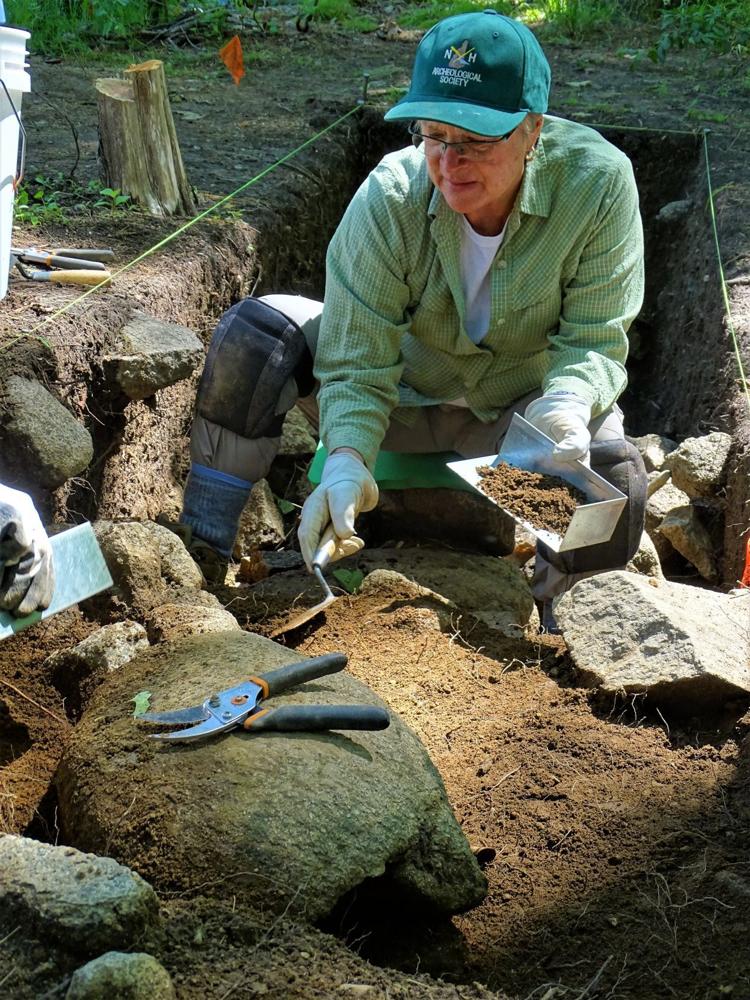 DURHAM — Archaeologists working to uncover artifacts left behind by some of the earliest European settlers in New Hampshire are having success in Durham.
On Wednesday morning, a group of field school researchers found a metal button, piece of Westerwald ceramic and some British gun flint at the former home of Robert Burnham, who took ownership of the property in 1665.
Jordan Fansler, who is a program coordinator for the history department at Great Bay Community College in Portsmouth, uncovered the metal button.
"The trowel, when it hits something metal like that, it's different, you can tell. You can hear it and I sort of picked it out and looked at it and it just happened to be a full button, which is a little bit different. Usually, you hit something and it is part of a nail, or a brick, or something like that," Fansler said.
Field Technician Caroline Aubry, who earned her degree in anthropology at the University of New Hampshire, said finding something that someone wore brings a human element to their work.
"When we find something that really puts personhood onto the site like a button like this, it's really cool," Aubry said.
Fansler and Aubry are participating in Dr. Meghan Howey's Great Bay Archaeological Survey which is being done in collaboration with the New Hampshire Division of Historical Resources' State Conservation and Rescue Archaeology Program. Meghan Howey, who is chair of the anthropology department and a Hayes Professor of the Humanities at UNH, runs the Great Bay Archaeological Survey and her team found the site located on Durham Point Road.
A house was built on the site in the 1630s by Ambrose Gibbons. When he died, it was inherited by his son-in-law and eventually sold to Robert Burnham in 1665, Howey said.
Howey said the Burnham family was wealthy and likely survived hostile times with Native Americans because they worked peacefully with them. Many Native American artifacts were found on the hearth at the property last year, she said.
As a matter of fact, Burnham had already died when the Oyster River Massacre of 1694 happened, but his Garrison was one of the only houses that was not attacked, Howey said.
"It's a cool case of archaeology kind of rewriting the history. It wasn't just luck, it was probably purposeful that they were passed up when all of their neighbors were killed," Howey said.
It is estimated that 104 people died in the Native American attack on settlers.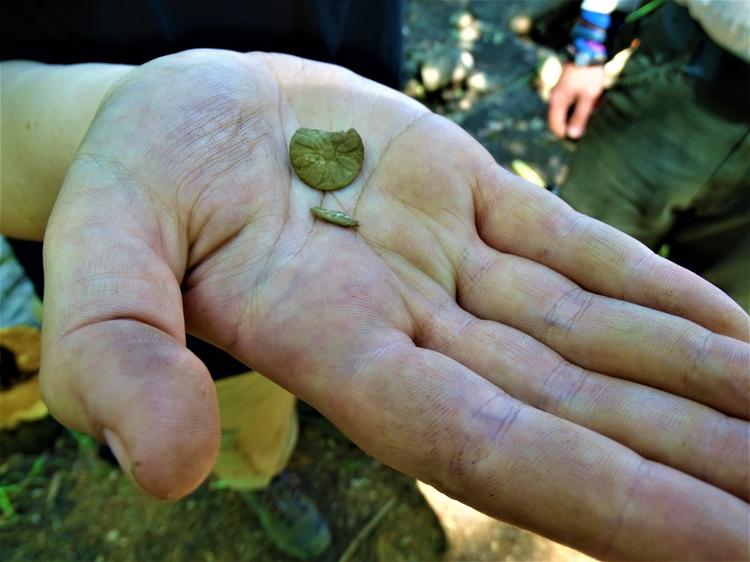 Diane Fiske helps find all of the documentation to verify the history of the site and shares that information with Howey.
"I research the original deeds to try and find the land and I have to go to a lot of different places to get information. I go to the archives in Concord where they have the earliest county deeds and sometimes I go to the New Hampshire Historical Society for information," Fiske said.
Fiske said in the early days when someone died they didn't necessarily create a new deed, so probate and family records are important for her research.
Howey said this is the second year they have dug at the Durham site. The field school is free, which is unusual because typically people pay thousands of dollars to take part in such programs, she said.
Nan Nutt, of Exeter, earned her master's degree and Ph.D. in microbiology and immunology during the 1970s. This is the second year she had participated in the program as a volunteer.
Nutt said working at the field school is a refreshingly different type of science than what she was trained in.
"As you find things, you start to wonder about the people who lived here," Nutt said.
In other parts of the state, archaeologists are investigating the site of a meetinghouse belonging to First Parish Church in Dover, a historic industrial complex at Livermore Falls State Forest and a trail likely used by Native Americans at Pillsbury State Park in Washington later this summer.
For more information and to register, visit the New Hampshire Division of Historical Resources' website at www.nh.gov/nhdhr/SCRAP.htm.