HOOKSETT — A local teenager seeking the highest honor available to any Girl Scout has created a project that is transforming the tombstones of important figures in Hooksett's history into handheld history lessons.
Earlier this year, Mackenzie Conner was set to graduate from Londonderry High School and thus conclude her time as a Girl Scout. Looking to go out with a bang, Conner started to think of project ideas worthy of the Gold Award: an honor that requires at least 80 hours of work and that is awarded to just over 5% of all Girl Scouts.
Then it came to her: Why not help people learn about her hometown?
"I felt like there wasn't exactly a way for Hooksett citizens and people from the nearby area to learn about local history," she said. "I've lived in the town of Hooksett for my entire life, and yet I knew so little about the town I lived in."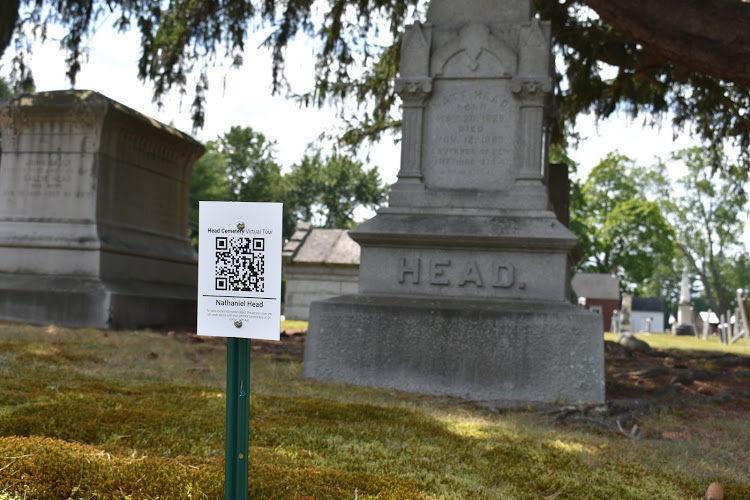 Inspired by the Freedom Trail in Boston, Conner got to work creating a "trail" of placards with QR codes throughout Head Cemetery that would allow anyone with a smartphone to learn more about over half a dozen significant people from Hooksett's past.
Conner gathered support from the Hooksett Cemetery Commission and Hooksett Heritage Commission.
Hooksett Heritage Commission Chairman Kathie Northrup was pleased to help Conner add technology to Hooksett's history.
"(Graveyards) are wonderful outside art galleries and people don't use them enough," said Northrup. "Some of those stones are fabulous. You can do genealogical research there; there's so much information. We were thrilled to help her."
While the QR code placards are now permanently located next to the gravestones, they will also become part of existing re-enactments in the cemetery.