LACONIA — It sprouted from an acorn about 400 years ago.
Since then, the white oak that draws water from an abutting pond on North Main Street grew into a behemoth, with a circumference of 20 feet. Known locally as the Perley Oak, the tree is the largest of its variety in the state.
Unlike the red oak that grows rapidly skyward in pursuit of the sun, the white oak sends its branches in all directions, creating a gnarled and spidery look.
On Monday, a team of arborists from Donovan Tree Experts of Meredith spent six hours pruning dead limbs from the venerable oak.
"The white oak tends to compartmentalize when it feels something is wrong. It will let that part die off and concentrate growth in another area," said Joe Altmire of North Woodstock as he refueled his chainsaw.
Carefully tethered into a hydraulic lift, Altmire raised himself into the lofty crown of the tree and closely examined each of the gnarled limbs and their connection points before deciding what to cut. Once the decision was made, saw was put to wood. The chainsaw whined, sawdust flew and then a chunk of a limb plummeted 25 feet to the ground, landing with a thump.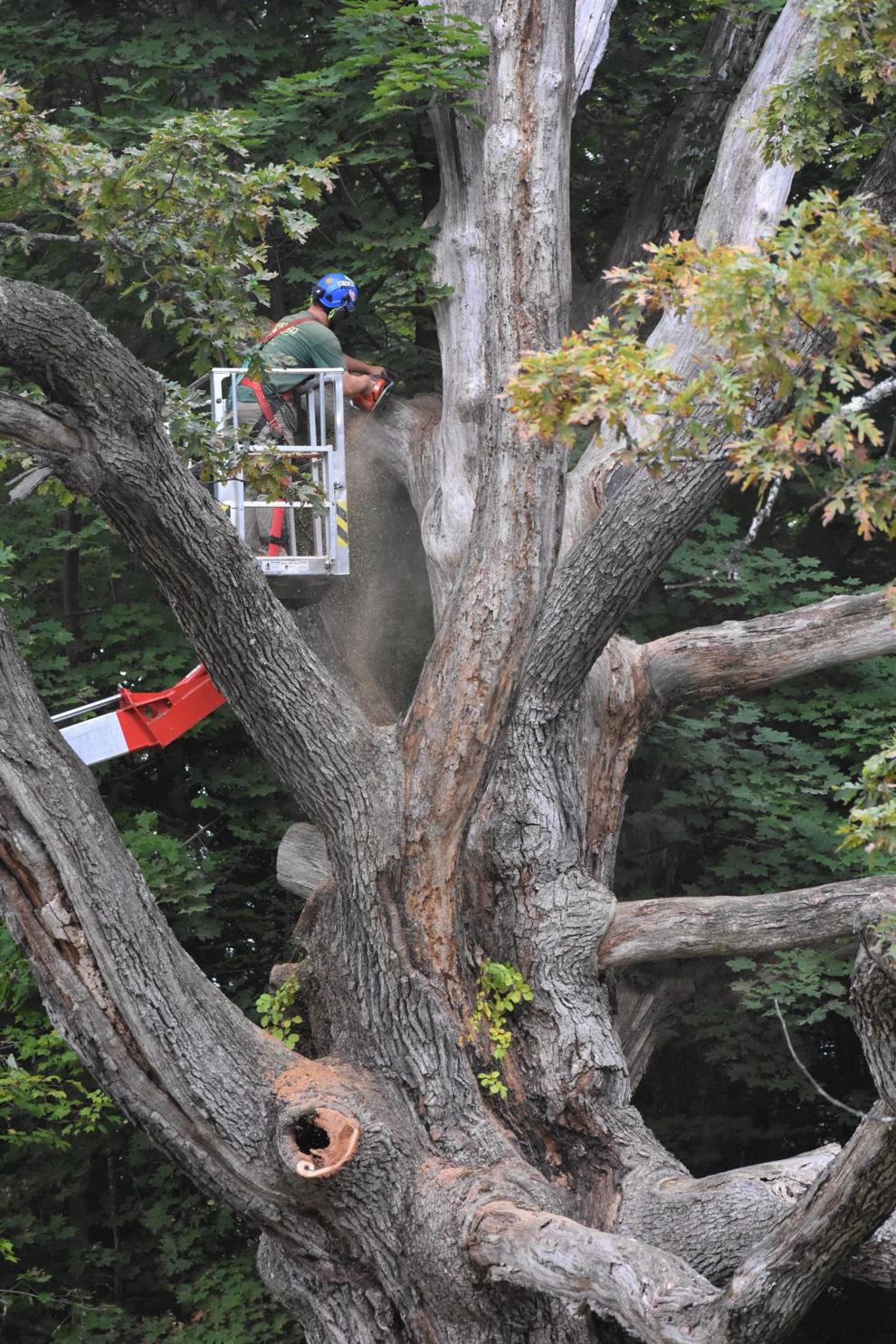 As Altmire repositioned the aerial lift and examined other limbs on the tree, his coworker, Cody Gordon, hefted a 3½-foot-long oak log some 16 inches thick atop his shoulder and carried it back to an industrial grade chipper that can shred logs up to 18 inches in diameter.
He used an automated winch to drag the largest sections of felled wood back to the chipper.
"It will look totally different when we get done with it," he said of the tree. As a resident of Laconia, Gordon said, he drives past the Perley Oak every day on his way to work.
"My boss' father, Dennis Donovan, pruned it back in the '80s," he said.
Amy Lovisek heads the city's Parks & Recreation Department, which is tasked with maintaining and landscaping parks, beaches and abandoned cemeteries, among other duties. She said the state's Community Forester Cory Keeffe was a valuable resource.
"He came out last year and then again this spring and gave us some good advice," she said Monday as she watched the arborists at work.
In 2009, the city's Conservation Commission retained a tree expert after the oak appeared to have fewer branches in leaf and more dead limbs. A public outcry ensued when it was leaked that a professional had suggested the tree be felled.
Lovisek said the intent all along has been to prune the dead limbs to make the area safe for public use and to help the tree enjoy more birthdays.