WOLFEBORO — A mansion once home to 84 Great Danes at the center of the state's most notorious animal cruelty case has new owners, a family taking on the challenge of making it fit for humans again.
Christina Fay, 61, was convicted in April 2018 of animal cruelty and neglect for keeping a pack of Great Danes in a feces-spackled, nine-bedroom, 11½-bath Georgian Colonial hellhole at 149 Warren Sands Road.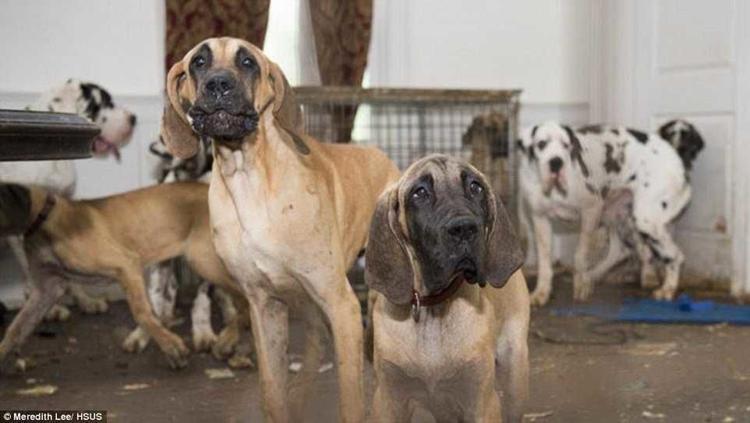 Fay purchased the 53-acre, 12,000-square-foot property for $1.525 million in 2015 and spent another $60,000 to fence it in. In May of last year, it sold for $550,000, half of the $1.1 million it went on the market for in August 2018.
If the discount seems steep, so too has been the restoration bill, said Eric Haddock, who bought the property "as is" with his father and one of his brothers.
Besides the typical repairs a new homeowner might expect to have to make, like a new roof, Haddock had to deal with such problems as a heating system with ducts full of cat litter that had been poured through floor grates in an apparent attempt to stem the stench.
"Whoever built the house did a wonderful job. Obviously, she ruined it," Haddock said.
The property's notoriety was also a nuisance for the new owners, who added a high-tech security system to deter curious trespassers.
A mechanical contractor from Medford, Mass., Haddock has two children, one of his brothers has another, and his second brother is starting a family. Together, they plan to share the property.
"It's a huge house and makes a nice place for everyone to go to," he said.
The mansion had "good bones," as real estate agents like to say. There's an in-law apartment with its own kitchen above a six-bay garage, and a sweeping grand staircase with wrought-iron spindles anchors the grand foyer.
"The basement still has a kind of funk to it," Haddock said, but he expects that will fade as it takes on the scent of home cooking and happier lives.
Property's sad history
Once a gravel pit with a view of Lake Wentworth and Mount Shaw, 149 Warren Sands Road hasn't been the source of much joy since it was built in 2004.
Former owner Steve Fair planned to turn it into a 24-bed rehabilitation center, town records show, but was unable to secure town approval and ran out of money. He died of a heart attack in 2013 at 57.
The same year, a caretaker committed suicide on the grounds, mistakenly believing he had killed another driver while drunk, Haddock said.
Then came Fay, who purchased the property to create a gated compound for her dog-breeding operation.
Complaints from a neighbor about incessant barking prompted multiple visits by police, who ultimately discovered the animals living in squalor.
While the stereotypical animal cruelty/hoarding case involves someone poor living modestly, the juxtaposition of Fay's apparent wealth and the estate's grandeur grabbed international headlines.
Debra Cameron, operations manager for the Conway Area Humane Society who participated in the rescue, said the contrast was stark.
"You looked at it and think, 'This is heaven for dogs.' You go in it and realize it is hell," she said.
'Worse than Iraq'
At trial, Wolfeboro Police Chief Dean Rondeau compared the house to a war zone.
Prosecutors said the dogs — many in need of immediate medical care — were living on 12,000 square feet of flooring slicked with an accumulated slurry of feces and urine that Humane Society of the United States workers traversed like skaters as they rescued the animals, many of whom were being kept in basement kennels.
"Feces was everywhere, from floor to ceiling," Rondeau said.
Although he wore glasses and a respirator, his eyes still watered and his throat burned from the strong ammonia fumes. The prodigious waste generated by giant dogs living on a diet of raw meat induced debilitating dry heaves that Rondeau described for jurors.
Fay's defense attorney tried to place Rondeau's comments in context, citing the chief's 30-plus years as an Army officer.
"Yes, I have three Bronze Stars and a Combat Star," Rondeau said. "It was worse than Iraq; it was worse than Kosovo."
"The life lesson here is just because you have money doesn't mean everything is good," said Laconia attorney Jeff Philpot, who worked with the New Hampshire Humane Society after a raid on a Center Harbor property found 120 cats and 30 dogs living in filth alongside school-aged children.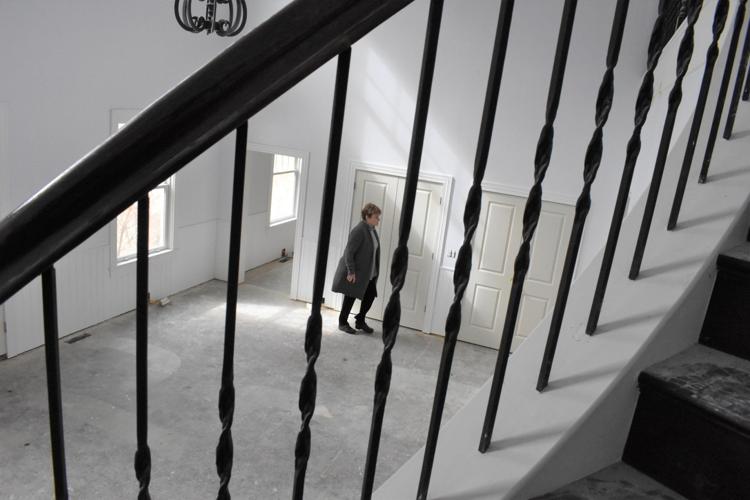 When jurors visited the Warren Sands Road home, hardwood floors, doorway trim and wainscoting had been stripped away. Sheetrock on the lower walls had been cut out. Throughout the house, heavy wooden doors were clawed and window ledges chewed.
Finding Fay guilty, a judge suspended any jail time for five years on the condition she participate in twice-monthly mental health counseling.
Fay also was ordered to repay more than $1.95 million that the Humane Society of the United States said it had spent caring for the rescued dogs. The court also ordered that the 78 dogs that remained in the care of the Humane Society be forfeited to the state, sterilized and found new homes.
Fay has appealed her conviction to the N.H. Supreme Court. Oral arguments are scheduled for Feb. 12.