DEAR HELAINE AND JOE: I am hoping you may know a little something about an old portrait I have. It was left to me by my great-aunt.
— Thank you. G. A., New Hampshire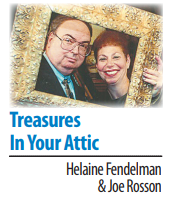 DEAR G. A.: The first thing we want to say — and really the reason why we are answering this letter — is the last photograph supplied by G. A. shows the piece was secured in the frame using wooden slats, probably thin pieces of pine board.
This is a huge problem! The wood produces acid, and the acid eats away at the paper on which the image was made. We cannot see any obvious problems in the photographs, but the wooden backs need to be replaced immediately — or failing that, a barrier of acid-free paper needs to be placed between the wooden slats and the picture.
This is not just a problem for G. A.'s picture. Many homes have antique pictures held in frames with wooden slats, and the wood inevitably causes problems. With every tick of the clock, damage is being done. This issue needs to be addressed with some immediacy.
Now, dismounting our soapbox, we want to say sometimes it is better to be lucky than smart. All we could read of the artist's signature was "Mun," possibly "Munk," so we went fishing and discovered (much to our personal amazement) the artist's name was Mihaly Munkacsy, a Hungarian-born artist of some note.
He was born Michael von Lieb in Munkacs, Ukraine, in 1844 (Hungary at the time), and later took his artistic pseudonym (Mihaly Munkacsy or Mihaly de Munkacsy) from his place of birth. He studied in Hungary, Austria and Germany and settled in Paris after visiting the Exposition Universelle in 1867. He became known for his large biblically themed works and genre paintings.
What G. A. owns is one of his genre pictures, not a portrait. A genre painting typically portrays scenes of everyday life. This is one of Munkacsy's so-called "salon paintings," which portrays lavishly furnished rooms with well-to-do people going about their daily lives.
G. A.'s image is titled "Baby's Visitors" and is dated 1879. This example, however, is a print or etching, not an original. When we magnified the artist's signature, we noticed an embossing that appeared to read (in part) "Coloured By...." This suggests the piece was hand-colored, probably in Europe because of the spelling. Munkacsy died in 1900 in a German mental hospital near Bonn. He had depression and syphilis.
The print is an interesting image, but we cannot know how damaged it is from the acid in the wooden back, and G. A. failed to tell us the size, so we have to speculate. Etching of similar Munkacsy salon images in poor condition have sold at auction for as little as $30, but they were also hand signed by the artist. G. A. should check below the mat to see if her image is in fact signed by Munkacsy. But even if it is, the value is likely less than $100 at retail.