Charlie Zink dreamed of becoming a roller-coaster designer, but his first work experience was the same as the four generations before him: Busing tables and working in the kitchen of the Puritan, the Manchester restaurant his family has operated for more than a century at various locales.
The teen, who had just finished his freshman year at Bedford High School, was identified Wednesday as the 15-year-old who drowned Sunday after dropping from a rope swing into Sebbins Pond in Bedford.
"Charlie passed away … in the process of swinging for the limits, simply enjoying a summer evening with friends as a teenage boy," his obituary said.
U.S. Rep. Chris Pappas, Charlie's uncle, co-owns the Puritan Backroom restaurant with his father, Arthur Pappas, and Charlie's father, Eric Zink, the restaurant's general manager.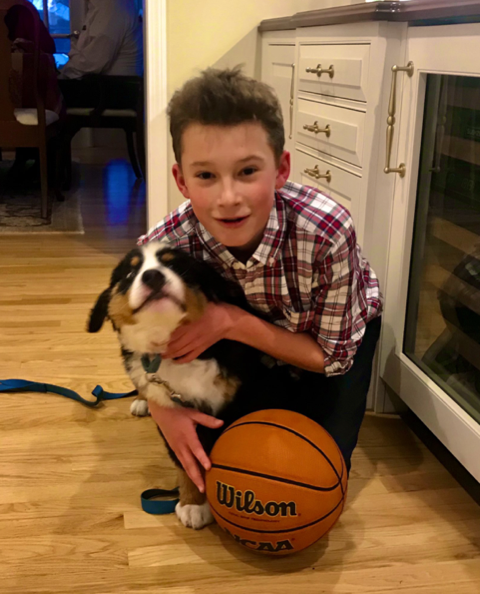 "Charlie dazzled us in infinite ways," the congressman wrote in a Twitter post Wednesday as he shared the news of his nephew's death. "He challenged us and taught us so much, he made us laugh and brought those around him closer together."
Pappas posted photos of Charlie with a family dog, and others of him holding political signs, supporting his uncle during election time. Pappas said his nephew was awestruck by the U.S. Capitol building and all it stands for, adding he will treasure the time he was able to bring Charlie and his siblings onto the floor of the House.
"All around election time you could usually find Charlie holding a sign at a polling place," Pappas wrote.
Eric and Alyssa Zink have three other children. Alyssa Zink is Chris Pappas' sister.
Charlie played on the boys junior varsity basketball team at Bedford High.
"He loved to play pickup with his siblings in the backyard under the lights, and he loved to play organized basketball as part of many teams over his short career: through the town of Bedford, St. George Greek Orthodox Cathedral, and Cap City AAU," his obituary said.
On Wednesday, families throughout Bedford began displaying hot-pink ribbons on their homes in a tribute to Charlie after learning it was his favorite color. Photographs were posted on social media with the hashtag #pinkforzink.
School guidance counselors have been available throughout the week to provide support to students since Sunday evening's report of the drowning death of a 15-year-old boy at Sebbins Pond.
Pappas described his nephew as a super-smart child who exceled, loved his family, friends and teammates, and was eager to organize games and activities that would bring others together.
On Monday, the Puritan Backroom restaurant was closed, with its Facebook page citing an emergency. Following Pappas' social media posts Wednesday, elected officials expressed condolences to the extended Pappas family.
"Brad and I, along with our entire staff, were heartbroken to learn that Chris Pappas' nephew died on Sunday. We have reached out to support Chris and his family during this tragic time," Rep. Annie Kuster said in a statement. "The Pappas family is beloved by our entire federal delegation and by constituents across the Granite State. We urge respect for the family's privacy and compassion for their loss in the coming days."
Raymond Buckley, chair of the New Hampshire Democratic Party, also expressed his sorrow on Facebook, noting the passing of Charlie Zink and others in the past two weeks, including former state Rep. Annie Warner, former House Majority Leader Rep. Doug Ley and former state Rep. Phil Spagnuolo.
"A painful reminder to regularly reach out to family and friends and let them know how special they are to you. Such a terrible time," Buckley said.
A funeral service will be held at 11 a.m. Friday at Bedford Presbyterian Church. The church is requiring everyone to wear a mask inside, the obituary said. A celebration will be held afterward at the Puritan Backroom Conference Center "and is open to all who would like to celebrate Charlie's life."