Whose rails are they anyway?
What happens when competing interests want to use a stretch of abandoned rail corridor as a recreational resource?
Should public access trump private enterprise?
Can dog walkers and bikers share the land with vehicles that ride atop the railroad tracks?
Those questions are playing out now in Concord.
When Gary LeBlanc first heard about the sport of rail biking four years ago, he was intrigued by the idea of riders pedaling along abandoned railroad tracks through scenic areas.
LeBlanc started looking for available sections of track that might suit such an operation, and he came across a nearly 6-mile stretch of abandoned track along the Merrimack River in Concord.
After signing a five-year lease in 2019 with Pan Am Railways to use the tracks, LeBlanc custom built his own four-wheel rail bikes, enlisted his wife and adult children to help out and started Scenic RailRiders.
"It's truly a family business," said LeBlanc, who works in IT services from his home in Peabody, Mass.
After a tough start because of the pandemic, LeBlanc was able to open his outdoor attraction in May of last year. "We were going like gangbusters all year long," he said.
"And honestly, I think the pandemic helped us," he said. "Other companies weren't open, so people were limited in what they could do."
The appeal of rail biking is that it's different, LeBlanc said.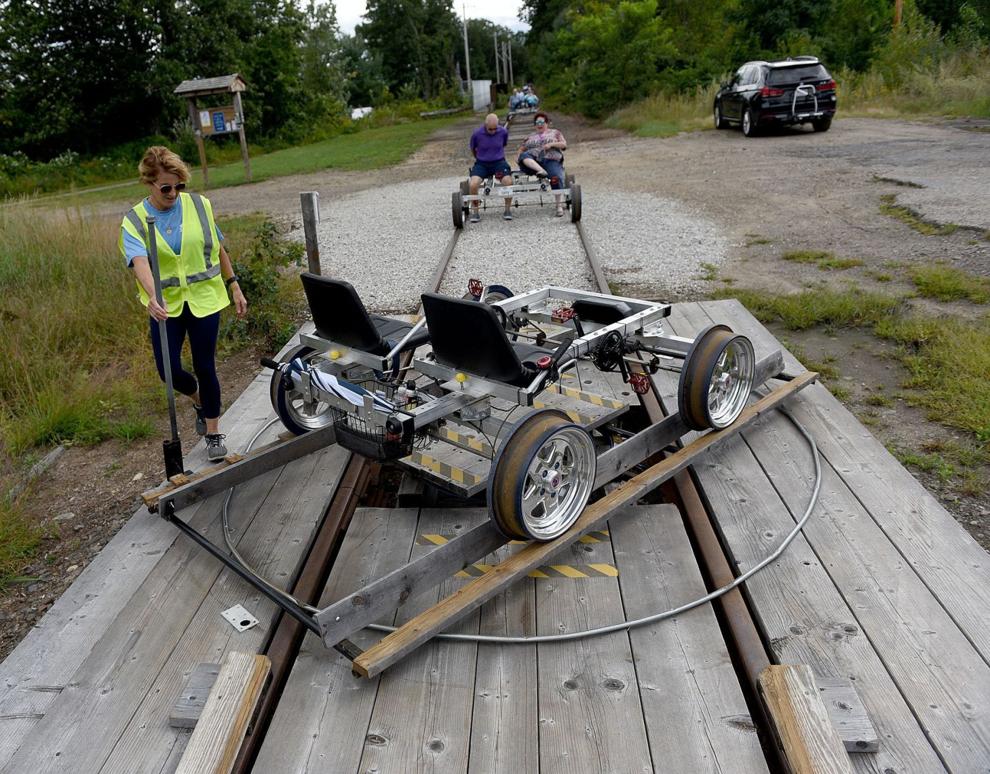 "It's something that people have never done before," he said. "A lot of people are fascinated with railroad stuff. This lets people get out there and actually ride on top of the rails."
Because they are pedaling along the tracks and don't have to steer, riders can look around at the scenery without worrying about crashing, he said.
Meanwhile, as LeBlanc's business was getting up and running, the city of Concord was negotiating with Pan Am Railways to buy those very tracks.
In July, the city signed a purchase and sales agreement with the railroad company. The plan is to use the 72-acre property, valued at $431,500, to build a rail trail that eventually will connect with other trails used by bicyclists, runners, dog walkers and cross-country skiers.
Land for a plan
Cynthia Scarano, executive vice president of Pan Am Railways, said that stretch of trail was officially "abandoned" in 2017. That's a formal process that means taking the property out of the American railroad system. "We have to officially abandon it before we can sell it for a non-railroad purpose," she said.
Scarano said LeBlanc's lease will remain in effect after the land is sold to the city of Concord. It expires in 2024.
City officials are conducting a due-diligence review on the land purchase, including title reviews, boundary surveys, an environmental site assessment and a review of existing agreements such as easements, according to Matthew Walsh, Concord's director of redevelopment, downtown services and special projects.
If the results of that process are favorable, Walsh said, he expects the city will acquire the property from Pan Am in December.
That's one giant step toward creating the Merrimack River Greenway Trail, which has been Richard Lemieux's dream and passion for more than a decade.
Lemieux, who has been a cycling enthusiast for 50 years, is the founder and president of the nonprofit Friends of the MRGT.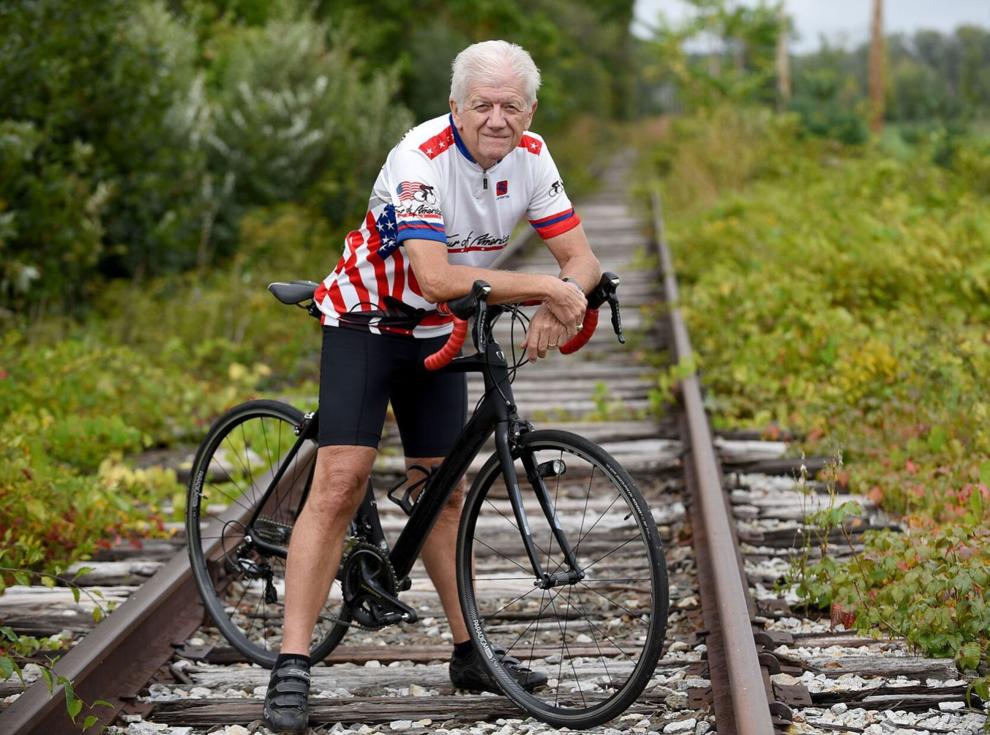 When Lemieux, 75, started working on bringing a rail trail to Concord, he told his wife it was his "retirement project," one he didn't expect to live to see completed.
"Aim higher," she told him. "Do it while you're alive."
The 5.85-mile stretch of track the city is buying goes from the Boscawen town line to the Pierce Manse in Concord. Another section, from the Pierce Manse to Loudon Road, is still owned by the railroad company, Lemieux said.
"When that's abandoned, that will also become part of the trail," he said.
Once the city buys the land, engineers and planners will do some "detailed walk-throughs," Lemieux said. "We'll look for challenges and opportunities and things that have to be done before we can build," he said.
One track, two ideas
There's a lot of support for building the Concord rail trail, including a unanimous vote by the city council to endorse the plan. More than 1,000 people signed a petition in support of the rail trail.
But LeBlanc said rail biking is a great tourist attraction for the capital region.
His ridership has grown steadily, from about 2,600 customers in 2019 to nearly 10,000 in 2020. He expects around 13,000 will have ridden the rails by the time this season ends.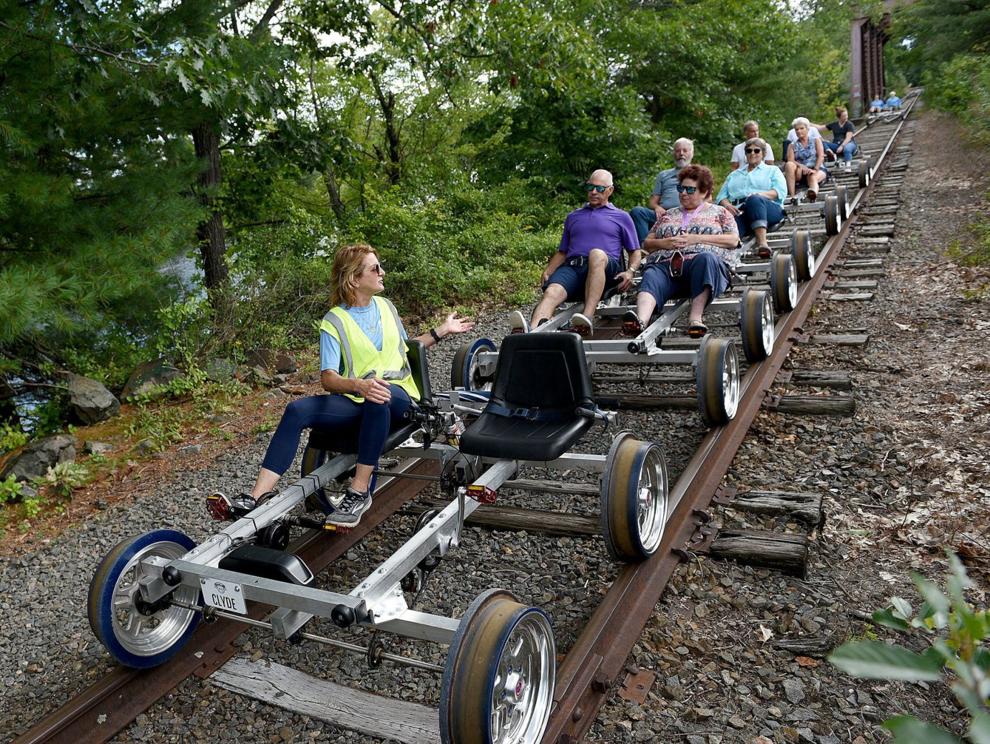 About half of his customers come from out of state, spending money on Concord restaurants, hotels and other services, he said.
LeBlanc believes there's plenty of room for a rail trail alongside the existing tracks.
"I think we can have both," he said. "We can have the trail and keep the rail."
But Lemieux is not optimistic. "Typically when there is a single rail line, it's usually in the middle of the right-of-way," he said.
One problem: the tracks cross two railroad bridges, with no room to put the rail trail alongside, he said.
In the end, Lemieux said, the engineers will decide whether it's feasible to coexist.
"My prediction is that it won't be," he said. "If I'm wrong, then we would welcome sharing the trail with them."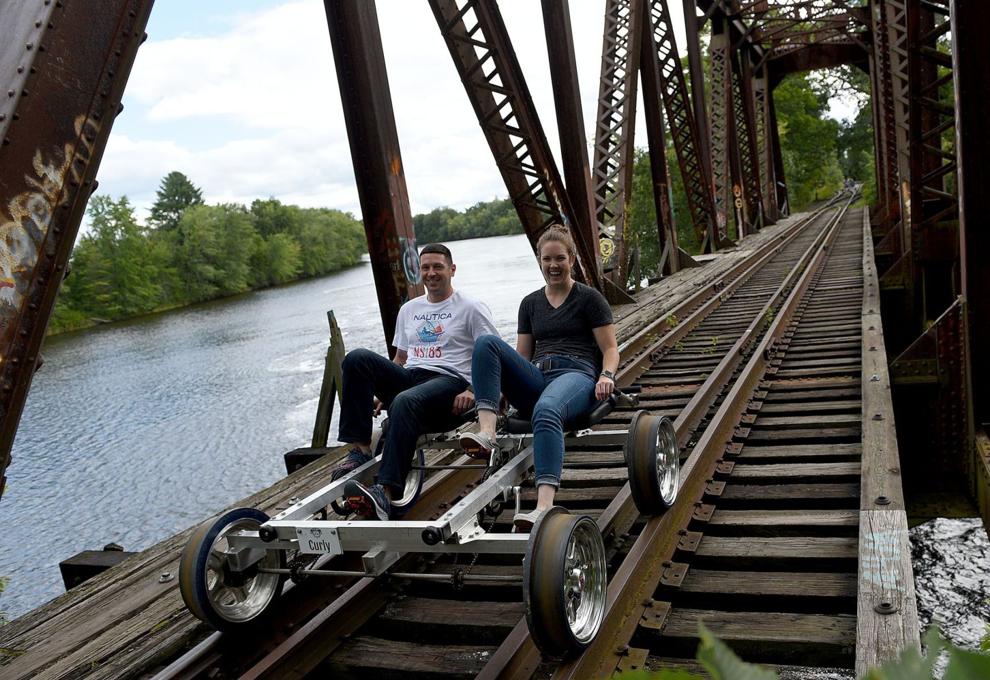 Call of long distance
In addition to the Merrimack River Greenway Trail land, Concord officials signed a separate purchase-and-sale agreement for a half-mile section of railroad track that will become part of the existing Concord-Lake Sunapee Rail Trail. The city council voted in June to appropriate $700,000 to spend on the two projects.
Rail trails are "wildly popular," said Tim Blagden, from Friends of the CLSRT. "People will travel into the state to ride the trails if they're connected."
His group is working to acquire multiple parcels to create a continuous trail. "We are trying to put Humpty Dumpty together again," he said. "The dream is a 34-mile trail with ice cream every 45 minutes as you amble down on your bike."
The CLSRT is designated for what Blagden called "the quiet sports" — walking, biking, snowshoeing, cross-country skiing and horseback riding. Motorized vehicles are excluded.
Eventually, the idea is for the Concord trails to connect to rail trails that go all the way to Salem in the south and Lebanon to the west, creating a 112-mile trail that would be called the Granite State Rail Trail, Blagden said.
Peaceful co-existence
Blagden, who used to be the executive director for the Bike-Walk Alliance of New Hampshire, said the groups supporting the different rail trails all get along. "A rising tide lifts all boats," he said.
He also said sharing a multi-use rail corridor is not unprecedented in New Hampshire.
The WOW Trail, built within the railroad right-of-way in Laconia, is a walking/biking trail that runs alongside active railroad tracks used by the Hobo & Winnipesaukee Scenic Railroad. The railroad started its own Rail Bike Adventures tours this past summer.
And the Cotton Valley Rail Trail in Wolfeboro shares the railbed with a club that runs small railroad maintenance cars on the tracks.
Jesse Mazzie, vice president of the Cotton Valley Rail Trail Club, said his group got permission from the state to operate its vintage railway cars on a 17-mile stretch of track.
His club happily coexists with others, including rail trail users and snowmobile clubs, Mazzie said. "Each one of us has a vested stake in protecting that corridor and working together," he said.
Mazzie, a police officer who lives in Danvers, Mass., also happens to work part-time as a locomotive engineer.
"I've been in the railroads my whole life," he said.
He's very familiar with the Concord section of track, Mazzie said. In his view, there's plenty of room for both the rail bike business and the rail trail to run side by side in most places.
"Coexistence absolutely can work," Mazzie said.
He even has a solution for those narrow railroad bridges.
In Wolfeboro, he said, the rail trail runs down the middle of the railroad tracks when it crosses a bridge. When the railcar operators see a bicyclist or walker coming across the bridge, they stop and let them cross first.
And vice versa: "When a bicyclist or walker sees us coming across the bridge, they stop, they wait for our railcar to cross the bridge," he said.
"When it comes to usage of the trail, a little common courtesy can go a long way," he said.
Back on the rails?
Pan Am's Scarano said a railroad corridor typically is about 82 feet wide.
She said LeBlanc's rail bike business is a good use for the abandoned rail line. "I think he's found a little niche," she said. "I think it's good, and it keeps the rail line, which is nice."
She also thinks the rail trail and rail bikes can share the land.
"I think that it's a great idea, that they should try and work something out that they can all use it," Scarano said. "As long as it can be safely done."
There's another consideration as Concord contemplates its future plans, Mazzie said. "There are shifts in the economy, especially with fossil fuels becoming more expensive," he said. "Rail is the cheapest and most fuel-efficient way to ship a product."
The same railroad corridor also could be an important link if the return of passenger rail ever does become a reality, Mazzie said.
"When you rip up a railbed and alter it, it's gone forever," he warned.