T he sightings started about two weeks ago, and from all accounts involve a contemplative astronaut roaming around Manchester.
The figure, in a white high-altitude space suit and helmet, gravitates toward isolated spots — a deserted street corner in the dead of night, a shuttered gas station in a snowstorm, a strangely still span of a bridge.
But this past Sunday at 11 a.m., the astronaut, along with professional photographer Karen Jerzyk, got an invitation to KC's Rib Shack on Second Street.
"We were closed at the time but we offered them the menu," said Christine Ferrante, operations manager and catering director for the Second Street restaurant. "Karen ordered the chicken sandwich. All the astronaut wanted was a pint of dirty rice and cornbread. They got it to go."
Though people in other parts of the United States have reported seeing the "Lonely Astronaut" as early as 2017, it took a rollercoaster of a 2020 to bring some unexpected poignancy to Jerzyk's surrealistic astronaut photo shoots — and for the photographer to focus her lens on her home city.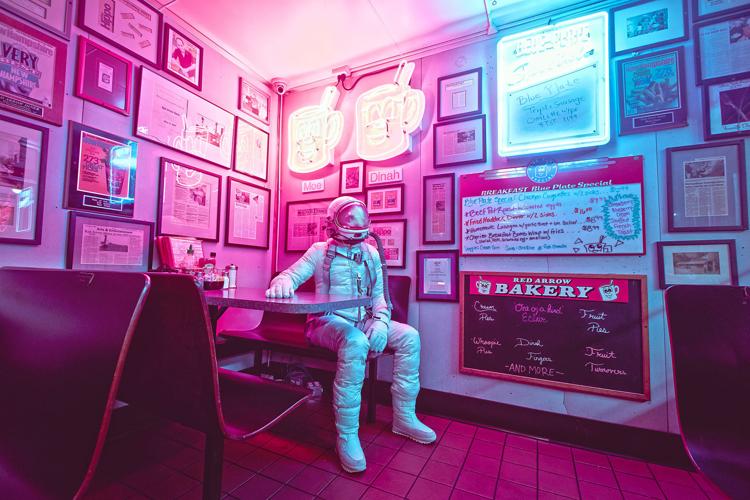 Normally, Jerzyk does a lot of traveling for work, but with the COVID-19 pandemic, she's had more time at home and at her studio on Bedford street. So, the Lonely Astronaut, who once posed for pictures in the Mojave Desert in 110-degree temperatures, has reemerged in the cooler Granite State.
"I grew up in Manchester, and always lived here. It's strange to me that I've finally connected with a community, and it's during a pandemic," Jerzyk said with a laugh.
Since mid-December Jerzyk has been posting Lonely Astronaut photos on a couple of Queen City community pages and her own social media. The sight of the figure in freeze-framed settings is resonating with people who feel like they've been in a standstill since last spring.
"It's only been a year, but people say, 'Remember when we could go out and do things?" Jerzyk said.
Ferrante and her fiance, Kevin Cornish — the namesake of KC's Rib Shack — were among those struck by Jerzyk's work and invited her to do a photo shoot at the restaurant before it opened for the day.
"My perspective literally changed this year," Jerzyk said in an end-of-year Facebook post. "Because of the (pandemic) ... I realized that, like everyone else, I had to hunker down and make the most of what was around me. I think the years I spent ignoring my surroundings allowed me to find myself and what I wanted my aesthetic to be and come back to where I started."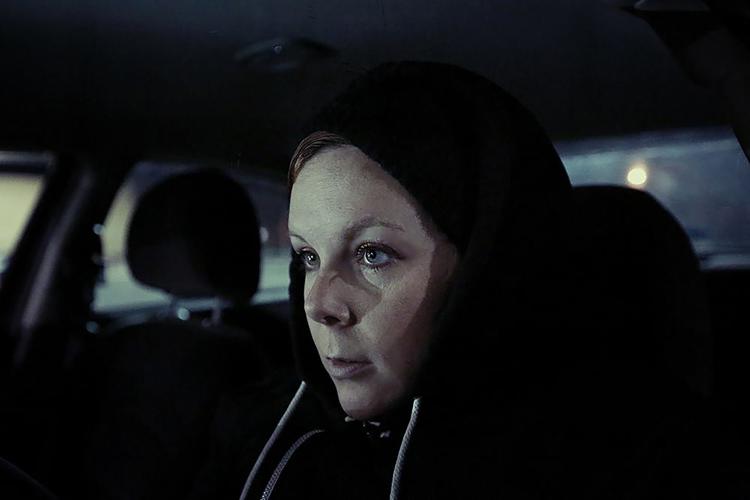 Jerzyk is a lifelong science-fiction fan, and her Lonely Astronaut series comes with an imaginative backstory: What if humans fled an inhospitable Earth, leaving everything in their wake, and an astronaut got the chance to return and walk through all these intact scenes of abruptly interrupted lives?
Jerzyk has always been fascinated by the notion of abandoned places.
"They are frozen in time. It's amazing to me. What struck me the most is that some looked like the owners just up and left. Some still have utensils and cups in the kitchen," she said.
Her exploration has resulted in some striking scenes, but, she says with a chuckle, it also led to an arrest in 2014 for trespassing at a Hollis house that, while long unoccupied, was not actually abandoned.
"It was frozen in time inside, from about the '50s," she said. "It's a good story, but I'd never want it to happen again!"
The response to her recent "Lonely Astronaut" pictures, with its mix of nostalgic and apocalyptic vibes, has been overwhelmingly positive. It's drawn comparisons to the multi-season Netflix smash "Stranger Things" and its parallel universe known as the "Upside Down."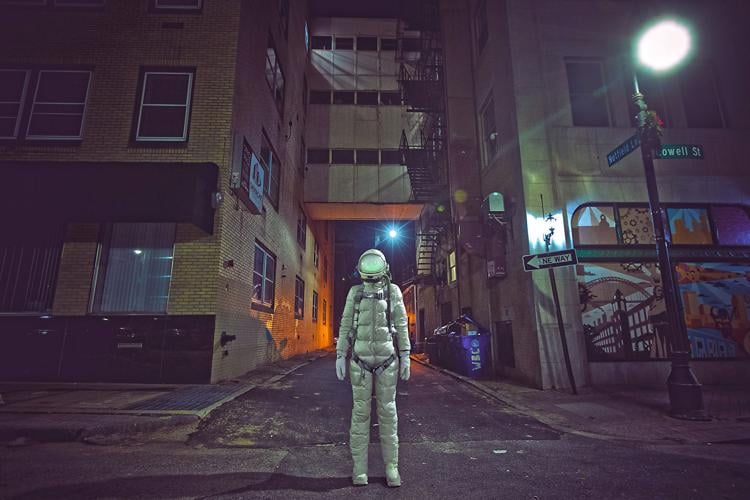 "It was cool to see people's reactions. Some people thought it was creepy, but a lot said, 'This looks really cool,'" Jerzyk said. "I like that people are seeing Manchester in a kind of different light, especially now. We all feel a little stir-crazy right now, stuck in the same place, with everything going on in the world. The comments meant a lot — people from all walks of life that seemed to like it. That was a surprise to me."
Most people don't ask who is in that astronaut suit, but automatically seem to refer to the figure as a "him" in social media comments.
"I noticed that people like the fact that they can imagine themselves in the character. You can't tell if the astronaut is male or female or what the age is," she said. "I usually find a friend to wear it and just stand in front of a place. Lately, it's been my friend, Lexy, who lives in Weare."
"She's just a tiny thing," Ferrante said after meeting the space traveler in the antique high-altitude helmet.
Jerzyk is scoping out more shooting locations.
"I definitely want to do more in Manchester and in places like Concord and Portsmouth. Lately I've been Google searching and when driving around, I make notes," she said. "There is a barber shop on West Street near Walgreens that is high on the list. Anything that catches my eye. There's a car wash on Second Street that looks really cool."
She welcomes requests and suggestions for future photo shoots.