When New Hampshire went under stay-at-home orders, Merrimack landscape oil painter Jessica D. Perez lost a pivotal creative outlet.
With her kids at home doing remote learning, "it kind of became a bit much to have oil paints and mineral spirits and all kinds of things potentially harmful in my studio," she said. "So, it was like, OK, if I can't do that, I gotta find something else that still lets me work as an artist. I completely had to reinvent myself, in a way."
She took to Facebook and Instagram, asking people to send in photographs of first responders and others trying to make a difference during the pandemic — people whose faces were largely covered by personal protective equipment.
She called it the "Mask Project."
Submissions quickly started coming in, and with them came unexpected details "about where they are at on the front lines, what they have been seeing, the things they want to honor in their lives," she said.
The first batch of submissions included 30 images, many with notes about how the pandemic has brought out the best of people in the worst of times.
"So many people wrote me — 'This is my friend and she's in the hospital and she's doing this… or 'This is my friend, my niece, my nephew …'
"It was like an outpouring from all these people who just really wanted to provide something (positive) for everyone to see."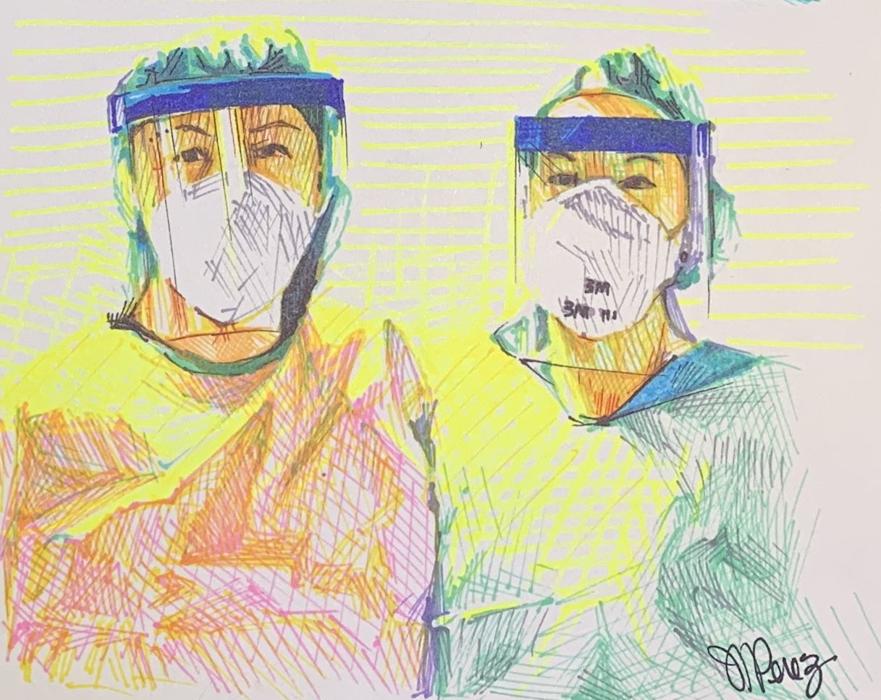 That includes Kenneth Lopez, a Californian who sent Perez a photo of a woman named Veronica Tafoya.
"I chose (to highlight) Veronica because she is a believer in supporting and helping people in need," he explained in response to a Messenger query.
"She's a mother, wife and provider for her family. She sets herself as a representative of a positive role model as an emergency responder. I chose her because she lost her ex-husband and my nephew over a year ago. She gives 100 percent to the community while performing her job. Veronica is my angel 'cause she gives back from her heart."
Perez has done about 70 drawings in the past couple of months, and there are about 150 more submissions from around the world in her queue. When she completes a portrait, she posts it on social media, thanking the person who sent in the original photo and tagging the person featured, if possible.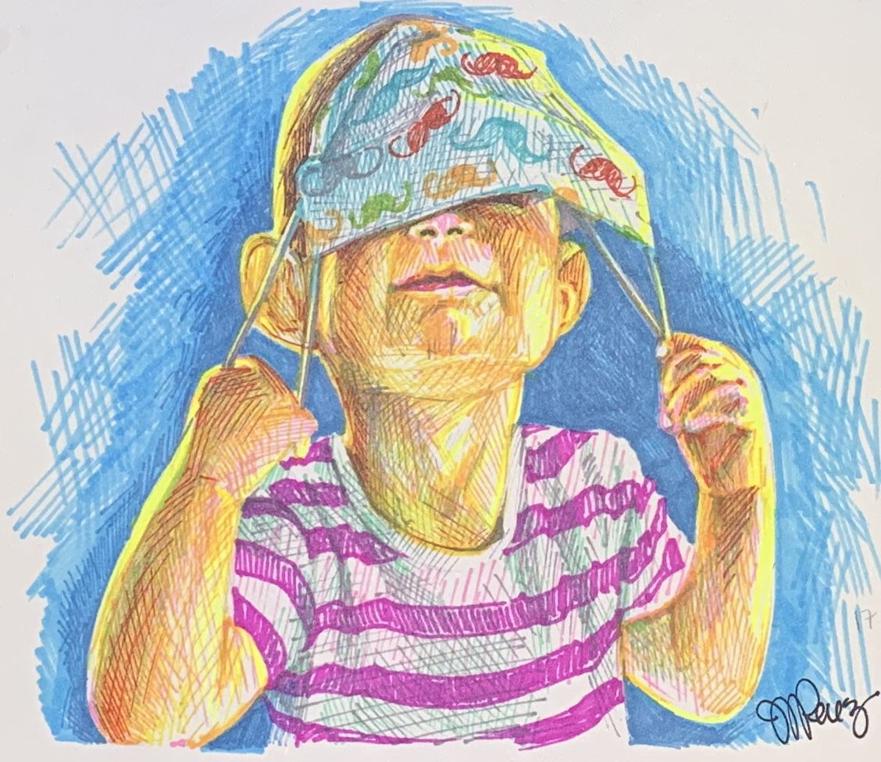 "They can share those posts — spread the joy," she said. "Most submissions now are one or two degrees removed, and then there's also complete strangers. I don't know who they are or how they found me."
Life in the Granite State
Perez was born and raised on the West Coast, where she spent her early childhood in Utah, California, and Idaho. When she was 14, she, her twin sister, her mother and stepfather moved to Germany, where she graduated from an international high school. In all, Perez lived in Germany for 10 years.
Later Perez and her husband, Stephen, lived in Canada, where his job had taken them. But a new opportunity — and a serendipitous car trip through northern New England — led to a move to Merrimack just under a year ago.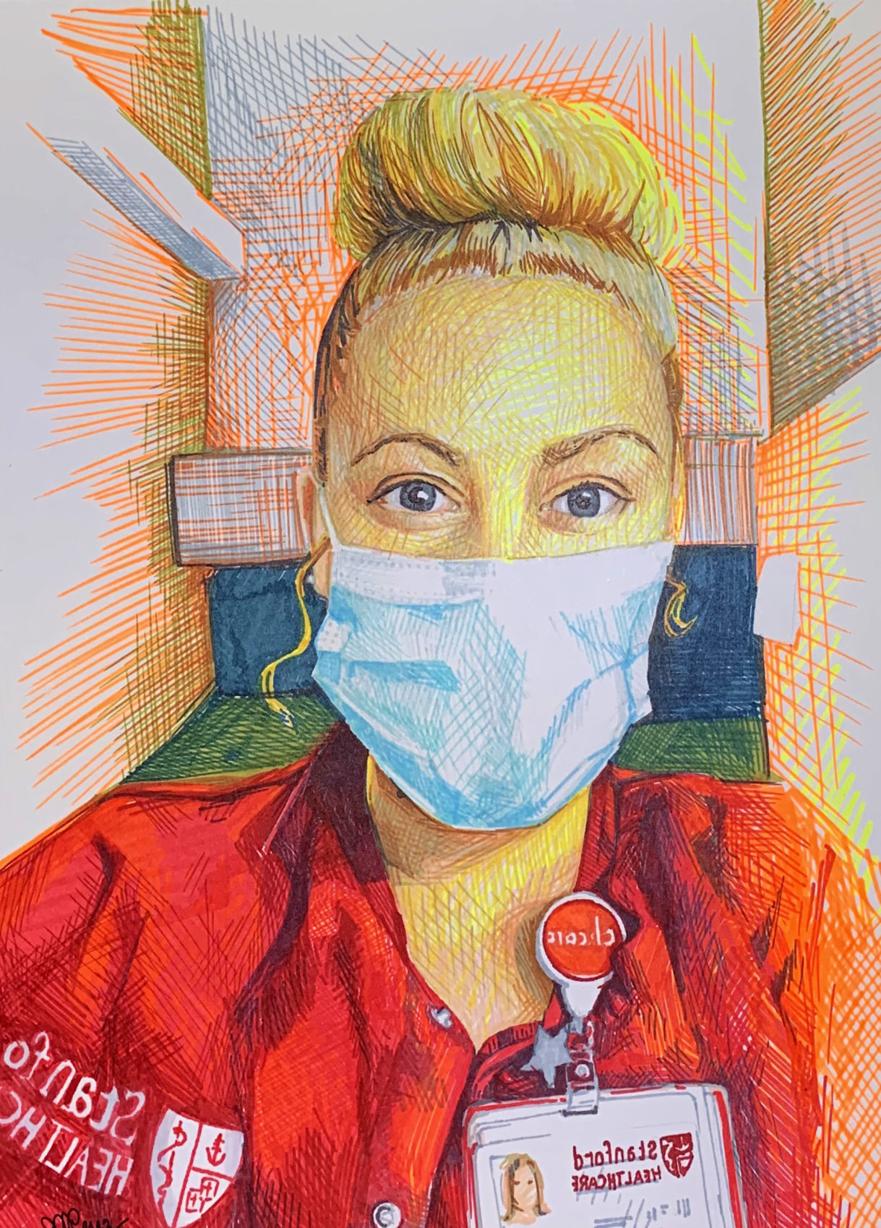 "The landscapes brought me here," Perez said. "We were driving down through Vermont and New Hampshire, and exploring where we were going to live."
With a studio in their Merrimack townhouse, Perez continued work as an oil painter, doing commissions and exploring the countryside. But that changed abruptly when schools closed their classrooms and went to remote-learning models.
"I'm not producing landscapes right now because I'm not out hiking for a couple of days in a row," Perez said, laughing as she added, "I have kids (ages 6, 8 and 10) to teach — well, let's see, supervise — for home distant learning, which has been so fun."
Moving to portraits
Perez, who was missing the artistic community she got to know through her landscape work, gathered up a stash of Sharpie markers and began sketching striking portraits of the photos that people were sending her.
"I had a color chart to get to know each color, but then I found troubles with variations with transitions and color and hue," she said.
After a fellow artist recommended using Arteza markers, Perez said she's got a wide color palette that make details pop.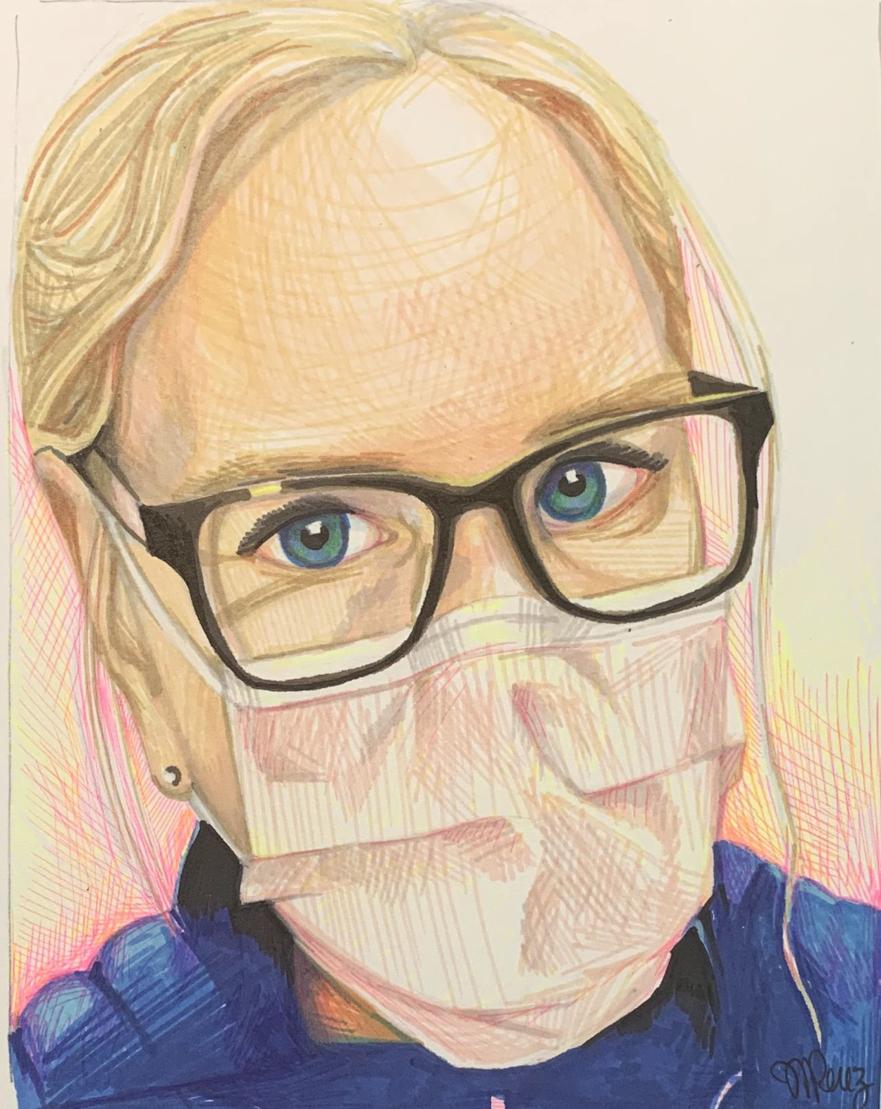 "It was a good investment," she said of paying $1 for each marker. "I'm still using some of the Sharpies but not every company gets everything right. The yellows in the Sharpies, the neons in the Sharpies are some of my favorite tools and for everything else, it's those Arteza markers. They have good transition qualities, which helps with the impact. I have more control over how it works out."
A few of images are playful, especially one that shows a little girl missing the mark with her own mask placement. The happy toddler is pulling a mask over her eyes and forehead instead of her mouth.
"Her name is Izzy, and she's 21 months old. She played with her first mask while her grandmother was sewing masks for the medical community," Perez said.
Though she hasn't met Izzy or her grandmother, Perez does know the child's mother, Amanda Phillips Torres — Perez babysat her in Boise, Idaho, way back when. They reconnected via social media years later.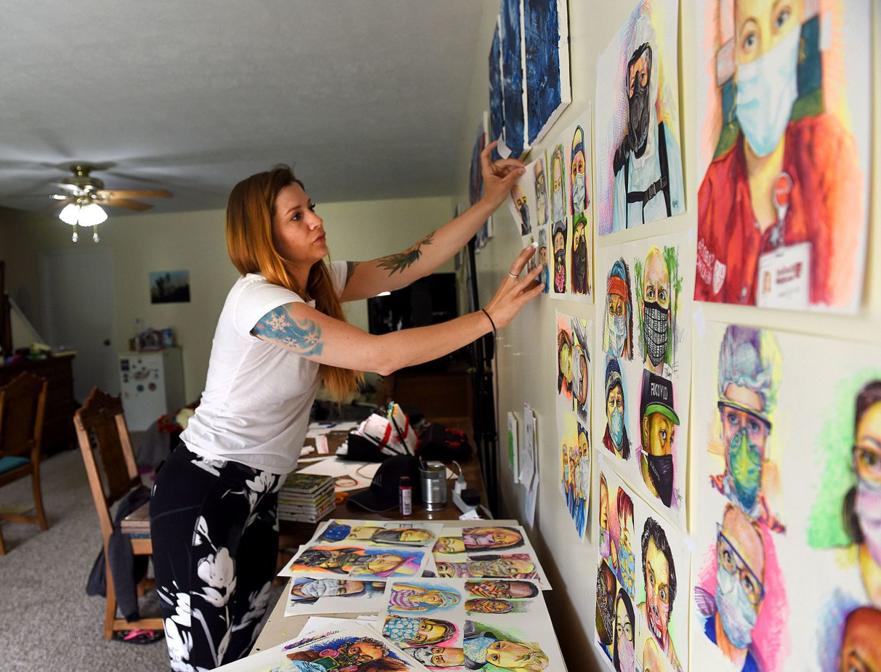 In the majority of the portraits the masks are, indeed, covering mouths. That pulls attention to the figures' eyes, many of which show a mix of weariness and resilience. A post on Wednesday shows a uniformed paramedic from Renfrew County in Ontario, Canada, in a blue face covering. There's a crease like a worry line above the bridge of his nose.
Perez said she'll continue drawing the portraits until there is a vaccine.
With such divisiveness surrounding social-distancing measures, timelines and the politics of proof, Perez said she wants to focus on the ways people have come together in tough times.
"So much out there is negative, built on those primal fears," she said. "I want to make the efforts that we are doing for each other beautiful. We need more of that."
She usually puts in about four hours a day in the studio, with each picture taking her an hour or two. Her aim eventually is to feature the images in an exhibition and create a book that will include a selection of drawings and associated stories. For now, she's happy to boost morale.
"The Mast Project community has given me an ability to still be a part of the artistic world without having to sacrifice (family time). This keeps me home. You know, I don't have a sewing machine, or medical training, or a (skill) that can directly impact things, but what I do have is the ability to draw and paint. Somehow I'm still doing my part in some way."
To see images from the Mask Project, go to Jdperezart on Instagram.