KINGSTON — Firefighters and community members are coming together to help Fire Chief Graham Pellerin and his family after their home was heavily damaged in a fire Sunday night.
Donations have begun pouring in for the Pellerins in the wake of the blaze that struck while they were away.
According to fire officials, a preliminary investigation found that an accidental electrical fire was likely to blame.
The Pellerins' home at 9A Woodland Drive sustained extensive fire, smoke and water damage.
Pellerin said that while the home is fully insured, it could take six months to a year before it's repaired and liveable again.
He and his wife, Samantha, and their 3-year-old son, Gunner, are staying with friends for now, but will look at other housing options until the repairs are done.
Pellerin said he left home with his son around 4:30 p.m. to meet up with his wife at her work in Danville.
An hour later he received a call from his neighbors who told him that his house was on fire. The neighbors also managed to get the Pellerins' two dogs out and called 911.
Pellerin immediately headed home, calling his dispatch center to send Kingston firefighters. "My neighbor called while I was en route and confirmed that they got the dogs out. They also confirmed that it was a fully involved structure fire, so I called dispatch and had them strike a second alarm," he said Monday at a news conference outside the Kingston fire station.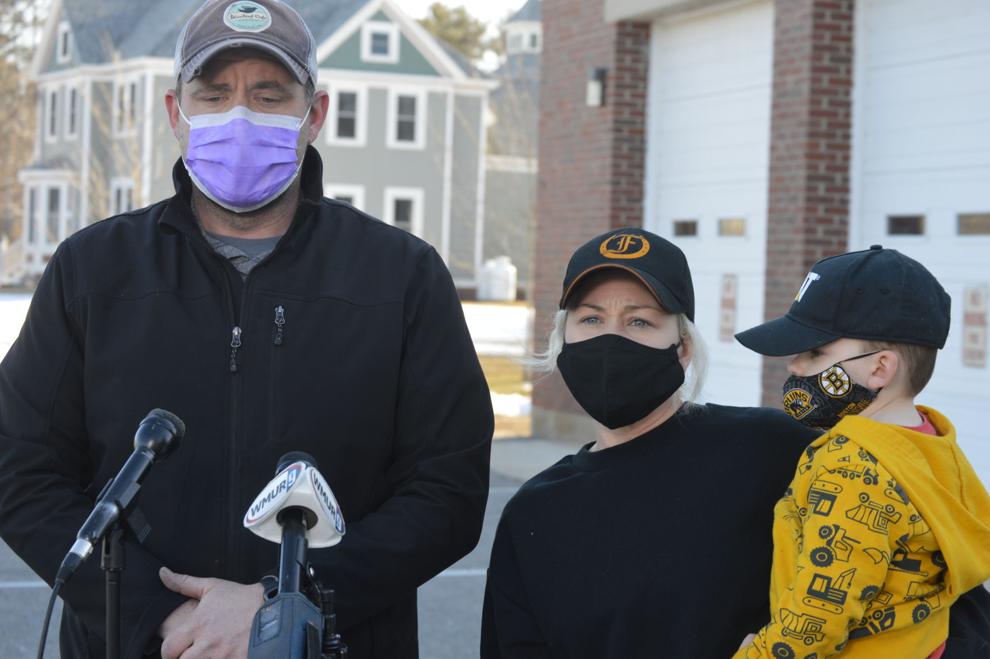 When he got home, he and a police officer moved things out of the way to prepare for the arrival of fire trucks as flames were shooting from the second floor. He continued to assist once the first trucks arrived.
"We pulled hose lines off the truck and attacked it from the outside and then my guys made entry and put the fire out," he said.
Pellerin, who has been a full-time firefighter for 13 years, said he set his emotions aside as he tried to help.
While it was difficult to watch his house burn, Pellerin said one benefit was that he knew the layout of the house to help the firefighters.
Fire crews from a dozen area towns responded to assist.
The fire has given Pellerin a different perspective as the homeowner who must rebuild after the loss.
"I kind of compare it to an ambulance call. We drop a patient off at the hospital and we really don't know what goes on after that most times," he said. "When we put a fire out we release the property back to the homeowner (and) we usually don't follow up all that often."
Samantha Pellerin described the fire as "devastating" and thanked the many people who have reached out to offer support.
She also spoke about what it's like to be the wife of a firefighter who comes from a family of firefighters.
"It's just part of the family. … He's just doing his job and I can only hope every time he goes out that he's safe, but like he was saying, it's definitely different on the other end," she said.
Fire chiefs in the area are accepting donations, which can be made in Pellerin's name and mailed to Seacoast Chief Fire Officers Mutual Aid District, P.O. Box 1288, Hampton, NH, 03843.
Friends have also created a GoFundMe page called "Kingston Fire Chief's House Fire Relief Fund" to help with immediate needs while their insurance company assesses the damage.