Dear Readers: Today's "sound" off is from a nurse who works in a physician's office.
DEAR HELOISE: Please tell your readers to leave their young children with a friend, relative or professional sitter when they visit a doctor's office. First, the child can pick up a disease from another patient. Second, the nurses cannot and will not babysit your child. We have too much work to do.
If someone needs to drive you to the physician's office, be sure it's only ONE person. Sometimes the waiting room gets filled up with patients' relatives and there is little room left for those who are sick.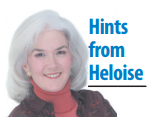 Shred those papers
DEAR HELOISE: Please inform your readers that if they don't own a shredder, they may want to invest in one. A cross cutter is best. It's important to shred bills and all financial documents that are no longer needed or are stored online.
Adios to appliances
DEAR HELOISE: I discovered that if I have something that's still serviceable and of value, such as an old dishwasher, dryer, etc., if I put it out at the curb with a sign stating: "It still works and it's yours for free," by morning of the next day it's gone!