MILFORD — A New Hampshire Air National Guardsman who is most comfortable in military fatigues and combat boots is now sporting a sequined bikini and spray tan for her new venture in bikini bodybuilding competitions.
Elise Maclaughlin admits that standing on stage in the spotlight has her completely out of her comfort zone, but she is hooked.
"It is definitely day and night. During the day I am in uniform with no makeup and everything is the same. This is like my alter ego with makeup and spray tans and high heels," said Maclaughlin, a 22-year-old senior airman. "It is crazy. Sometimes I look at pictures and I don't think it is me."
When not working on her full-time Guard career or attending accounting classes at Plymouth State University, Maclaughlin is training for organized bikini bodybuilding shows. And while she admits that her physique is important for competitions, there is also the matter of the perfect stage pose, lighting and presentation.
Maclaughlin competed in her first show in 2017 in Dover, but said she didn't do as well as she had hoped.
"Still, I kind of just fell in love with it. It is not just weightlifting anymore — it is almost like therapy. Everyone has their thing that they do and love. For me, this was it. After that, it was wildfire," she said.
During her free time from studying and Guard duties, Maclaughlin can be found at Fit Focus in Laconia, where she trains for her bodybuilding shows. She will prep for about 16 weeks prior to a competition, typically lifting daily for about 1½ hours, followed by up to an hour of cardio work.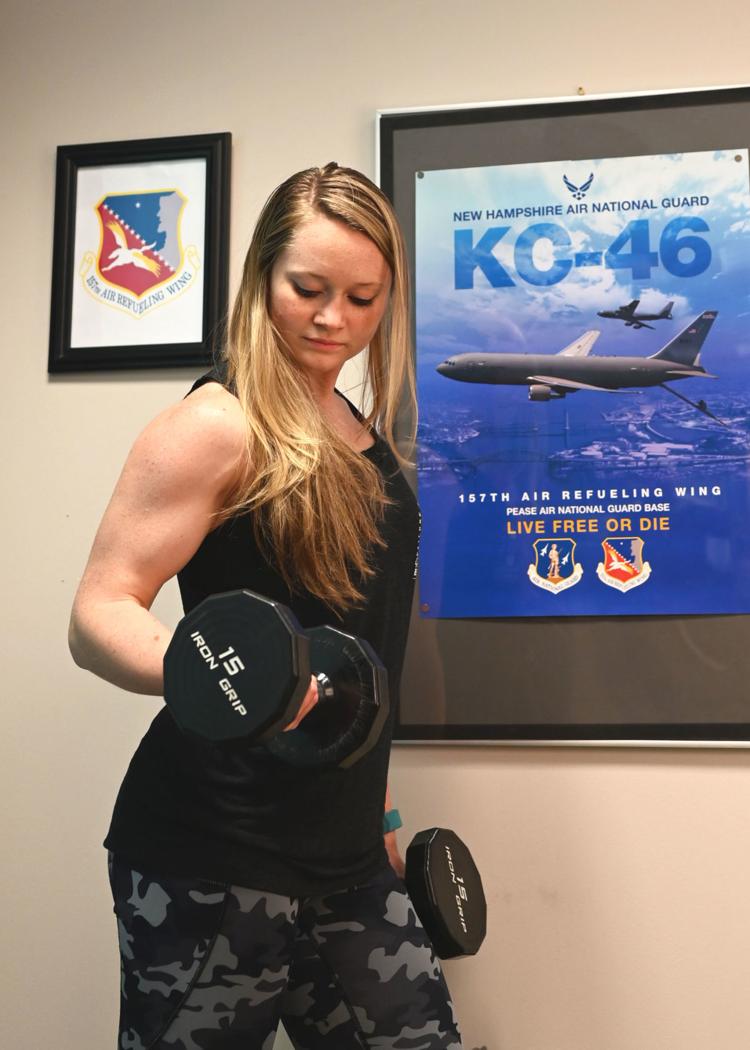 The weights are important, but her food intake is also key to her success, she said.
"Eating is definitely the hardest part, I would say. I spend hours on a Sunday prepping my meals and weighing everything out," said Maclaughlin. "When I am in prep, I know everything in my body to the gram, and I have to drink a lot of water."
Maclaughlin graduated from Milford High School in 2015, and is currently a senior at Plymouth State University.
Spending time in the weight room had never been a priority for her until this newfound passion surfaced two years ago.
"Now, I just lift. It is my therapy — my getaway," she said.
Her work ethic is grounded in her childhood. Maclaughlin spent time on her grandparents' farm in upstate New York, baling hay and taking on other responsibilities around the property.
"Elise is one of the hardest-working competitors I have ever coached. She never complains, she puts her head down, does what she is told and she works hard," said Michela Raymond, a professional bikini bodybuilder and Maclaughlin's coach.
Being a true fitness competitor takes a lot of time, discipline and willpower, according to Raymond. She said Maclaughlin never misses a cardio session or workout.
"It takes a certain personality to shine on stage, and she exceeds that. Becoming a pro isn't easy, and it's every competitor's dream. Elise is pro-quality in every aspect of bodybuilding," Raymond said.