DEAR HELOISE: I read your column in the New Hampshire Union Leader every day. I've never seen anything on skin tags. Do you have a solution for these annoying tags?
— Muriel W., Pembroke, N.H.
Muriel, yes, see a dermatologist and have them removed. At that time, your doctor also can examine any moles you have and make recommendations on what to do to avoid skin tags. Although people often talk about various homemade remedies for skin tags, you're better off seeing a physician for safe removal.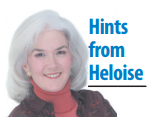 Litter box odors
DEAR HELOISE: How do I get rid of cat litter box odor? It's everywhere! I use air fresheners, open windows — nothing helps.
— Mary C., Washington, D.C.
Mary, empty out the litter and fill the cat box with water. Add 2 cups of bleach and let it sit for an hour. Then empty the box and set it in the sun to dry. Before you put more fresh, clean litter in the box, sprinkle a generous amount of baking soda in the box and then cover with the fresh cat litter. Also, be sure you are emptying the box frequently, and use a litter that absorbs odor.