KINGSTON — The town plans to rekindle an old tradition this summer now that state lawmakers have passed a bill allowing an old car to be burned atop a 30-foot bonfire.
The Kingston Bonfire and Beerfest will be held June 29 as part of the town's 325th anniversary celebration, but the plan to stick a car on the pile of clean pine lumber required legislation because of potential environmental concerns.
The three-story bonfire was a popular event for nearly 50 years before it ended in the late 1980s. It began with an outhouse on top and later a car was added. Spectators would stay until the end to see the car come down.
Many residents and out-of-towners who grew up attending the annual bonfire hoped there would be a way to bring it back, even if it's only for this year.
"There's a whole generation of kids who have grown up and have never seen it," said Rich St. Hilaire, a member of the Kingston Volunteer Fire Association, which is organizing the event.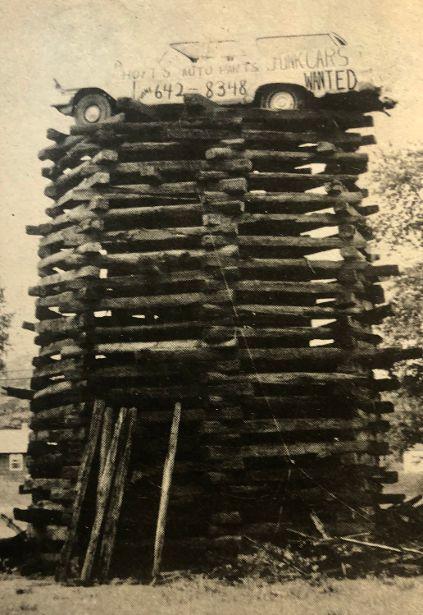 Getting a burn permit for an ordinary bonfire wouldn't have been a problem, but adding a car today isn't as simple as it was years ago because of more stringent environmental rules.
Fire Chief Bill Seaman said the issue was brought to the attention of the state Department of Environmental Services, which only allows a vehicle to be burned for firefighter training.
State Rep. Ken Weyler, R-Kingston, sponsored House Bill 167, which recently passed the House and Senate and is expected to be signed by Gov. Chris Sununu.
The legislation gives the town permission to hold a one-time bonfire with the car on top for the anniversary. It will be held along the Kingston Plains on Main Street.
Seaman said the car will be stripped of its interior, transmission, tires and other mechanical parts and will have all fluids drained.
The only pollutant of concern that will remain is the paint, but Craig Wright, director of the Air Resources Division at DES, has told officials that he has no concerns about the bonfire with the precautions the town is taking.
Weyler remembers watching the bonfire in the 1980s.
"We know it was a great event and I don't think any other town was doing it. We look at it as part of our history and we're getting it back. I think we all recognize that this is a special event," he said.
Kevin St. James, the event's co-chairman, moved to Kingston in 1994 and never had a chance to see the bonfire, but he's heard a lot about it from people who attended.
"Everyone tells me about the bonfires when they were a kid. I wanted to see it happen at least once in my lifetime," he said.
St. James worked with the fire department to figure out a way to make it happen.
"We're just trying to hold a nostalgic event that everyone can enjoy," he said.
Other events planned on June 29 include a beer tasting festival, cow patty contest, road race and fireworks, followed by the bonfire shortly after 9 p.m. More information can be found at https://www.facebook.com/Kingstonbrewfest/.