D ick Chamberlain has witnessed many heated town meeting debates during his more than 40 years as Brentwood's town moderator, but as tense as it's gotten at times, he knows he's lucky.
"Fortunately, I have never had to call the police to remove someone from the room, but there are times when we've been a little bit close," he said.
The 84-year-old veteran moderator, who assumed the role in 1979, will once again grab the gavel when Brentwood holds its annual town meeting on March 14.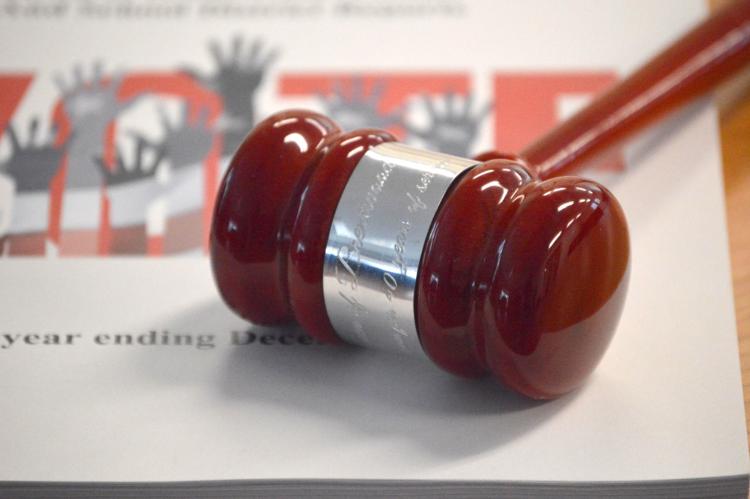 It's time for New Hampshire's annual town and school district meetings — a New England tradition that dates back to the early 1600s.
It's that one time of the year when voters get to decide directly how they want their local tax dollars spent by their elected leaders.
Sometimes those decisions are made with very little fanfare.
Other times they come after impassioned pleas from voters on all sides of the issue.
And it can get pretty personal.
"I remember when some fistfights took place in the school," Fremont town historian Matthew Thomas said as he recalled some rough moments during meetings in Fremont in the 1980s.
Physical attacks are rare during town meeting season, but debates that drag on for hours are not.
Some meetings have run so long that they've had to be adjourned and continued at another time.
SB2 changed traditions
But traditional town and school meetings have been changing since 1995 when New Hampshire adopted Senate Bill 2, which for the first time allowed voters to decide their town and school spending proposals on an official ballot in the privacy of a voting booth at the polls.
Commonly known as SB2, the alternative to traditional meetings has been adopted by many communities over the years.
While towns and school districts that use the SB2 form of voting must still give voters a chance to debate and amend warrant articles at what is known as a deliberative session, the final votes occur at the polls in March.
Brentwood is one of the towns that has so far rejected a move away from the traditional town meeting. That means Chamberlain still gets to run the meetings the same way he has for 41 years.
"I enjoy watching the puzzle come together," he said.
And he watches it while always making sure to keep his own opinions to himself.
"One thing that I feel very strongly about is that a moderator has to be publicly neutral. I don't write letters to the editor. I don't participate in phone banks. I've never put signs in front of my house," he said. The only time a sign did show up in his yard, he said, was when he was away on a trip and someone else stuck one there.
What gets people riled up
Kensington Town Moderator Harold Bragg has been at the job for 10 years, but has been attending annual town and school meetings since 1978.
One of the more lively debates in recent years came when a group proposed returning to the traditional town meeting; Kensington was among the first towns to adopt SB2 in the 1990s.
The proposal failed as residents decided to stick with SB2, which Bragg said has created an environment where voters feel less intimidated because they can cast their votes in a private booth.
"The toughest part is the unpredictability of the room. You never know what the hot topics are going to be. You try as moderator to know beforehand what the dynamics of these warrant articles are, but you can never anticipate what the wild card will be in the room," he said.
Bragg, 67, said he always stresses the need to be civil and tells residents that regardless of the debates during deliberative sessions, they must leave as neighbors.
When things get too personal, Bragg stops the debate.
"People hold very strong opinions and those opinions become personal," he said.
Thomas, Fremont's historian, said he misses the traditional meeting format in his town, which switched to SB2 in 2009.
He said the old meeting style was a better way for people to hear different points of view before making their decisions, because few people attend the deliberative sessions.
Regardless of the voting method, Thomas said he sees a lack of respect for other points of view these days.
"It never hurts to hear a difference of opinion," he said.
Chamberlain echoed that sentiment.
"Rather than staying at home and grousing about what's going on or wandering around town grousing to other people about it, at the very least they've got an opportunity to come to a meeting and hear both sides of the issue and give their own impressions if they wish to," he said.
"At its best it's one of the best forms of pure democracy out there."