F or two decades, the Shaky Shack endured countless wind storms to become one of the North Country's most-loved exhibits at Mount Washington Observatory's Weather Discovery Center in North Conway.
Now a partnership with the McAuliffe-Shepard Discovery Center has the shack quaking new ground in Concord.
"A lot of people really think of us as a planetarium and a space museum, and we absolutely are," said education coordinator Christina "Chee" McGuigan. "But this is really going to help us emphasize the earth science part of our mission. (It's) an opportunity to ground all of our other exhibits — sort of bring it down from outer space."
When the observatory closed its Weather Discovery Center last fall to funnel energy into its weather and climate research, it hoped the shack and a myriad other displays and interactive features could find new homes.
"A few of the exhibits went to our museum at Mount Washington State Park (on the summit) and we are finalizing an agreement to put (others) at the visitors center in Intervale, where there is a viewing area and a big exhibition area," said Donna Dunn, Mount Washington Observatory's interim executive director.
But 80% of the exhibits went to Concord as a "long-term loan, at no cost," said Jeanne Gerulskis, executive director of the McAuliffe-Shepard Discovery Center.
It's meant not only relocating but "refreshing and, in one case entirely rebuilding," favorite elements.
Starting on Friday, visitors to the McAuliffe-Shepard Discovery Center can check out the additions, including the Tornado Tube, which recreates a mini tornado in the Planetary Sciences Gallery.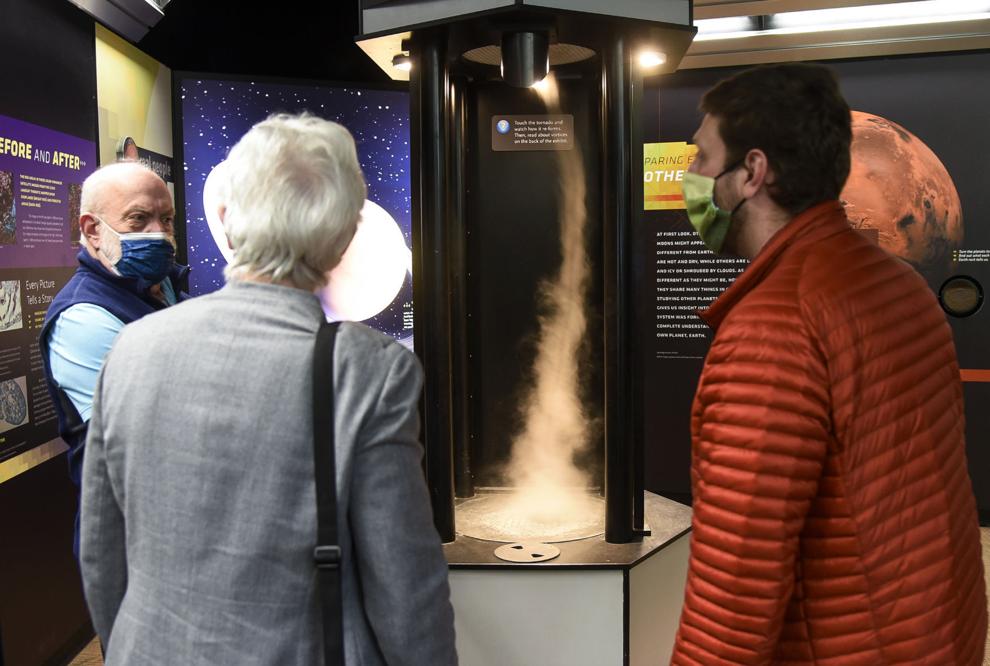 But it's the Shaky Shack that has always been a particular favorite for tourists and area families — and a labor of love for those who have had to reconfigure and rebuild the attraction and its mechanics each time it's moved into a new gallery space.
The exhibit is loosely modeled after the rustic cabin on the Mount Washington summit where three hardy weather researchers, nine cats and two guests on the top of the mountain charted the highest wind speed — 231 mph — ever recorded by humans. (That wind speed has since been topped — in Australia during a 1996 tropical cyclone — but that was recorded by automated systems.)
The Shaky Shack was designed to give people a sense of what that wind felt and sounded like on that June day atop Mount Washington, known as the "Home of the World's Worst Weather."
The shack represents "a wooden structure held onto the summit by chains. It makes you think, 'OK, if the building starts blowing away, what would I grab onto so that I wouldn't blow away? And (the answer is) pretty much ... nothing," said Dunn with a laugh.
During a sneak peek on Wednesday in Concord, guests including Executive Councilors Cinde Warmington and Joseph Kenney got a chance to step inside the gray shingled cabin, which is about two-thirds of the way through construction and is the third version of the shack to be built in New Hampshire in the past 20 years.
Center officials put the shack's settings at a lower level for the demonstration, but even so the wind whistles and then whips, building in intensity and volume in the simulated wind storm. Snow falls on the other side of a little window, where the needle of a wind-speed gauge steadily rises. Underfoot, a growing rumbling vibrates through spectators' legs. (The so-called ButtKicker bass speaker is behind that effect.)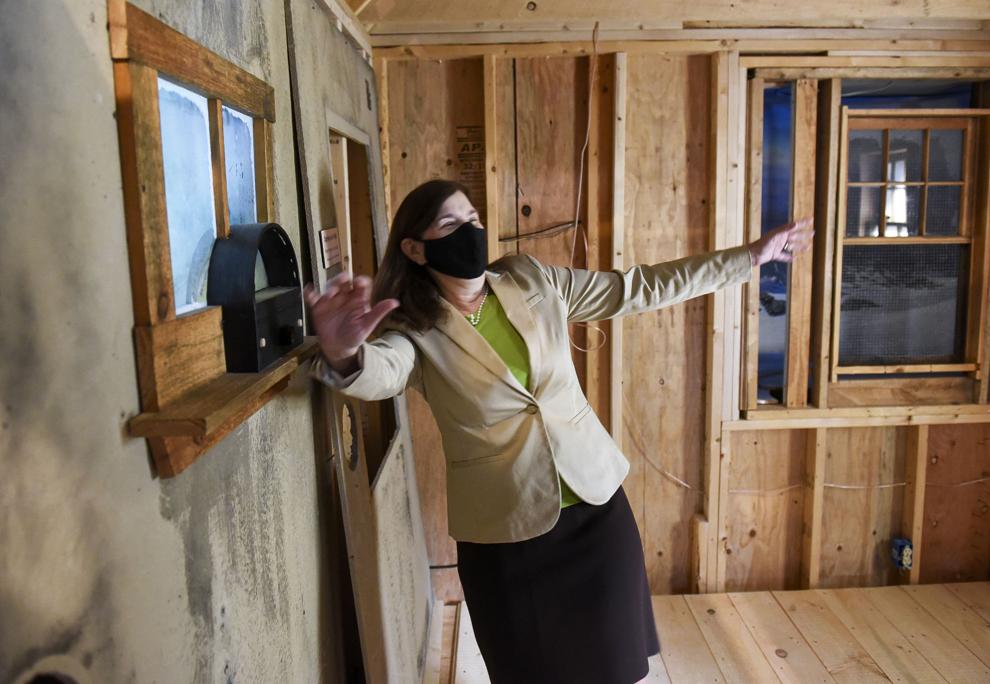 There's relief at finding a new home base for the Shaky Shack, but it's been anything but a breeze, starting from how to even get it out of the North Conway building.
As a team made up of staff and volunteers from both sites joked in a recent Facebook post, "If 231 mph winds couldn't take it down, how are we supposed to?"
A time-lapse video taken over the course of five days shows the intensive effort to dismantle the structure piece by piece, ship what could be salvaged and then begin reconstruction of the exhibit in its new space "down south."
It's a testament to how well John Mitchell, who was hired by the observatory in 2000 to help with design and construction of exhibits, built the Shaky Shack right into the walls and floors of the observatory's North Conway building. Earlier, he had constructed a smaller prototype for the museum's first home about a quarter mile away on Route 16.
"He's built a good chunk of the exhibits. He's been invaluable throughout this process, guiding us on what goes where. He's an incredibly gifted exhibit designer," McGuigan said.
Mitchell recalled how busy the summer seasons in North Conway always were, especially when rainy weather drove big crowds of people inside.
"It was sad for me to see it close," said Mitchell, who lives in Conway and retired from the observatory in 2018. "I was there for 20 years."
Since January, the pressure if rebuilding has fallen especially on Paul Higgins, a Bedford resident whose volunteer efforts are more like a full-time job with unpaid overtime.
"I take my hat off to him. He's probably doing 90 percent of the work by himself. He's incredible, and he's a volunteer. I'm surprise they don't make him sleep there," Mitchell said, laughing.
Higgins took part in the shack's deconstruction in North Conway, where they were able to save a couple of walls and some of the basic framework. But he had to build the other two walls and roof trusses from scratch n Concord.
"It's by far the biggest project I've taken on since I've been here," Higgins said of his 20-year history with the center, including serving three years on the board of directors. "My father was a carpenter, but I had just basic carpenter skills. Getting started was the toughest part, convincing myself that I could do it."
Once completed, the shack will be furnished once again with some period-specific items — a bunk, an old typewriter, hand-cranked phones and instruments to chart conditions.
It's even rumored that a famous observatory cat named Nin will be making a comeback in the new location.
The flying cat
Back in the day, Mitchell was working with Apple's early computer animation programs, experimenting with how to layer images to create seemingly moving scenery.
It worked well, but it took a long time — enough time for Mitchell to have a random thought: like the scene in "Wizard of Oz" when livestock goes flying past Dorothy's window in a Kansas tornado. Just when the winds reach a fever pitch and the Shaky Shack is shaking in its timbers, a cat flies across a screen disguised as a cabin window.
"We used a still photo of her from the side and animated her so it looks like she rolls right by the screen. 'MEOW!" he said, mimicking the panicked sound of a suddenly airborne cat. "You'd hear people laughing."
It also took a bit of imagination – and muscle — to get all the various pieces of the jam-packed North Conway collections to Concord.
"On the morning everything was going to ship, it ended up being more of a job than the mover could handle, so one of the observatory staff rented a great big U-haul and everybody loaded that up, too. Here we were, two great big trucks in the middle of nowhere, driving down the mountain to the Discovery Center. If filled our whole 2,100 square foot function room," Gerulskis said.
They're now interspersed throughout the museum, lending a broader world view to existing exhibits.
In the last week, technicians including Keith Garret, director of technology at the observatory, have been helping figure out how to adapt some of the mechanics and get them up and running hopefully in time for its unveiling.
"It's always unfortunate when any museum has to close down, but it's a wonderful thing that we have the opportunity to take on these exhibits," McGiuigan said. "We're very happy about that. It's a melding of museums. We've really made a lot of friendships in the process."