The University of New Hampshire will throw a party in honor of J.D. Salinger on Tuesday.
There will be readings from his works, a discussion of his lasting importance to American literature, and most important, the unveiling of more than a dozen previously unseen portraits of the "Catcher in the Rye" author, taken by famed photographer Lotte Jacobi.
Those putting on the event agree: Salinger would have hated every minute of it.
In the decades since he sequestered himself in tiny Cornish to avoid the attention his fame brought, Salinger's loathing for publicity has contributed to his legend, and, some say, protected him from the scrutiny he deserved.
Now, just weeks removed from what would have been Salinger's 100th birthday, the Jacobi photo exhibition will offer a slightly new way of looking at the author at a time when many are reflecting on him in the new and unflattering light of the #MeToo era.
"As much as you try to separate the artist — the personal life from his work — there's always a bit of a feeling in the back of your mind," said Ken Slawenski, whose biography "J.D. Salinger: A Life" came out in 2010, the same year its subject died. "You can never let go of those personal aspects completely. It's going to taint" Salinger's work for some people, Slawenski said.
Author and New Hampshire native Joyce Maynard knew both Jacobi and Salinger — her as a fiercely leftist political thinker and a friend, him as a predatory literary icon who convinced Maynard to drop out of Yale University and live with him for an unpleasant seven months when she was 18 and he was 53.
Later in life, after Maynard and Jacobi became friends, they never discussed the photographs she took of Salinger.
"I subscribed to the view that some people still do: that he was some sort of sacred figure that deserved to be left alone," she said in an interview. Maynard kept silent about her time with him for a quarter century, until the 1998 publication of her memoir "A Home in the World," which drew scorn from critics offended that she would break the shell of privacy Salinger had built around himself.
"If one is conducting oneself in a way that might be regarded as questionable or destructive, then invoking the word privacy is a very successful protection," Maynard said. But despite her opinions of Salinger, she doesn't subscribe to the notion that his works should be shelved and left unstudied because of how he treated her and other young women.
"I absolutely believe that art exists in a separate realm," she said. "That doesn't mean that the person who created the art is exempt from scrutiny, but I don't think anybody should stop reading Salinger because of how he conducted himself in the world."
Now 65 and in her sophomore year at Yale pursuing the degree she never completed, Maynard was excited to hear that portions of the Jacobi collection — which consists of nearly 50,000 photographs — is going on display.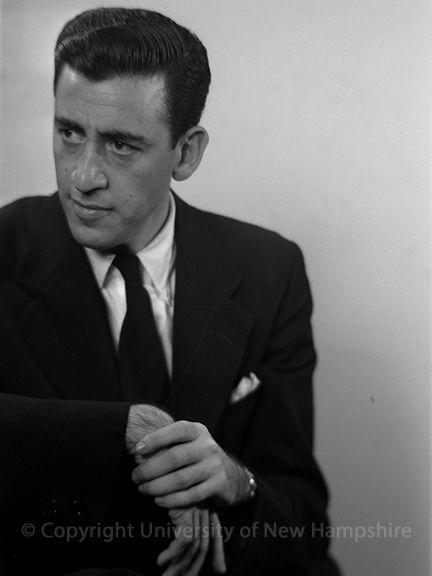 Glancing at a sampling of the new Salinger photos posted on UNH's website, all she said was, "There he is wearing a suit. Boy, was he ever far away from that by the time I knew him."
For a variety of reasons, but perhaps mostly because his famous writings are nearing 70 years old, Salinger is read less in classrooms and by the young adult audiences they once captivated, said Thomas Payne, a professor of English and liberal studies at UNH, but his works continue to influence authors writing today.
"I think that for many people his hermetic lifestyle ironically attracted more people to his books because it was so flagrantly eccentric, the way he retreated after his books got so big," Payne said. "I think that eccentricity, at the time and for many decades, made him an object of fascination in our culture, which generally expects people who are getting famous to put themselves out there."
One lingering question about Salinger, Payne added, is why he wrote if he didn't want attention. And perhaps the biggest mystery for Salinger fans is what he wrote, but never published, after he shunned fame. Salinger's family, at his request, has protected his unpublished work despite widespread calls for their release.
Slawenski said that part of the reason the Jacobi photos — taken for the book jacket of "Catcher in the Rye" — are so exciting is because they capture an important moment of transformation in Salinger's mood and ambition.
Separated from context, the black-and-white pictures are relatively mundane. Salinger sits in a chair, wearing first a dark and then later a light-colored suit. In some, he clasps his hands; In others, he doesn't. In two of the photographs, there is a vague suggestion that Jacobi has asked him to smile.
Slawenski said that he sees more in Salinger's expression.
"He's on the cusp in these photos," Slawenski said. "This is a time of transition — he's going from a very anxious author who wants nothing more than to be successful and famous to a very reticent author who will eventually have that photo removed from the book cover because he doesn't want to be recognized."
For more information about the Jacobi collection and the Salinger event — from 4 to 6 p.m. Tuesday — visit the UNH website.