MANCHESTER — AARP New Hampshire honored about 75 volunteers during a celebratory lunch Thursday at the Derryfield Country Club. The most prestigious volunteer award, the Andrus Award for Community Service, was presented to Martha LaFleur of Greenland.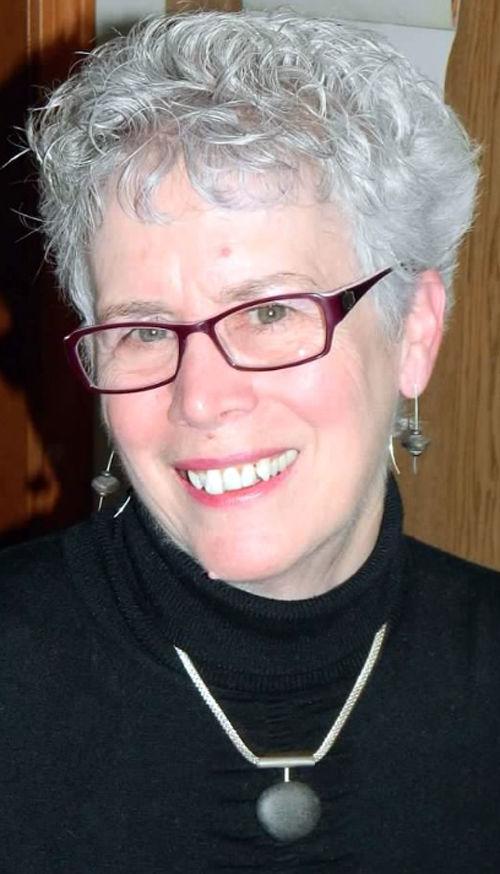 AARP also honored the Andrus Award finalists; the volunteers of the year for advocacy and for the Driver Safety and Tax-Aide programs; and the Retired Educator of the Year.
The Andrus Award, named after AARP's founder Dr. Ethel Percy Andrus, "recognizes outstanding volunteers who are making a powerful difference in their communities in ways that are consistent with AARP's mission, vision and strategic direction."
LaFleur, who moved from Keene to Greenland six years ago, was an art educator for 34 years, advocating for the arts in Keene, working to connect the schools to local institutions and citywide events that would benefit and enrich the lives of children. She was also a co-director of The Samaritans of Keene, which involved training volunteers, a 24-hour hotline and conducting educational outreach related to suicide prevention.
LaFleur became an AARP New Hampshire volunteer. She graduated from the New Hampshire Senior Leadership program in 2011 and is a member of the AARP New Hampshire Executive Council. In 2014, she was named the AARP New Hampshire State Advocacy Volunteer of the Year.
Others honored at the volunteer recognition lunch included:
• Andrus Award finalists: Laurene Allen of Merrimack; Jacqueline Creary of Nashua; Steve Simons of Stratham; and Kay Kerr of Littleton
• Advocacy Volunteer of the Year: Mary Roberge of Manchester
• Driver Safety Volunteer of the Year: Bob Slavin of Franklin
• Tax-Aide Volunteer of the Year: Bill Dunn of Amherst
• Retired Educator of the Year: Barbara Divenuti of Manchester
AARP discount offered to 'A Christmas Carol"
MANCHESTER — The Palace Theatre is offering AARP members and their guests a discount to see the holiday classic "A Christmas Carol."
The discount is for $10 off adult tickets to performances from Dec. 6 through Dec 22 at the downtown theater, located at 80 Hanover St. Performances are at a variety of times: noon, 2 p.m., 5 p.m. and 7:30 p.m.
"A Christmas Carol" tells the tale of grouchy old Ebeneezer Scrooge, who in the midst of the holiday season learns the value of giving and what it means to be kind to the less fortunate thanks to visits by the Ghosts of Christmas Past, Present and Yet to Come.
The full-scale production is filled with song and dance, special effects, actors from across the country, a live orchestra and favorite holiday music.
AARP members and guests can purchase the discounted adult tickets at www.palacetheatre.org/buy-tickets, by calling 668-5588 or stopping at the box office. To receive the $10 discount, use the code ACTIVE.
Cashin Senior Center to host dementia simulation
MANCHESTER — The William B. Cashin Senior Activity Center, 151 Douglas St., will host a dementia simulation at 11 a.m. Monday, Nov. 18.
The Dementia Live program provides an "inside-out" understanding of dementia, enabling participants to experience and feel what it might be like to struggle with cognitive impairment, according to The Arbors at Bedford, which is presenting the program.
The goal is to elevate care, compassion and empathy for those with dementia by giving people insight into what dementia is and how the person with dementia feels.
"People with dementia interpret the world around them differently than those without dementia. The reality they once knew slowly changes over time," The Artbors wrote in a news release. "For their families, coworkers, friends and care partners, these changes are mysterious, unpredictable and unsettling. Unfortunately, family members and others respond to these changes in a way that, while meant to be helpful, can sometimes result in an emotional outburst or withdrawal by the individual with dementia."
To sign up for a dementia simulation, stop by center's front desk, or call 624-6533 Space is limited.
Also visit the front desk or call the center to participate in two upcoming holiday-related programs:
During a holiday card-making workshop at 11 a.m. Tuesday, Nov. 19, seniors will create a handmade card for the Christmas season using stamps and a variety of other materials. The workshop is sponsored by Bentley Commons.
"Tips for Coping with Stress During the Holidays" is the topic of a program set for 11 a.m. Wednesday, Nov. 20. The Visiting Nurse Association of Manchester and Southern New Hampshire is sponsoring the session, which will offer practical advice about being realistic, planning ahead and seeking support that can help ward off stress and depression.
Free program to address dementia safety concerns
CONCORD — The Alzheimer's Association will offer a free program Thursday for caregivers to address safety concerns related to caring for a loved one with Alzheimer's or another dementia.
The program, "Safety and Memory Challenges," will begin at 2 p.m. at the Center for Health Promotion, 49 S. Main St.
The program is open to family and friends caring for someone with Alzheimer's or another dementia.
To register, or for more information, call the Alzheimer's Association at (800) 272-3900. For more about the association, visit www.alz.org.
Thanksgiving banquet planned at Newport center
NEWPORT — Sullivan County Nutrition Services will host its annual Thanksgiving banquet at the Newport Senior Center, 76 S. Main St., from 11:45 a.m. to 12:45 p.m. Thursday, Nov. 21.
The menu will include turkey, potato, gravy, stuffing, winter squash, cranberry sauce, roll or bread, beverage and pumpkin pie.
On Monday, Nov. 18, the Alzheimer's Association will give a presentation at the center on "Effective Communication Strategies"for caregivers of loved ones with dementia.
The program is planned from 10 to 11 a.m., with an April 6 snow date.
As people with Alzheimer's disease and other dementias progress in their journey and the ability to use words is lost, families need new ways to connect.
The association says communication is more than just talking and listening — it's also about sending and receiving messages through attitude, tone of voice, facial expressions and body language. The presentation will help caregivers learn to decode verbal and behavioral messages from people with dementia and to identify strategies to help connect and communicate at each stage of the disease.
The Lake Sunapee Visiting Nurse Association will offer a walk-in blood pressure clinic from 11:15 a.m. to 12:15 p.m. Tuesday, Nov. 19. LSVNA also will provide a foot care clinic by appointment from 9 a.m. to 3 p.m. Monday, Nov. 25, and from 8 :30 a.m. to 3 p.m. Wednesday, Nov. 27. For an appointment, call 526-4077.
NARFE meeting to feature police talk on safety issues
MANCHESTER — Chapter 408 of the National Active and Retired Federal Employees Association, or NARFE, will meet at 1:30 p.m. Thursday at Sweeney Post Hall, 251 Maple St.
The guest speaker is Marc Baldwin, a retired sergeant with the New Hampshire Troopers Association. He will discuss security issues and advise members on how to stay safe in an ever-changing environment. In particular, he will focus on issues important to seniors, such as potential scams, the importance of staying in touch with neighbors and ensuring that emergency contact information is readily available. He also will explain the role of the State Police in general, blended with stories from his career.
The chapter has set the date for its Christmas party. It will begin at noon Thursday, Dec. 12, at the Sweeney Post.