MANCHESTER — Not everybody is willing to empty their 401(k) to jet off to Atlanta to see the New England Patriots in the Super Bowl (again).
"Nope! Too adult and responsible," said New Boston resident Missy Demers.
But it's not like she wouldn't jump at the chance of going.
"If I won tickets, I'd go in a heartbeat," Demers said as she scanned the Super Bowl party items at Party City on Friday.
Tickets have been trending lower over the past week for the super showdown between the Patriots and the Los Angeles Rams on Feb. 3, according to StubHub, which resells tickets on its website.
Still, this bucket-list item will cost a bucketload of money.
A pair of upper corner seats at Mercedes-Benz Stadium were going for $5,792.50, including nearly $618 in service and delivery fees, on Friday on StubHub.
Atlanta is home to the world's busiest airport, meaning there are plenty of airlines offering flights.
A Patriots (or Rams) fan could get two seats on a Saturday afternoon flight on American Airlines from Manchester to Atlanta and fly back Monday night on Delta, bundled with a hotel room for two nights in nearby Marietta, Ga., for $1,210 total, according to the travel site Orbitz.
Throw in a rental car for $202 from Thrifty if you don't want to Uber from the suburbs.
The bill for your Super Bowl quest: around $7,200 for two and counting.
Add in parking, food and the requisite foam finger and figure on spending $8,000 or so.
Put that $8,000 on your credit card, pay $150 a month at 16 percent interest and it will only take you 94 months to pay it off with $6,062 in interest.
For $8,000, you can buy eight 75-inch 4K television sets at Best Buy this week — one for every room in the house.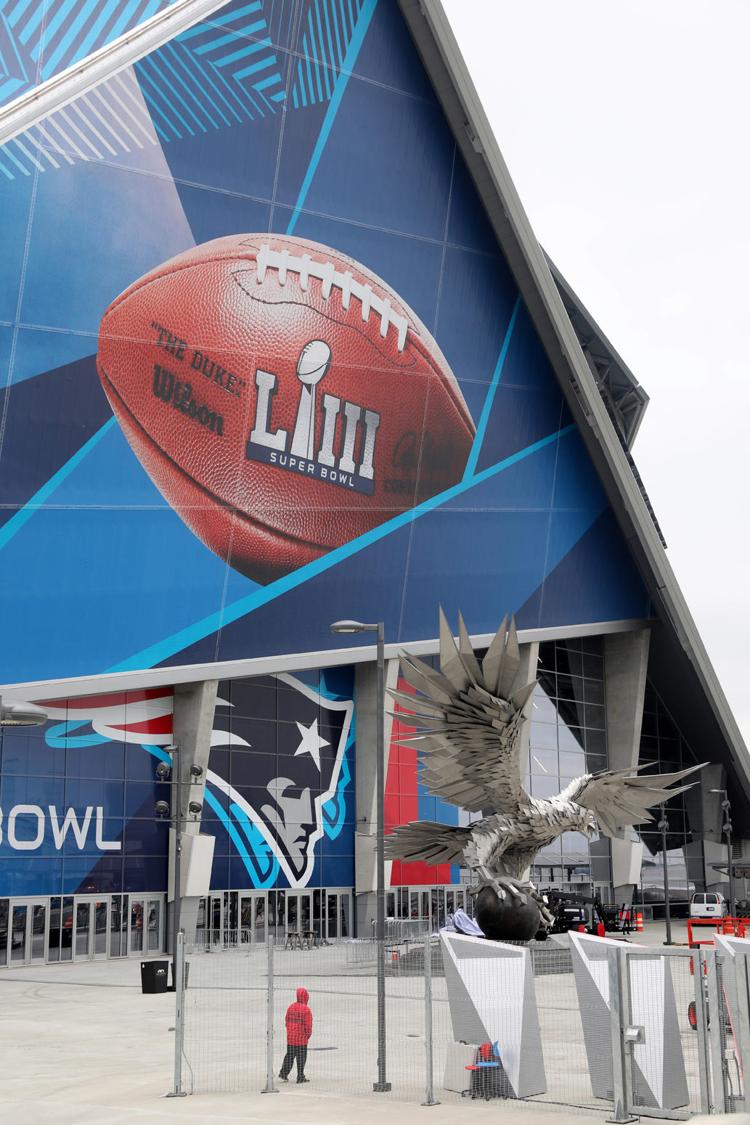 If you can't afford to go to the stadium, then you can bring the stadium to you.
Party City charges $20 for the "Infladium" — a 38-inch-long inflatable snack stadium to hold your favorite foods while watching at home.
Party City in Manchester already reported selling out of Patriots plates, cups and napkins, but a new supply is due Tuesday, according to Kelley Fitzpatrick, a front-end coordinator.
"Definitely more parties" when the Patriots are playing, she said.
Back to game tickets, StubHub reported that the get-in price on Friday was $2,139 (plus fees) with more than 4,000 tickets for sale, but ticket prices do fluctuate. The average price of a ticket sold was $5,253.
California residents barely nudged out Bay Staters, 14 to 13 percent, in terms of overall StubHub game ticket sales. Granite Staters bought 3.3 percent of its Super Bowl tickets.
"As the week has progressed, this game has become a more affordable bucket-list event," said Scott Jablonski, general manager of NFL business for StubHub.
"Earlier this year, StubHub saw similar trends for the College Football Championship game. It didn't take long for fans, particularly those in the market where the game was played, to start to take advantage of the deal, which then drove greater demand, reduced ticket inventory and drove prices back up," he said. "The same thing could occur for this major event, so we encourage buyers to take advantage of these prices and the vast selection that StubHub provides."
TicketIQ, a StubHub rival, reported upper corner seats were costing $2,450 while mezzanine seats started at $3,700. Lower level seats started at $3,300 while club seats ran $7,100 and up.
Scott Milne, president of Milne Travel, which has nine locations including two in New Hampshire, said the Super Bowl is "a high-priced item" and often attracts multi-generational family members.
The Patriots' repeated trips to the Super Bowl also might be suppressing ticket prices this year, he said.
"The Patriots have been to the Super Bowl so many times now that all the Patriots fans have done the once-in-a-lifetime Super Bowl trip," Milne said. "My sense is tickets will be available for less money next Sunday than they are today.
The fact the teams are from California and Massachusetts means long flights, tempering prices, he said.
Milne Travel's Lynn Howard put together a trip for a family of four for $25,000.
The trip includes three nights staying at The Westin Atlanta Perimeter North (or similar) for a family sharing one room as well as upper level tickets, the Super Bowl Experience on Saturday and transfers to the game. Airfare from Manchester also is included.
Milne said his company's trip guarantees four seats together and the convenience of staying in the city.
But not everybody is caught up in the hype to go.
Katie Jolicoeur, who lives in Manchester, said she has "like zero percent" interest in attending the big game. The highlights for her will be the television commercials and whether she likes the halftime show performer, which this year is headlined by Maroon 5.
Demers, meanwhile, will take in the game like most Granite State families — at home.
"We'll watch it on the big screen," she said. "Good enough for us."