PORTSMOUTH — A rare and impeccably documented 1925 Bugatti Type 35A restored in Portsmouth is expected to fetch up to $2.4 million at auction later this month.
Donald Koleman, president of Competition Motors on Longmeadow Road, was commissioned to do the work by David Carroll of Lexington, Mass., after he purchased it in 1997. The job was completed in late 2004.
Koleman, who specializes in vintage cars, said the Bugatti is unique because of who raced it.
Documentation suggests the car was raced by Marseille Bugatti agent Jean Ollivier and that Louis Chiron drove it in the 1926 Provence Grand Prix at Miramas, finishing fourth.
Chiron won almost every Grand Prix for Bugatti in the 1920s and 1930s. He was considered one of the best racers of his time and was so well-known that according to Wikipedia "He drives like Chiron" became a popular phrase to describe speeding motorists.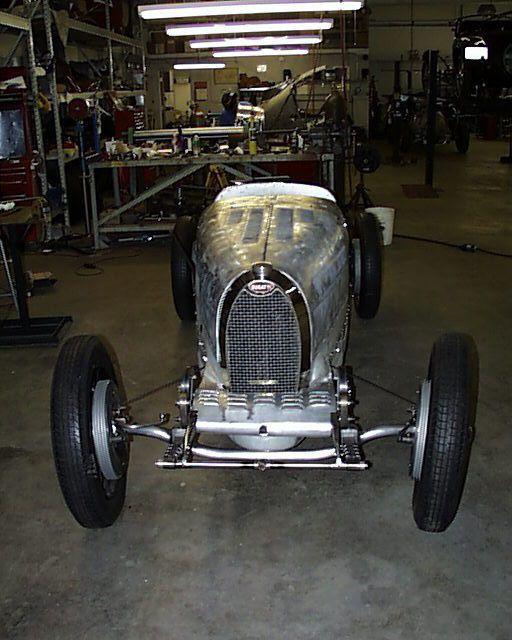 The car is so closely associated with Chiron that according to Worldwide Auctioneers it is scheduled to be placed on display at the upcoming Louis Chiron exhibit to be held this year at the Phoenix Art Museum.
Worldwide Auctioneers is holding the auction Jan. 16 in Scottsdale, Ariz. The auction house said the Type 35A was sold to Jean Arnaud of Nice in March 1927 and passed through the hands of 10 other owners before World War II. The car was raced through 1942 and then stored during the war years.
The Bugatti was eventually exported to the United States and sold to Peter Seferian of Brighton, Mass. Following his passing, the car was again stored from 1963 until Carroll purchased it.
Koleman said before being commissioned to do the work, he had met Carroll at other car events.
"He came to us and said, 'You are the Bugatti expert. I'd like you to restore my Type 35A,'" Koleman said.
Restoration work included an engine rebuild that Koleman said gave the vehicle more power.
Koleman, who was a former Massachusetts assistant attorney general, started racing himself in college at the age of 19. Now 80, his eyes still sparkle when he talks about the 1927 Type 35B Bugatti Grand Prix he competed in for almost 20 years.
Koleman is not surprised the restored Type 35A is expected to command so much money at auction.
"The car business in the last 25 years has expanded enormously for vintage cars. There's so many more enthusiasts than there used to be," Koleman said. "Auction prices are very good. Race cars are just out of sight."
Koleman said there has always been a mystique about Bugattis. Tom Ayer, who works at Competition Motors, agrees.
"These were more of a hand-built car, where a Model T would have been in a production line," Ayer said.
In a news release from Worldwide Auctioneers, principal and auctioneer Rod Egan said the 1925 Bugatti Type 35A is likely to be one of the most desirable cars offered at Scottsdale this year.
"It presents the serious collector with a matchless and thrilling opportunity to own a remarkably correct prewar racing icon. Having toured 4,600 miles through Europe in 2017, it is absolutely 'on the button' and ready to vintage race, show, tour and enjoy," Egan said.