KEENE — The president of a Hindu organization is calling for an apology over a Keene company's pet bed that depicts a Hindu deity, Lord Ganesh.
Rajan Zed, president of the Universal Society of Hinduism, is taking issue with the pet bed being sold by The Mountain, a T-Shirt company that has gained a cult status for its campy wares. The pet bed shows the Hindu god of wisdom, who is depicted as an elephant.
"Lord Ganesh was highly revered in Hinduism and was meant to be worshipped in temples or home shrines and not to place your pet on it or absorbing pet saliva," Zed said in a statement.
Zed said Monday that the pet beds trivialize the Hindu god, and such actions are disturbing to Hindus around the world. There are around 3 million Hindus in the United States, and more than a billion Hindus worldwide.
"Hindus were for free artistic expression and speech as much as anybody else if not more. But faith was something sacred and attempts at trivializing it hurt the followers," Zed said.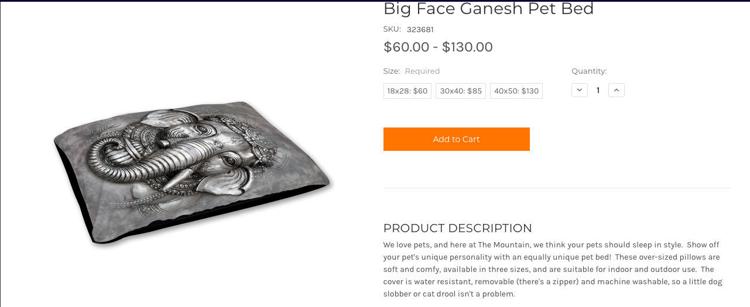 Representatives for The Mountain did not respond to a request for comment.
The company's website ad copy for the pet bed states the beds, which retail for between $60 and $130 allow cats or dogs to show off their unique personality, among other features.
"The cover is water resistant, removable (there's a zipper) and machine washable, so a little dog slobber or cat drool isn't a problem," the ad copy reads.
Zed is demanding an apology from the company, and he wants The Mountain to stop selling the bed.
Zed's website includes numerous calls for apologies to the Hindu community over inappropriate use of Lord Ganesh images, usually on clothing or yoga mats. The Mountain sells numerous items depicting the Hindu deity, including T-Shirts, blankets, and throw pillows.