Keno could disappear from American Legion Post 90 in Raymond — among other places — if the state demands a bigger cut of the post's sales.
"To tell you the truth, if they do lower the commission, I'm going to tell them to take the machines out," Commander Bob Howarth said Monday.
Rep. Michael Cahill, D-Newmarket, is the prime sponsor of House Bill 390, which would cut the commission on keno sales from the current 8 percent to 5 percent, the same percentage earned for selling lottery tickets.
If you're a nightspot owner, "you hire a band or comedian, you expect to pay them," Cahill said. "The state is saying here, we'll pay you to have this game in your restaurant, so you can make more money."
The bill would need passage by the House and Senate before heading to the governor's office.
Not so fast, said Senate President Donna Soucy, D-Manchester.
Soucy said Monday that four of the top seven highest-grossing keno retailers are in her Senate district.
"We shouldn't be making any changes to the current regulations of keno," Soucy said during lunch at Billy's Sports Bar & Grill in Manchester, which had the state's third-highest keno sales total, $320,809, between July 1, 2018, and Jan. 14.
The New Hampshire Lottery Commission is "concerned about the multiple negative repercussions" of cutting commissions and opposes the bill, said Lottery Executive Director Charlie McIntyre.
"We have heard from keno retailers who have stated that if the commission is decreased, they will request removal of the equipment and no longer sell the game," he said. "As a result, sales will decrease and the amount of net profit earmarked to fund full-day kindergarten will be less. This equipment removal will also result in additional costs for the lottery."
The state's top-grossing keno location since July 1 is South Side Tavern on South Willow Street in Manchester. It has sold $377,505 worth of tickets, so a 3 percent commission cut would have meant $11,325 less for the business.
"It's big," said Jamie Timbas, manager of Manchester Poker & Casino, which has shared ownership with the South Side Tavern. "We might have to cut back on staff."
He thinks some keno retailers will drop the game.
According to Cahill's bill, the difference in commission would have translated to about $475,000 more for education from the time keno started, in December 2017, through October 2018. That would have meant more money for full-day kindergarten around the state.
"We just have to do better for education," said Cahill, a Newmarket Democrat.
The House Ways and Means Committee is scheduled to address the bill during a work session Tuesday.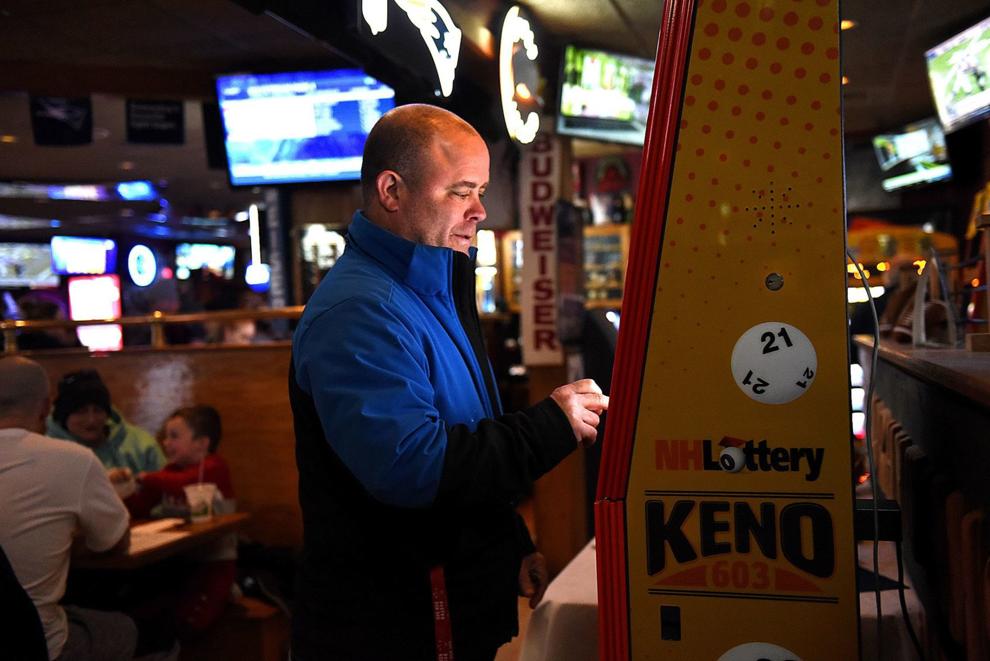 Cahill said retailers not only get the commission money, but "the keno is attracting and retaining customers for their restaurants that have the game."
Timbas agreed that keno has helped his business.
"They probably eat and drink a bit more because they're here longer," he said.
Dave Murray sat at the bar with keno tickets in front of him Monday afternoon at South Side.
"I imagine each establishment could use the extra 3 percent," said Murray, a Manchester resident.
Keno is sold in more than 160 outlets in 66 cities and towns. It has sold more than $21 million in tickets since December 2017, generating about $1.7 million for retailers.
In a University of New Hampshire Survey Center study of keno sales outlets for the lottery commission, nearly 75 percent reported attracting new customers, and nearly half reported increased sales of food and beverage of up to 10 percent.
Howarth said his American Legion Post grosses $2,500 to $3,500 a week in keno sales and makes a gross profit of $300 tops a week. After paying expenses, including electricity for the kiosk and TV monitors and more hours for the bartender who cashes winning keno tickets, the post's weekly net profit is about $50 a week.
Cahill realizes the bill faces an uphill fight. "I realize it's very hard to take money away once you give it to them."