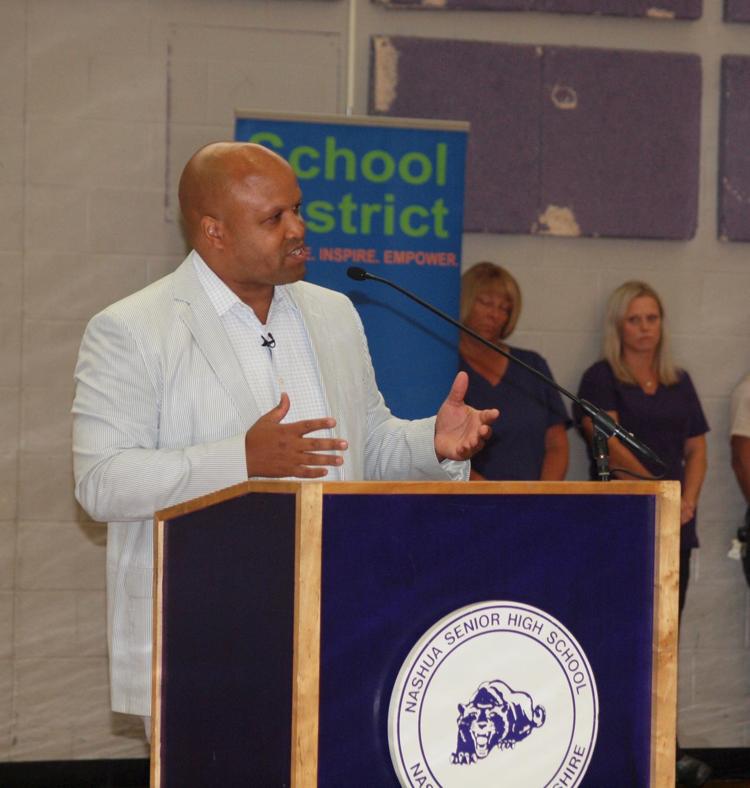 NASHUA — In sharing his hopes for the new year, Superintendent Jahmal Mosley on Wednesday publicly criticized a local newspaper for the first paragraph of an article published this week.
The article, published Wednesday as the top story on the front page of The Telegraph, stated, "Board of Education President Heather Raymond and Superintendent Jahmal Mosley hope for somewhat more productive meetings now that Howard Coffman and Doris Hohensee are not involved."
Coffman and Hohensee are former Board of Education members who were not reelected.
On Wednesday, Mosley issued a letter to community members and the media stating, "The truth is, I never said what the reporter wrote and The Telegraph published."
Mosley went on to state that the content of the article did not contain any quotes or statements substantiating the paragraph, and added, "The reporter attended last night's meeting but never interviewed me.
"This is poor journalism. This is wrong," Mosley wrote in his statement. "Our citizens deserve better."
The article was written by Adam Urquhart and provided coverage of the Board of Education's first meeting of the year on Wednesday. It was the board's first meeting with five newly elected members.
Matthew Burdette, editor-in-chief at The Telegraph, said in an email to the New Hampshire Union Leader that he and Heather Henline, the newspaper's publisher, were preparing a statement on the matter. It was not released by press time Wednesday night.
Phone calls to the newsroom were not returned Wednesday.
In Mosley's letter to the community, the superintendent also outlined his hopes for the new school year, saying there is critical work ahead to fulfill directives in the strategic plan and implement the new middle school project.
Other initiatives Mosley said he will focus on in the new year include securing adequate funding to support key elements in the strategic plan that assist with student success.
The superintendent also said it is his hope that each student finds fulfillment and success, and that each staff member continues to spark creative ways for students to learn and grow.