LEBANON — Police say a Vermont man shot himself in the leg while dining at the Denny's on Plainfield Road, and now he's facing a felony reckless conduct charge.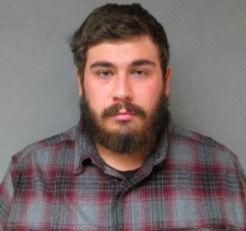 Police were called to the all-day breakfast establishment at 4 a.m on Nov. 23 for a reported accidental shooting. During the incident Michael Bushey, 21, of Bethel, Vt., shot himself in the leg with a .45 caliber pistol, according to police.
Police say Bushey did not suffer life-threatening injuries in the shooting. Despite the fact that several other people were near Bushey when the gun went off, no one else was injured, police said. Police took possession of the pistol.
Lebanon detectives investigated the incident, and after reviewing the restaurant's surveillance video from the night of the shooting they sought an arrest warrant charging Bushey with reckless conduct with a firearm.
Bushey was taken into custody on Thursday and booked on the charge. He is currently free on personal recognizance bail.