T his is a story about one man's mission to honor those who fought and bled for this country on battlefields far from these New Hampshire hills.
It's also a story about fathers and sons.
And this Memorial Day weekend, it's a reminder of the debt "owed by so many to so few," as Winston Churchill said.
Paul Martin of Lyndeborough, an Army veteran of the Vietnam War, has one last mission: replacing the worn markers that designate New Hampshire's Purple Heart Trail and honor those wounded or killed in combat.
Created by lawmakers in 2004 and dedicated on Veterans Day the following year, the Purple Heart Trail runs the length of Interstate 95 in the state and then heads west on Route 4 to Lebanon.
But 16 years of harsh winters and summer sun have taken a toll on many of the trail's markers, which are faded and difficult to read from a passing vehicle.
Martin, who earned the Purple Heart a half-century ago, cannot abide that. So he's planning to replace them.
He hopes to finish the project by Aug. 7, Purple Heart Day. "I want to get done before something happens," he said.
In February, Martin, 70, was diagnosed with stage 4 pancreatic cancer. He is undergoing treatment at Massachusetts General Hospital, including twice-monthly chemotherapy.
Martin calls restoring the Purple Heart Trail "my final project."
"This cancer that I've got is kind of like a death sentence," he said.
But he has faith in his care team at Mass General, and he's facing his illness buoyed by the love of his family and friends. "I've got high hopes," he said.
"The way I look at it, none of us are getting out of this alive," he said. "We do the best we can."
All 50 states, plus Puerto Rico and Guam, have designated Purple Heart Trails. In New Hampshire, 28 signs mark the route, and all but three bear the names of New Hampshire men who were killed or wounded in combat.
One man's mission
Executive Councilor Joseph Kenney was a state senator in 2004 when he sponsored the joint resolution to designate a Purple Heart Trail here, at the request of members of the Military Order of the Purple Heart, an organization for medal recipients.
Kenney, a Marine veteran, last week applauded Martin's project.
"Here we go again, veterans taking care of veterans, and preserving our memories and our sacrifices during conflict and war," he said. "I can't say enough about this gentleman leading the effort to make this come about."
New Hampshire's Purple Heart chapter is no longer active, and most of its members are deceased. Martin used to be the group's treasurer, and he said some funds remain to cover the cost of having new signs made at the state prison's sign shop. He's already ordered them.
Martin, who grew up in Nashua, was 17 when he joined the Army. He served two tours of duty in Vietnam, from 1969 to 1971, and was awarded the Purple Heart after the armored personnel vehicle he was driving hit a landmine. Martin broke both legs.
"But I was the lucky one," he said. "Nobody got killed in that incident. Most incidents, someone was killed."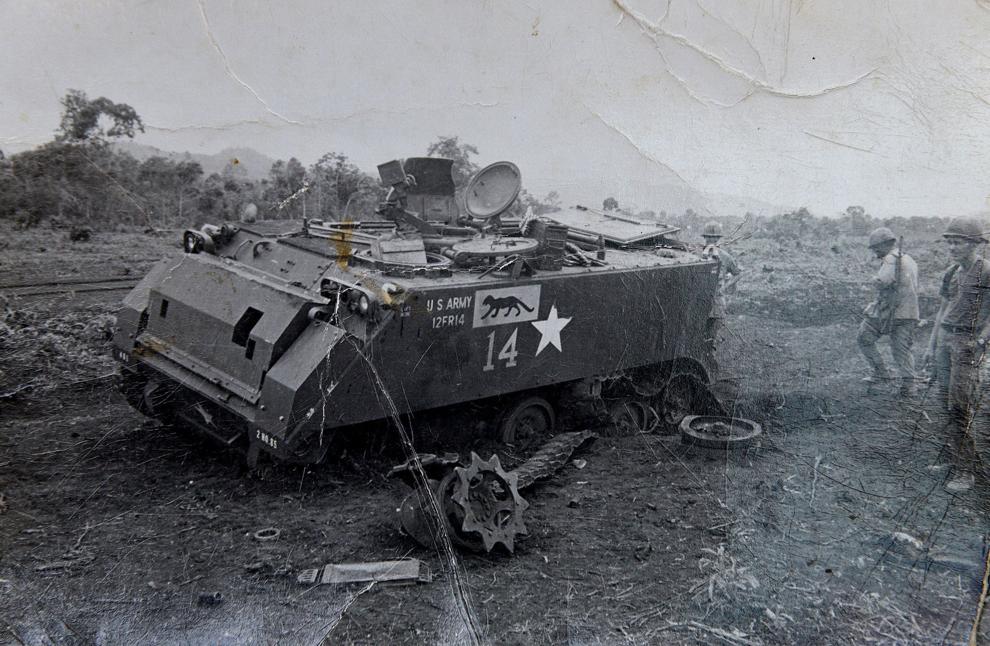 "They didn't even send me home," he said. "They put walking casts on my legs and they put me back in another armored personnel carrier."
The casts didn't stay on long. "It was monsoon season, and I think within a month they had flaked off my legs and I was walking around again."
When he left the service, Martin got married and raised three boys. He became an electrician and ran a business. He struggled for years with substance abuse, but he's been sober for 14 years, he said.
He and Ellen, his wife of 24 years, live on her family's farm in Lyndeborough with Ellen's 100-year-old mother. They have five grandchildren and one on the way.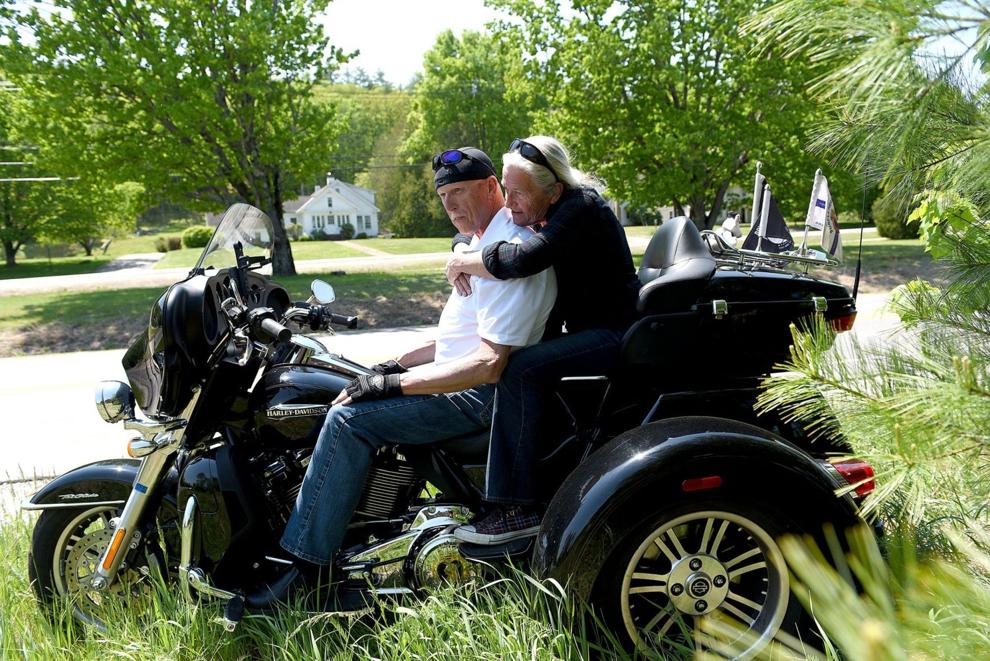 After Martin's cancer diagnosis, his middle son, Chris, an Air Force veteran who lives in Hampton, wanted to do something to help. So last weekend, Chris and his wife, Debra, organized a crew of about 40 volunteers, veterans and family friends, to repaint his dad's and stepmom's farmhouse, barn and carriage shed.
"I wanted to see what I could do for him," he said.
Chris' company, Custom Electric, donated all the painting supplies, and other businesses donated food. The volunteers worked steadily for six hours until everything looked new again.
Under his dad's watchful eye, Chris repainted a large American flag on the barn that he painted there a decade earlier.
He gets emotional when he talks about his dad's illness. "He's my best friend, he really is,"' he said. "He's always been there for me."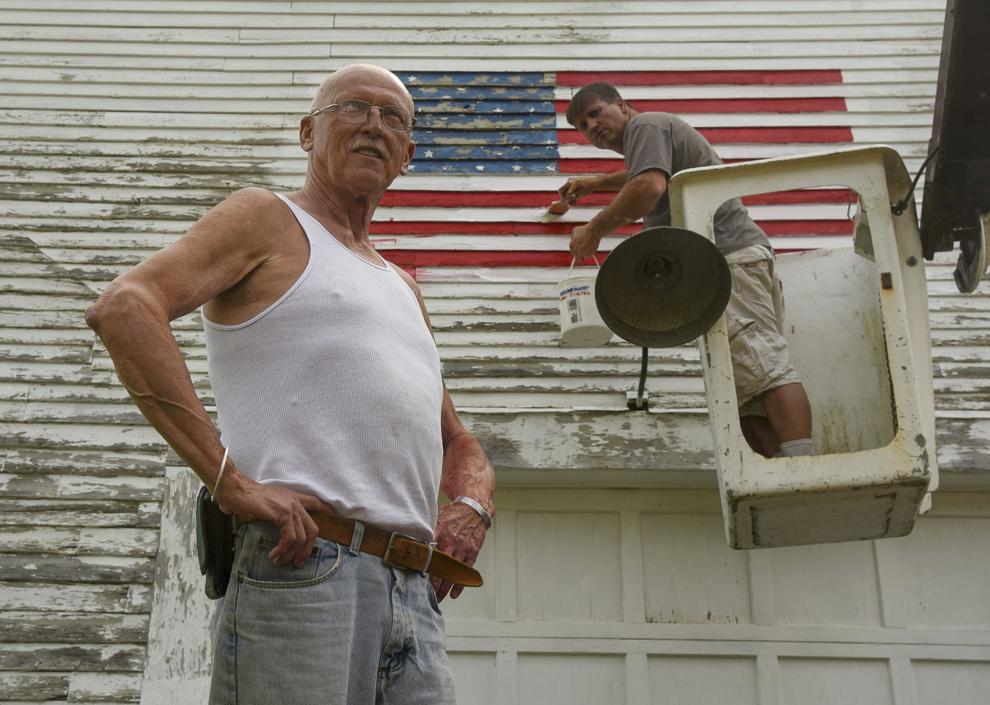 Whither the Trail?
Martin's project raises a broader question for the state: Who will care for such memorial markers when this generation of veterans has passed on?
When lawmakers created the Purple Heart Trail, they required that it be done at no cost to the state, according to Bill Lambert, state traffic engineer at the Department of Transportation.
The Military Order of the Purple Heart agreed to cover the cost and invited sponsors to pay to have individual service members' names added to markers. That's how about two dozen names came to be on the signs.
Among them: Ned B. Smith, who served in World War I; Leo G. St. Cyr, injured during the Korean conflict; Vietnam War veteran Bob Hayes; and Timothy Mark Gibson, a 23-year-old Marine corporal from Merrimack who died in a helicopter crash in Iraq in 2005.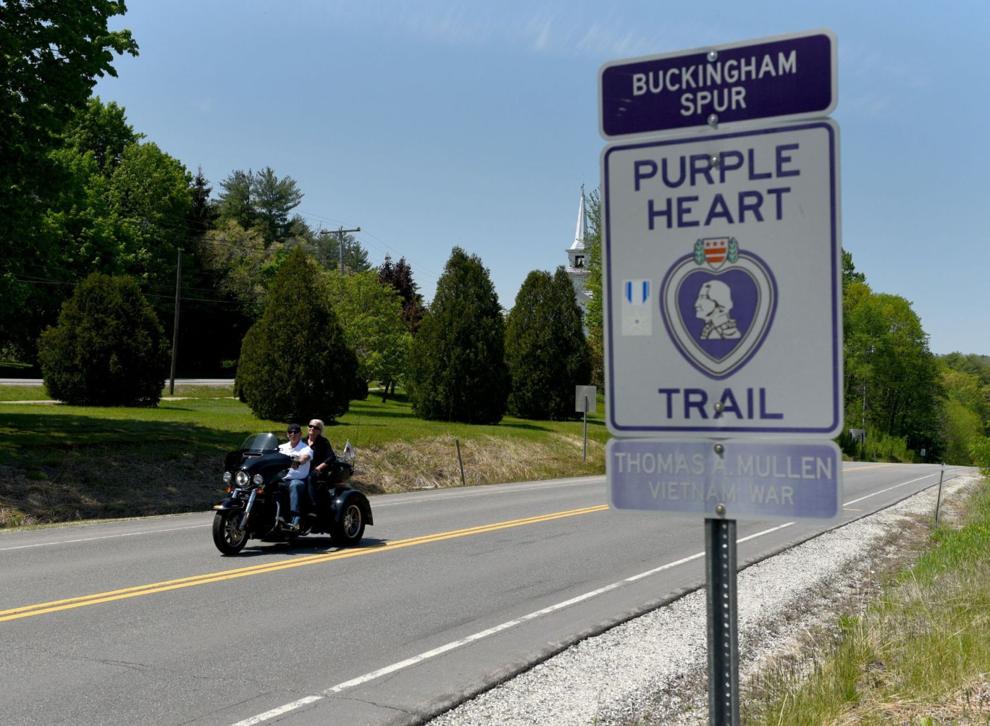 The state Department of Transportation also had to find a way around federal rules that limit signs on named or memorial highways to just one per direction, Lambert recalled.
"We obviously ignored those rules and tried to keep the spirit of the rules," he said. "The spirit of the rules was that you wouldn't have a proliferation of signs that would distract people from driving."
So DOT put up the Purple Heart Trail markers at intersections or interchanges where new traffic would be entering the roadways, Lambert said, such as the traffic circles in Lee and Epsom.
Expansions
In 2006, lawmakers added to the trail the portion of Route 3 that leads to the New Hampshire State Veterans Cemetery in Boscawen. It was named the Buckingham Spur, after Byron Buckingham, a World War II veteran who had worked with lawmakers to create the trail here.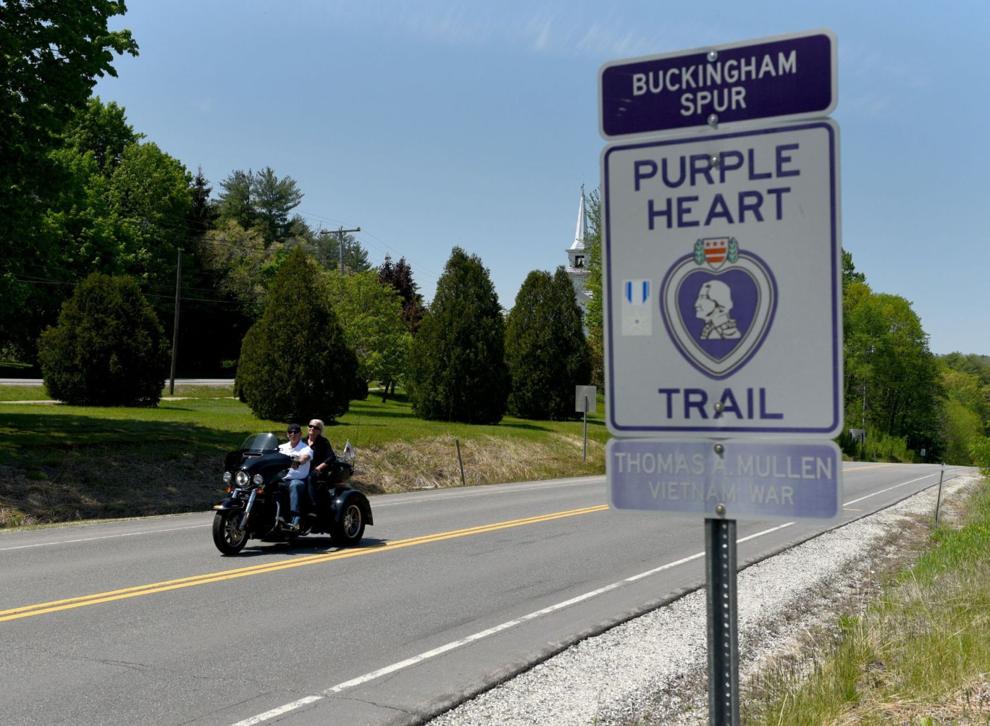 In 2012, another state law added all of Route 3, from the Massachusetts line to the Canadian border, to the Purple Heart Trail. The bill called for "at least 200 markers" to designate the trail, and allowed families of Purple Heart recipients to purchase markers.
That many markers would be difficult to accommodate, given the federal rules, the DOT's Lambert said.
Lambert praised Martin for stepping up to take care of the Purple Heart Trail and said DOT would be happy to help him get the new signs installed.
But the project does highlight a looming challenge, Lambert said.
"The Legislature has been pretty clear that any of these named highways are at no cost to the state," he said.
"It's easy for us to get reimbursed for the initial signs. It's harder to keep track of who's going to pay for the next sign or the replacement signs," he said. "If they got faded beyond recognition and if we didn't have anybody we could find to replace them, we would have taken them down."
It's not just an issue in New Hampshire.
Daniel Eddinger, national coordinator of the Purple Heart Trail for the Military Order of the Purple Heart, said Maine and Vermont also no longer have Purple Heart chapters. In Connecticut, where Eddinger is state commander, only two chapters remain.
The order was started by World War I veterans and carried on by veterans of World War II and the Korean conflict, Eddinger said.
"Most of them unfortunately are starting to die off, and now we have the Vietnam veterans who are also getting up there," he said.
"We've got a 30-year gap between Vietnam and Desert Storm and Iraqi Freedom, so most of the young people are active with families and jobs, and to be able to dedicate time to do Purple Heart stuff is difficult for them," he said.
Eddinger, a 74-year-old Vietnam veteran, said other veterans service organizations are facing the same problem of declining enrollment.
Reluctant for recognition
There's another issue with the Purple Heart. Many veterans are reluctant to acknowledge their medals, Eddinger said.
There's no ceremony for awarding a Purple Heart, he said.
"Normally when you wake up in the hospital, you have a Purple Heart pinned on your pillow or the family receives it in the mail, and their story is never told," Eddinger said.
"So the guys just tuck it away, close the door and say, 'That was a bad time in my life. I'm not going to talk about it.'"
Survivor guilt is another factor, Eddinger said. "I went for years and years and years without even saying anything," he said.
Paul Martin is determined to see the Purple Heart Trail restored. He elicited a promise from his son Chris to finish the project if his health prevents him from it.
"If you're going to have it, you might as well take care of it," Martin said. "They're taking down memorials in every other part of the country. At least we're putting them up."
Martin said it's about keeping alive the memory of those who sacrificed for this country.
"All stories do die at some point in time," he said. "It's just a matter of how can you preserve a legacy of a certain event in life."
So what happens to these memorials when this generation of veterans is gone?
It's up to the rest of us, Councilor Kenney said. "In the future, if our veterans are not going to take care of the Purple Heart signs, then our state needs to take care of those Purple Heart signs," he said.
"Why do we have Memorial Day? We have Memorial Day to honor our veterans and their families and their sacrifices," Kenney said.
"I can't think of a better tribute to injured and fallen veterans than to preserve the legacy of the Purple Heart Trail and to maintain these signs."