The different ways Granite Staters recall the events of Jan. 6, 2021, illustrate the fraying of shared truth in this country.
On the plane home to New Hampshire last Jan. 7, just hours after Rep. Annie Kuster narrowly escaped a group of rioters in the U.S. Capitol, she overheard people on the same flight talking about their experiences attending the "Stop the Steal" protest that became the U.S. Capitol riot.
Already, she said, some Granite Staters refused to believe there had been brutal, deadly violence that day.
"I remember so clearly one of the women saying, 'I didn't see any violence. I think that was all made up,'" Kuster said in an interview this week. Already, she said, people were minimizing what had been one of the most terrifying days of her life, spreading partial understanding of the events and falsehoods about what had just happened.
On the day of the protest, it was hard to understand everything that was going on. It took months for prosecutors to build cases against rioters, and a House committee is still deep in its investigation.
The protest was huge, remembered Jason Riddle, a Keene man who attended the protest and has since pleaded guilty to theft of government property and to parading, demonstrating or picketing at the Capitol.
He saw violence, he said — and he also saw a lot of confused people milling around, or getting caught up in the mob. Riddle said he put his hands in his pockets as he followed others into the Capitol building. Some people were clearly more interested in confrontation and violence. In one hall, Riddle saw a man in a furry headdress and face paint, who he thinks was later identified as Jacob Chansley, the so-called "QAnon Shaman," pointing and egging others on.
"Only pussies stay back here," Riddle remembered the man saying.
Riddle liked the charged energy of protests and political events. He had attended a Black Lives Matter protest in Keene in 2020 and traveled to several Trump rallies around the Northeast. The protest on Jan. 6 seemed like his last chance to see President Donald Trump speak as president.
"I like having front-row seats to that sort of thing," Riddle said. "I did. I don't anymore."
Riddle drove down to Washington with a few friends, and after Trump spoke near the White House, they started making their way toward the Washington Monument. But the crowd was headed for the Capitol, where Congress was beginning the process of certifying the election results. His group followed to the Capitol grounds.
Riddle heard some commotion and a moment that sounded almost like a charge, people shouting and pushing toward the building. He called his stepfather, who told him to get out. He decided to stick around.
"I saw these people breaking things, pushing through police," Riddle said. He said he just walked into the Capitol. "I had my hands in my pockets, I'm not doing anything wrong."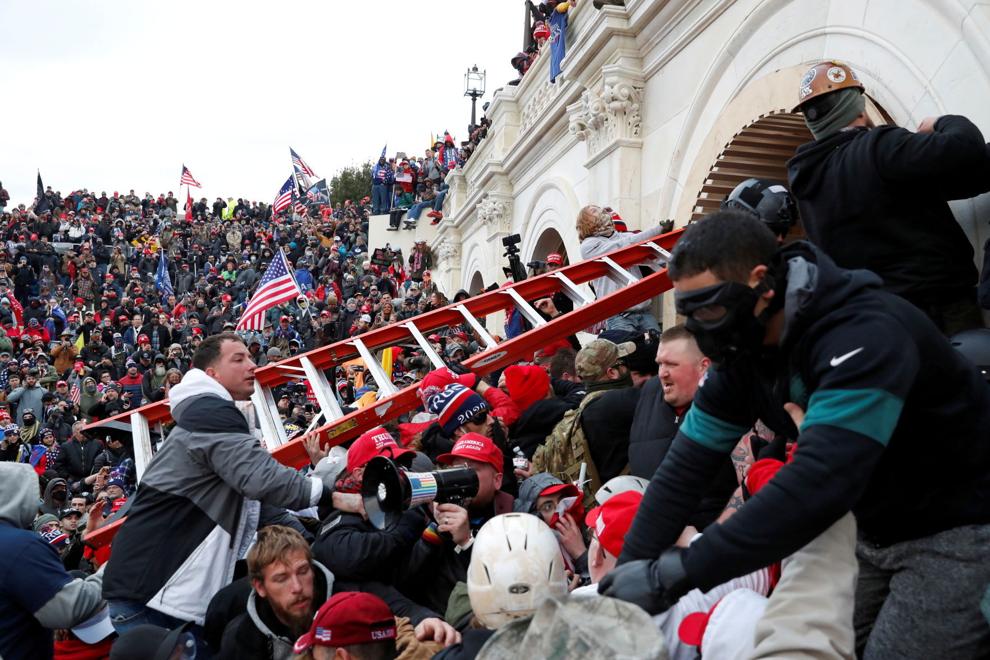 Inside, Kuster was watching the proceedings from a balcony above the House floor. Around 2 p.m., she saw House Speaker Nancy Pelosi and other members on the floor whisked away. Police announced the Capitol had been breached. Capitol Police hustled Kuster and a few other members to an elevator, down to the basement bunker where they sheltered for hours.
She did not realize until later how close she had been to running into rioters.
It was only as video footage was pieced together over the past year that she saw herself make it to an elevator just seconds ahead of a group of rioters, as still more pounded on the doors to the House chamber.
Somewhere on the other side of the door was Riddle. He meandered around offices for a little while. Now-famous scenes of brutal hand-to-hand combat in tunnels looked completely unlike his experience of the day, he said this week. He picked up a bottle of wine in one office as police yelled for protesters to leave.
It wasn't until another protester inside the Capitol told him a woman had been killed that Riddle left. "They're shooting people," the other protester told him. Riddle looked for an opening in the crowd and took off running, afraid police would open fire on the crowd.
Kuster said she thought she was going to die that day.
She believes at least some of the people in the Capitol meant to use violence to overturn the 2020 election. She still wonders what would have happened if the rioters caught up with her group.
"Would they have torn us limb from limb?" she asked. "Would they have attacked us? Kidnapped us? Killed us?"
Back home
Two weeks after the riot, FBI agents knocked on Riddle's door. By then, he said, he knew what he had done was against the law. He pleaded guilty to misdemeanors in September.
"I'm guilty. There was no point in trying to fight it," he said.
He does not blame Trump for his own actions, as many other defendants have.
"How are you going to tell me you're going to push a cop and think you did nothing wrong?" he asked. "They were just hoping Trump would be on board."
Home in the liberal city of Keene, Riddle said he got hate mail and threatening messages on social media after he was charged.
While he knows what he did was wrong, he worries about the tendency to paint all rioters with the same brush. Yes, he said, some people had "horrible ideas" about what they wanted to do that day. But there were many more who were just fans of Trump, some of whom got caught up.
"There were these kids standing next to me, they looked like they were high school kids," he said. "Are you really telling me they were domestic terrorists?"
Kuster drew similar lines between different groups of protesters and said that has been reflected in the lighter sentences most rioters have received so far.
"I think they have been relatively lenient to people who just climbed through a window and wandered around," Kuster said.
Voting and misinformation
Nominally at least, the protest on Jan. 6, 2021 was about the 2020 election results. Although candidate Joe Biden won as absentee ballots were counted, Riddle said he still has trouble understanding how Trump was in the lead when he went to bed on Election Night and falling behind the next morning.
Doubts about the validity of the 2020 election have kept voting issues in the spotlight in New Hampshire all year.
Conspiracy-minded activists flocked to Windham, intent on pursuing a discrepancy between the machine count and hand count for a state representative election in Windham. An audit did not uncover a grand conspiracy — only the unfortunate confluence of folded ballots and dusty machines.
Kuster said she thinks doubts about the 2020 election stem from misinformation.
"I've said to my team, our test, our rule or who we will work with on legislation is whether that member recognizes the lawful president of the United States," Kuster said. "That's the focus of the misinformation that continues to be disseminated about our elections. That's the biggest threat."
Misinformation, exaggeration and outright lies about the 2020 election played a role in drawing protesters to Washington last Jan. 6. Over the past year in New Hampshire, the spread of misinformation has continued to spread into the real world.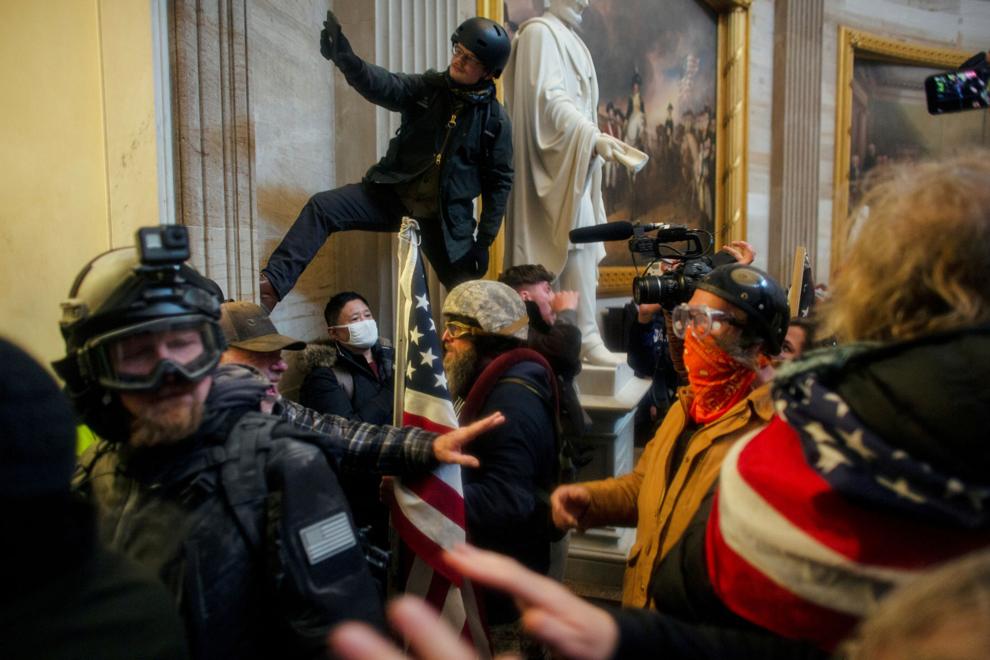 Even after Attorney General John Formella issued an opinion that federal COVID-19 funds came with no strings attached, dozens of people who believed they did packed the Executive Council's meetings this fall. Several were arrested.
Belief that the vote discrepancy in Windham was part of a nefarious conspiracy drew hundreds of people to select board meetings.
And misinformation about COVID-19 has, many argue, prolonged the pandemic.
"There's a real corollary to the misinformation about the pandemic, about COVID-19," Kuster said. "People are dying, and needlessly so, because of a coordinated misinformation campaign."
'How close we came'
Kuster said the terror she felt on Jan. 6, 2021 is still vivid.
But many are still trying to minimize the day, the violence that killed five people, including a police officer, and contributed to four police officers' deaths by suicide. Even members of Congress, Kuster said, are trying to revise the history of Jan. 6, 2021.
"My own colleagues are, up to this week, trying to convince the American people this did not happen," Kuster said. "My goal this week is for the American people to understand it, to learn about it. To understand how close we came to losing our democracy."
The faith so many people have placed in falsehoods is, for Kuster, one of the ways Jan. 6 is reverberating in New Hampshire and around the country. She's not sure if foreign powers are trying to undermine the United States, or if people in the United States are simply taking advantage of the faith some people have placed in untrustworthy sources.
Wherever the information is coming from, Riddle said he thinks people are spending too much time reinforcing what they believe on social media.
"COVID combined with social media is a bad combination. People home with too much time," Riddle said. He and Kuster agree on a growing divide between people's realities.
"Nobody can be wrong, everybody can be right," Riddle said. "And that's what our political climate is right now."