ROUTE 101 — On a gently swaying tour bus reeking of Buffalo wings, with a dozen reporters jostling for sound bites, Pete Buttigieg, the 37-year-old mayor of South Bend, Ind., never looked flustered, impatient or carsick. He seemed prepared for every question reporters and New Hampshire voters flung at him.
Last week, his presidential campaign's Iowa staff spun a well-received speech and a weekend coach tour into a wave of support — two recent polls of Iowans show a four-way tie among Buttigieg, Sen. Bernie Sanders, Sen. Elizabeth Warren and former Vice President Joe Biden.
Now, his team is trying to put him in the same position in New Hampshire.
"You have a thumb on the scale when it comes to deciding the future of this country," Buttigieg told voters in three speeches Friday, "because of the role that you play with that first-in-the-nation primary. And the reason I'm asking for your vote is, this is our chance. And I don't think it can wait."
Granite State pollsters peg Buttigieg as the fourth-most-popular candidate among voters here. His support has slipped since April, when he was the preferred candidate of 15% of voters. An October poll of New Hampshire voters found Buttigieg was the first choice for 10% of voters.
"Far be it from me to give any of the Democratic candidates advice," said Steve Duprey, a former chairman of the state Republican party. "But if I were an underdog, I'd jump on a bus and do four or five unscripted town halls every day."
Duprey was chairman of the state Republican Party when the late Sen. John McCain's "Straight Talk Express" rolled into New Hampshire in summer 1999. McCain was the underdog that year, going up against George W. Bush, then Texas governor.
As McCain rode between town meetings — he did around 130 events before the 2000 primary, Duprey said — he took pointed questions from reporters on the bus, told stories and off-color jokes, and got a lot of press.
"His authenticity came through," Duprey said. "It caught the attention and admiration, and then respect of New Hampshire voters."
Lis Smith, a senior adviser on Buttigeig's campaign, said the bus tour was directly inspired by the Straight Talk Express.
"They're very different types of people," she said of McCain and Buttigieg, "But he had an admiration for that campaigning style."
With the New Hampshire primary about three months away, Smith said she thought the time was right for Buttigieg to campaign in front of as many people as possible.
The highest-polling candidates here, she said, are those who were already well-known before the 2020 race began. Smith said as people learn about Buttigieg, they like him — and because he has spent more time in Iowa, he is better-liked there, she said.
Nancy Pierce of Rye came to see Buttigieg in Stratham. She's still choosing a candidate, and seeing Buttigieg in person was an important part of that decision. "The field is so wide at this point, it's hard to say who you're going to go for," Pierce said.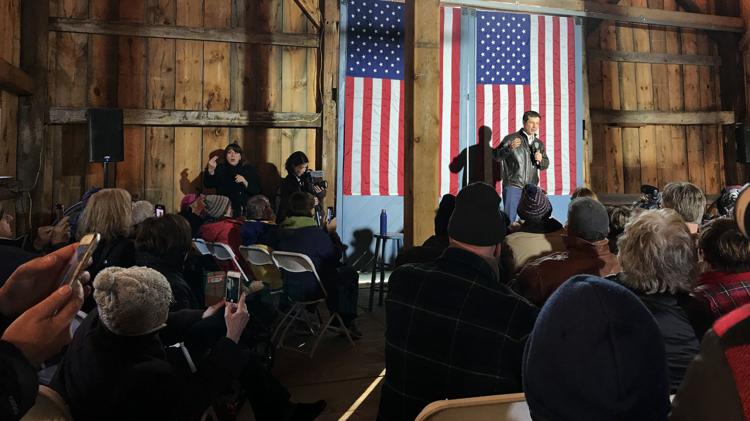 At town halls, Buttigieg bounded onto the stages, and got cheers when he asked his audience to imagine the sun rising on the day when Donald Trump is no longer President.
He told voters they don't have to choose between uniting the country and solving daunting problems. His 10-minute stump speech rat-a-tatted through climate change, public education, abortion, poverty, gun control, student debt, voting rights and patriotism. He mocked Trump and quoted a Bible verse.
"This is our opportunity to sail into some of the toughest challenges our country has ever faced," he said in Manchester. "From the need to end systemic racism before it drags down the entire American project, to the need to address the crisis of belonging in the United States."
After town halls, organizers wait at the exits, signing up volunteers. This is where the campaign's local staff comes in, said Kevin Donohoe, New Hampshire communications director for the Buttigieg campaign.
"We have the capacity to do all this follow up," he said, with 65 staff in 13 field offices around the state. After Buttigieg leaves Monday, Donohoe said, people who attended an event are encouraged to stay engaged, talk to their friends about supporting Buttigieg, and start volunteering.
"When he leaves the state, the conversation continues," Donohoe said.
As the blue-and-yellow bus rolled out after an event, Buttiegieg settled in a captain's chair. Reporters squeezed onto two benches fired off questions. Buttigieg spoke with reporters like he answered questions from voters — his voice was just a little quieter than it is on a town hall stage. He stuck to issues, and had few stories to tell about how his own experiences shaped his beliefs — certainly no McCain-esque jokes.
After stopping at a brewery in North Hampton, Buttigieg talked about the tasting notes of a beer he sampled, before launching into policy, connecting the brewers' concerns to a question from a business owner in Manchester.
"I think one of the underrated benefits of universal health coverage is the effect that can have on small and medium enterprise," he said. "It could really lift a burden for small business if we resolve benefit questions through policy."
Supporters in Manchester, Stratham and Salem said Buttiegieg's measured, focused manner drew them in. They were more interested in having a younger, well-spoken candidate than someone they agreed with on every issue.
"I think he has a really calm demeanor about him," said Erin Sakolosky of Goffstown. "I would love to see him debate Trump."
Sean Curran of Manchester said he preferred Sanders, but wants a younger candidate. Buttigieg was impressive, he said. "He's going up in the polls, his message is definitely getting out," Curran said. "I don't know if he's going to make it all the way through, but he's carving up the center."