THE BOARD OF Mayor and Aldermen and Board of School Committee have new chairmen — and new rules — for their 2022-2023 terms.
Following last week's inaugural ceremonies, aldermen and school board members gathered at City Hall for organizational meetings.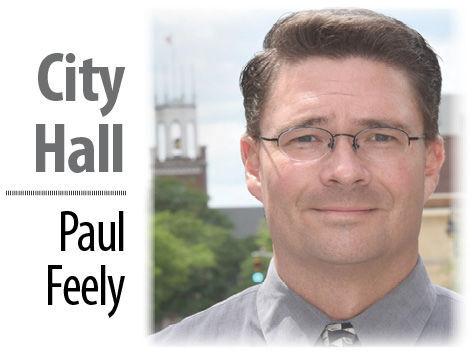 Ward 3's Pat Long was the unanimous choice for the Board of Mayor and Aldermen's new chairman. Ward 10''s Bill Barry nominated Long on behalf of late Ward 9 Alderman Barbara Shaw.
Aldermen also unanimously approved changes to the rules of the board proposed by Long:
• Rule 1 — Regular Meetings & Rule 2A Public Participation. This moves the time of the regular board meetings back to 7 p.m. and incorporates a provision for public participation within the first 30 minutes of the regular meeting.
• Rule 11 — Voting. This requires all aldermen to vote on all questions unless they have a personal or financial conflict of interest pursuant to the City Charter. It also requires that when an aldermen abstains from a vote, they must state the conflict or reason. The rule also prohibits any board member with a conflict from participating in the discussion before a vote.
• Rule 19 — Road Hearings. This change was made at the request of the Solicitor's Office, to maintain consistency with a recently amended state statute.
• Renumber all of the rules to remove the need for sub-rules, i.e. 2 and 2A, 16 and 16A, etc. and incorporate Rule 20A within Rule 20 as they both deal with layover nominations.
The proposed changes resulted in 28 rules of the board.
The meeting lasted about four minutes.
On the school board side, at-large member James O'Connell and Ward 4's Leslie Want both received nominations for vice chair. (The mayor serves as chair of the school board.)
O'Connell won the position on a 7-4 vote, with votes from Julie Turner, Ben Dion, Sean Parr, Gary Hamer, Carlos Gonzalez, Peter Argeropoulos and himself. Voting for Want were Karen Soule, Nicole Leapley, Chris Potter and Want.
Newly elected Ward 6 member Ken Tassey Jr. did not vote, and Pete Perich was absent.
Want then moved to make the vote for O'Connell unanimous, which board members approved.
Changes approved to the school board's rules include removal of language stating the board traditionally doesn't meet in July, and removal of guidelines requiring board members to submit items of business requiring discussion or action by noon the Tuesday before the next meeting.
Language was removed that required any requests involving compilation of information by school administrators or school board clerk Angela Carey to be submitted five days before the Tuesday deadline.
Aldermen received their committee assignments for the upcoming term last week:
• Accounts, Enrollment and Revenue Administration: Mary Heath, Chair; Joe Kelly Levasseur, Kevin Cavanaugh, Barry, Long;
• Administration/Information Systems: Tony Sapienza, Chair; Will Stewart, Sebastian Sharonov, Norm Gamache, Christine Fajardo;
• Bills on Second Reading: Gamache, Chair; Tony Sapienza, Ed Sapienza, Erin George-Kelly, Fajardo;
• Community Improvement: Stewart, Chair; June Trisciani, Ed Sapienza, Cavanaugh, Heath;
• Finance: Mayor Joyce Craig, Chair; Levasseur, Vice Chair; all aldermen;
• Human Resources/Insurance: Cavanaugh, Chair; George-Kelly, Sharonov, Barry, Gamache;
• Joint School Building: Heath, Trisciani, Levasseur;
• Lands and Buildings: Long, Chair; Fajardo, Levasseur, Tony Sapienza, Trisciani;
• Public Safety, Health and Traffic: Barry, Chair; Long, Stewart, George-Kelly, Sharonov.
Oh, Tannenbaum
Christmas tree curbside collection in the city will be the week of Jan. 17.
Collection is the same day as trash/recycling pickup. All ornamentation, including tinsel, must be removed, and no artificial trees will be accepted.
Residential permit-holders can dispose of natural Christmas trees at the drop-off facility at 500 Dunbarton Road for free at any time of the year.
A lot of parking info
Parking is allowed on the odd side of the street for January.
The city's overnight winter on-street, odd/even parking ban remains in effect. Where parking is normally allowed on a street, the overnight winter parking ban permits vehicles to be parked only on the odd-numbered side of a street on odd-numbered calendar months, and on the even-numbered side of a street on even-numbered calendar months between 1 a.m. and 6 a.m.
Parking allowances are prohibited if a snow emergency has been declared.
No overnight parking is permitted on the circular portion of cul-de-sacs.
Fines for overnight winter parking violations are $25. After 30 days, the fine increases to $50.