CITY ALDERMEN have appointed Carlos Gonzalez to represent Ward 12 on the Board of School Committee, filling the remainder of Kelly Thomas' term.
Gonzalez was confirmed on a 7-5 vote over Ken Roy, the other nominee. Voting for Gonzalez were Joe Kelly Levasseur, Keith Hirschmann, Will Stewart, Jim Roy, Sebastian Sharonov, Ross Terrio and Barbara Shaw. Voting for Roy were Kevin Cavanaugh, Pat Long, Tony Sapienza, Dan O'Neil and Normand Gamache. Bill Barry was absent.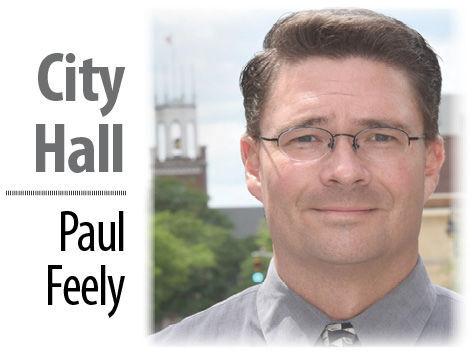 In nominating Gonzalez, Hirschmann praised his work in Concord in the state House of Representatives and his work efforts to connect the city's Spanish-speaking residents to the greater community.
Gonzalez and Roy will face off in the municipal election this November for a full term, which will begin in January.
City adds position
The city will seek a Director of Economic Development, after aldermen voted to approve the position last week.
"This is something our community and business leaders have been asking for," said Mayor Joyce Craig in a statement.
Craig said the person will support the business community, work to bring more employers into the city and help bolster the community's post-pandemic economic recovery.
The new director will work with city departments and officials, the business community and local stakeholders to develop an economic development strategy for the city, as well as lead grant-writing initiatives to secure state, federal and private economic development funding.
Earlier this year, the Greater Manchester Chamber and 28 business leaders wrote a letter to the Board of Mayor and Aldermen advocating for the re-establishment of a Manchester Economic Development Office, calling it a critical priority.
The new position, along with a dedicated business liaison, was funded using federal American Rescue Plan funds.
The salary for the position will range from $72,061.70 to $102,742.87, depending on experience.
For more information or to apply, go to the City of Manchester website at bit.ly/MHTMEDO.
Police meet community
Manchester police are set to resume community meetings this week, with three scheduled before the end of September.
"Our first community meeting earlier this month was a success and we are looking forward to holding many more," city police said in a statement.
Manchester police are partnering with the Manchester Fire Department to hold the meetings.
The schedule of meetings, which will begin at 6 p.m.:
• Monday – Central Fire House
• Sept. 20 — Engine 6, Amory St.
• Sept. 27 — Engine 8, East Industrial Park Drive
After the initial round, police will hold meetings every third Monday of the month on a rotating basis so that each area of the city will have three meetings a year.
The meetings are open to anyone, not just those from the host area.
All meetings will be held in the Manchester Fire Department bays, so social distancing or inclement weather should not be a problem. It is suggested that those interested in attending bring chairs.
Chief Allen Aldenberg as well as officers from our Community Affairs Division will attend.
"We are asking for the support of the citizens and ask that residents come to these meetings. It is a chance to talk about concerns, ask questions, and report suspicious activity," Aldenberg said in a statement. "Preventing and reducing crime involves everyone and if we work together, we can make a difference.
"We hope that by holding these meetings, it will only strengthen relationships with the citizens of Manchester and allow for ongoing open lines of communication," police said in a statement.
Foot patrols start
Beginning this week, Manchester police will be assigning foot patrols to neighborhoods throughout the city and adding investigative resources directed at violent crime cases.
The new initiatives are supported American Rescue Plan funding of the Violent Crime Reduction Program. This includes more funding for investigations of repeat offenders.
The new initiatives come on the heels of two recent gunfire incidents.
On Sunday, Aug. 29, at about 12:45 a.m., Manchester police responded to a report of shots fired in the area of Amory and Montgomery streets. Witnesses said a large group of people were gathered on Amory, and a few appeared to be arguing. Witnesses then heard multiple shots saw people running behind the Gossler Shopping Plaza. Several shell casings were located, but no injuries were reported.
About 45 minutes later, officers answered another shots-fired call, this one in the area of Beech and Laurel streets. Police located multiple spent shell casings in front of 141 Laurel St. The building and three parked vehicles had been struck by bullets. A witness reported hearing several loud bangs and then saw two dark-colored sedans speeding east on Laurel Street. No injuries were reported.
"This criminal behavior is unacceptable," Aldenberg said. "To fire a gun recklessly in the city is both irresponsible and extremely dangerous, and the Manchester police Department will not tolerate it. Our officers are working tirelessly to find the people responsible for these acts."
Anyone with information about these recent incidents is asked to call Manchester police at 603-668-8711. To remain anonymous, call the Manchester Crimeline at 603-624-4040.