The man identified in an internal audit as the creator of the controversial 'Chief Days' practice says he doesn't remember rewarding police officers for doing an "exceptional job" with days off, but admits he has "no reason to doubt" claims he did.
The report, compiled by city auditor Kevin Buckley, is scheduled to be reviewed by members of the Aldermanic Committee on Accounts, Enrollment and Revenue Administration this Tuesday at 5:30 p.m. in the aldermanic chambers at City Hall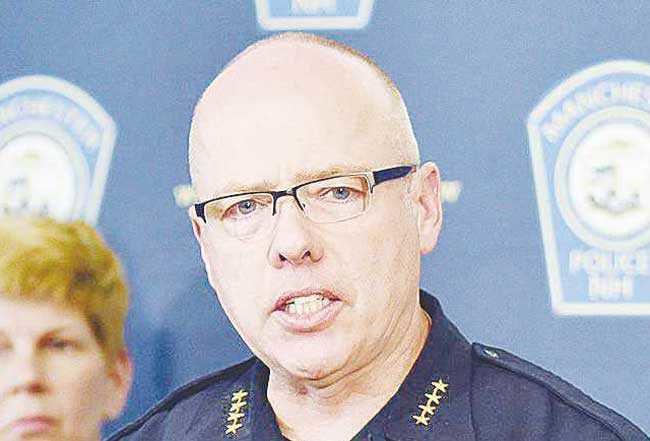 According to the report, 'Chief Days' began in the early 1990s under former police chief Louie Craig, but later expanded "without authorization" by department officials and accelerated under former police chief Nick Willard, currently serving as U.S. Marshal for New Hampshire.
According to the report, Craig instituted the policy in 1991 as a way to reward officers who acted "above and beyond the call of duty." Minutes of the Manchester Police Commission from 1991 - which at the time had administrative control over the police department - show that "Chief Craig had started a new policy to award these days off," the audit states.
"The commission seemed fully aware of the policy and of awards being presented," the report states. "Although at the time it was not called Chief Days, the policy is the same as the one in force today."
Craig served as police chief from 1991 to 1994. He is Mayor Joyce Craig's father-in-law.
When interviewed by a Union Leader reporter in June, Louis Craig insisted the practice did not exist during his time.
"I did not start it, and I never even heard of it until I read it in the paper the other day," Craig told a Union Leader reporter. "And I can tell you that my predecessor, Chief Tom King, did not start it because I was his assistant."
Following the audit's release late last week, Craig issued a statement regarding the program's origins.
"In February, 1991, the five man Police Commission approved a day off policy for officers who performed an exceptional job," wrote Louis Craig in an email. "In talking with Kevin Buckley, who conducted the Audit Report based on available police records, he informed me that during the time that I was Chief of Police I authorized one day off to one officer who exhibited exemplary behavior when he tracked down and arrested a burglar. Based on the length of time, I don't remember this incident but I have no reason to doubt it."
According to the audit, 466 Chief Days were awarded between fiscal years 2009 and 2018 - with 131 of those days awarded in fiscal year 2017, when Willard was chief.
"The expansion of the program appears to have been done without authorization, lacks any written policies and procedures and leave time is not tracked in the city's financial system and not reported as a liability in the Comprehensive Annual Financial Report," the report states.
Ward 12 Alderman Keith Hirschmann serves on the committee that will review the report this week.
"Obviously we're gonna clean up all the ordinance language so that doesn't happen again," said Hirschmann. "It was very disappointing to see that people got days for the Footrace for the Fallen. That should be totally a volunteer activity. Mayor Craig has verbalized she wants it shut down, so we're gonna close loopholes and clean things up."
Hirschmann said he was surprised by the 131 days issued in FY 2017.
"Willard just really got out of control," said Hirschmann. "He didn't have the authority to do that, and we certainly didn't know about it. There's a new chief, Capano, and he isn't giving out any chief days. This is all on Willard."
Alderman At-Large Joe Kelly Levasseur said the audit raised concerns in his mind about Chief Days.
"I am concerned the business administrator at Manchester PD did not, in front of the BMA, account for or acknowledge that Chief Days existed, and/or also failed to honestly and accurately associate those costs in any budgetary shortfall requests at the end of a fiscal year," said Levasseur.
Willard declined to comment.
Aldermen are expected to vote Tuesday to ratify new three-year contracts with the city's firefighter unions. The contract includes a 1½ percent raise in the first year and 2 percent pay hikes in years two and three. It also includes step and longevity provisions.
A report by the city's finance department estimates the financial impact of the two contracts combined to be $1,821,000 over three years.
The fire supervisors union voted Oct. 10 to ratify the tentative agreement, with the deal passing on a 5-2 vote. The firefighter union is expected to vote on the agreement prior to Oct. 30.
Aldermen are also expected to vote Tuesday on a new labor contract between Manchester Water Works and United Steelworkers 8938.
The new agreement includes a cost of living adjustment (COLA) increase of 1 percent in FY 2019, 1.5 percent in FY 2020, and 1.5 percent in FY 2021.
According to a cost analysis, the deal would cost the city an additional $298,755 in salaries and benefits over three years.
The tentative agreements with city firefighters and Water Works personnel appear on the agenda for the Oct. 16 meeting of the Board of Mayor and Aldermen. If approved, the contracts will then lay over until the full board meets to ratify the deals on Oct. 30.
School board members voted last week to accept an offer from Manchester Proud to cover the $30,000 cost of the district joining the Council of the Great City Schools, a coalition bringing together 70 of the nation's largest urban public school systems to work toward the improvement of education for children in inner cities.
Its mission is to advocate for inner-city students through legislation, research and media relations. It provides a network for school districts sharing common problems to exchange information and possible solutions. Roughly 7.3 million students are served by districts that are members.
"I am so pleased and we are fortunate that you have embraced the need for help," Superintendent Dr. Bolgen Vargas told Manchester Proud members last week.
"I have the utmost respect for the organization. They have a long track record of working with administrators and school boards."
Vargas said he has a 13-year relationship with the council through his prior jobs in New York.
He said the main benefit to Manchester of joining the council would be the support the group provides for any challenge the district may face.
"They could come and give a third party look at the situation, which you could choose to follow or not follow, at no charge to the district," said Vargas. "Normally, every item we want to bring a consultant to assist on there is a heavy price tag associated with it. This would cover that."
At-Large school board member Rich Girard abstained from voting on the matter, citing concerns he had with the council.
"I do not believe they are an objective, third-party group," said Girard. "They are one of the foremost promoters off the Common Core standards. Not only are they not taking any steps back to evaluate them, they are moving full steam ahead."
"Manchester schools now have an outside resource to work with to help us diagnose and work through issues we encounter in the field," said Mayor Craig. "It's great to have that resource. To a certain extent, Manchester is very insular. We know what we know, but I think it will be very valuable to have someone from the outside come in and help us through some of the challenges that we're encountering. We don't need to recreate the wheel; I'm sure other places have encountered things that we're encountering now, and to get that expertise to come in and help us through the process is welcomed."
Last week Vargas told school board members the long-awaited move of the district offices from McGregor Street to Manchester High School West is scheduled for next month.
"We are planning to move to West by the week before Thanksgiving, and at the very latest the week after," said Vargas. "By moving the central offices there we will achieve some efficiency, and also address a big challenge we are facing and that is surplus space."
Paul Feely is the City Hall reporter for the Union Leader and Sunday News. Reach him at pfeely@unionleader.com.