DOVER — The Lebanese government lured a local restaurant owner back to that country with promises of safety last month only to arrest him on decades-old accusations, his daughters allege.
Amer Fakhoury, 56, owner of Little Lebanon To Go on Central Avenue, has been held since Sept. 12, when he was taken into custody while on a family vacation to his homeland.
This week, three of Fakhoury's daughters and attorney Celine Atallah sat down with the New Hampshire Union Leader to talk about why he would return to the country he fled after allegedly serving as senior warden at the notorious Khiam detention center in southern Lebanon.
"The Lebanese president himself and the (Lebanese) secretary of state were main advocates for people like Amer Fakhoury to return back safely to their country," Atallah said.
Atallah says her client is being used as a "political football."
"His life is at stake," she said. "Every minute he stays there is dangerous for him. Americans should not allow any U.S. citizen in the world to be treated this way."
The daughters say a lot of people who fled Lebanon were encouraged to return to visit family they haven't seen in 20 years because top leaders went on television to tell them they were forgiven for their involvement with the South Lebanese Army, which was an Israeli-backed Christian militia comprised of men who were forced to fend for their families and communities during the country's civil war.
Amer Fakhoury wanted to see his siblings, his daughters said, so they planned to go to Lebanon during their first family vacation in 15 years in September. They were thrilled about the opportunity.
Zoya Fakhoury, 22, of Dover was one of the daughters who went on the family vacation with Amer Fakhoury and his wife, Michelle. She said that as soon as they arrived in the country, officials retained her father's American passport, claiming they needed it to do a background check and told him to return to reclaim it on Sept. 11.
When he did so, they said his file was not ready and to come back on Sept. 12.
Zoya Fakhoury now believes Lebanese officials were using the week to trump up false charges against her father.
When Amer Fakhoury went to retrieve his passport, he had already read an accusatory article published in Al Akhbar, a Lebanese newspaper known for its sympathies to Israeli archenemy Hezbollah. Zoya Fakhoury said her father had nothing to hide and went to meet with officials as planned.
People were already protesting Amer Fakhoury's return to Lebanon outside the Ministry of Justice in Beirut, calling him the "Butcher of Khiam" and demanding his public hanging.
Prisoners at Khiam prison were allegedly electrocuted, whipped and tortured.
A number of those protesting Fakhoury's return claimed to have been abused at the prison, but his family claims he had nothing to do with the abuse and question whether those people were actually ever detained at Khiam prison.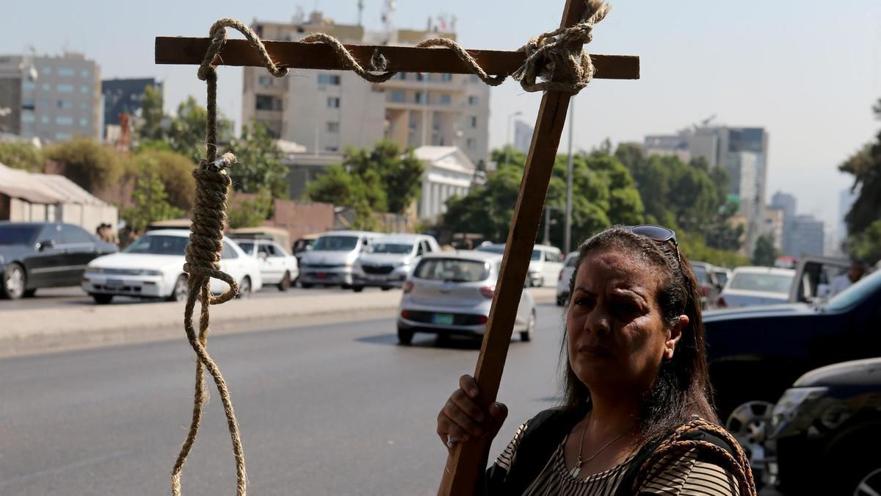 Guila Fakhoury, 32, lives in Salem. She still remembers her family's life in Lebanon and the reasons her father fled the country close to 20 years ago.
"Militias in Lebanon they actually threatened, they went on TV the night before, I remember that. They went on TV and they said, 'Whoever was involved in the South Lebanese Army, we're going to kill you in your bed,'" Guila said.
Guila said thousands of people like her father went to Israel because they feared for their lives.
"They knew they were innocent, but that I remember," she said.
Her family was reunited after Amer Fakhoury entered the United States in 2001 on a visa and travel document. He became an American citizen earlier this year.
Fakhoury has been held since Sept. 12 and as a judge dismisses old charges against him, Attalah said new ones emerge, motivated by the political situation in the country.
After allegations against Fakhoury were formally dropped by a military court for being past Lebanon's statute of limitations, prosecutors tried to charge him with having an Israeli passport.
Atallah said Fakhoury does not have an Israeli passport and that has already been proven to the judge overseeing his case. She said Lebanon is now holding him illegally in prison on no criminal charges.
Lebanon's instability is one of the reasons Atallah and the Fakhoury family say every person who has the ability to negotiate for Amer Fakhoury's immediate release — including President Donald Trump and U.S. Ambassador Elizabeth Holzhall Richard — must step in now.
According to international reports, the people of Lebanon are hitting the streets demanding an overhaul of government institutions in what some media outlets say are the biggest protests the country has seen in years.
Amanda Fakhoury, 27, of Salem says there have been riots in the prisons. That makes her nervous about the safety of her father, especially on weekends when their mother cannot check on him. Michelle remains in Lebanon so she can be near her husband.
U.S. Sen. Jeanne Shaheen, D-NH, is the only member of the state's congressional delegation to take a stand for Fakhoury's release so far. She is in close contact with the U.S. Department of State and has been monitoring the situation from the beginning.
An inquiry made to the office of the U.S. Embassy in Beirut about why Fakhoury's release continues to be delayed was not returned.