CONCORD — A first-of-its-kind forum for presidential candidates, hosted by New Hampshire librarians, was canceled over the weekend due to "unforeseen circumstances," organizers said.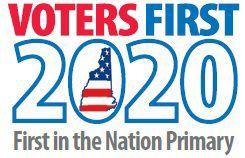 The New Hampshire Library Association (NHLA) had planned to host the Libraries' Presidential Forum at Concord City Auditorium in Concord before the decision was made to cancel the event "due to a confluence of unforeseen circumstances that were beyond our control," organizers said in a statement.
"Hosting a successful forum hinges on one factor: planning," said NHLA President Amy Lappin in a statement. "NHLA planned for every possible scenario that would best meet stakeholders' needs, including a cancellation. There are so many factors that go into organizing a successful candidate forum. Candidates are spread very thin during a campaign season, and schedules are always shifting."
A spokesman for the NHLA did not respond to a request from the Union Leader asking how many candidates had agreed to attend the event, along with additional information clarifying the "unforeseen circumstances" that led to the forum being canceled.
According to organizers, the Libraries' Presidential Forum was designed to be an informational event giving candidates an opportunity to introduce themselves to library users and staff, and allow voters to hear their positions on library issues and pose questions. NHLA leadership said they are now refocusing efforts to engage with candidates throughout the election cycle.
"Every year, library advocates in New Hampshire, alongside library advocates across the country, communicate with officials who have already been elected," said Lappin. "We urge our elected leaders to stand up for libraries, enhance lifelong learning, and prioritize public access to information for all. Advocating before the election — especially in such a visible way — is new. We are proud to have made a promising first attempt, and our planning for the forum has undoubtedly established communication channels with the candidates that we are excited to keep open."