MANCHESTER — A few dozen people sat scattered throughout the ballroom of the DoubleTree hotel Friday morning for a presentation titled "How to Inject Unprecedented Momentum into the Liberty Movement."
The problem, suggested speaker Gret Glyer, the CEO of a humanitarian crowdfunding website, is that logical arguments aren't enough to persuade most people that deregulation and free-market capitalism also benefit the poor. They need an emotional argument. They need to see role models.
"Be the example of showing personal generosity to people in need. … That is my suggestion about how we can inject unprecedented momentum into the liberty movement," Glyer said at the end of his talk, which was part of the Free State Project's annual three-day Liberty Forum.
More than a decade ago, the Free State Project (FSP) set out to create a libertarian role model out of New Hampshire. By securing commitments from 20,000 like-minded people to move to the Granite State, the group planned to kick off a coordinated migration that would reshape the state in its image.
But three years after hitting the 20,000 signatory mark, which triggered the mass move, the Free State Project's momentum has faltered. It currently counts 4,392 free staters in New Hampshire, about half of whom already lived here. The move, which officially began Feb. 3, 2016, is supposed to be completed by 2021.
"I think success is a continuum. We've had some important successes and I think the movement will continue to grow, but I certainly had hoped it would grow faster," said Jason Sorens, whose 2001 essay in a libertarian web journal led to the founding of the FSP. "We have seen the move rate significantly increase over the last year but we are still not seeing movers at the rate we would need to see."
One thing was clear from this year's Liberty Forum, however. While the numbers are anemic, the people who have moved are a passionate and motivated vanguard.
One recent immigrant to the state from Ohio, Gabi Maylock, moved in July after completing her graduate degree at Ohio University, where she studied unschooling — a form of homeschooling that allows the student to decide what they study — and "anarchist pedagogy."
She spoke on a new movers panel Friday that also included Dennis Pratt, a prolific libertarian blogger who came from Massachusetts, and Elliot Axelman, who hosted a radio show when he lived in New York City and who now runs a libertarian website.
"That's pretty much what I do with all my life when I'm at home," Axelman said, adding, "I realized the country's over, New York City can't be saved. ... Will my grandkids have freedom? Not in America. In New Hampshire, maybe."
Critics of the project don't believe it will ever attract 20,000 libertarians, but they acknowledge that those who have come have wielded an outsized influence.
"They've gotten very involved in the party apparatus in terms of running for delegates and setting the party agenda," said Shawn Jasper, the state's commissioner of agriculture and former speaker of the New Hampshire House.
The Hudson Republican recalled that after several libertarian candidates from Manchester called for secession from the nation several years ago, the state GOP issued no comment in response.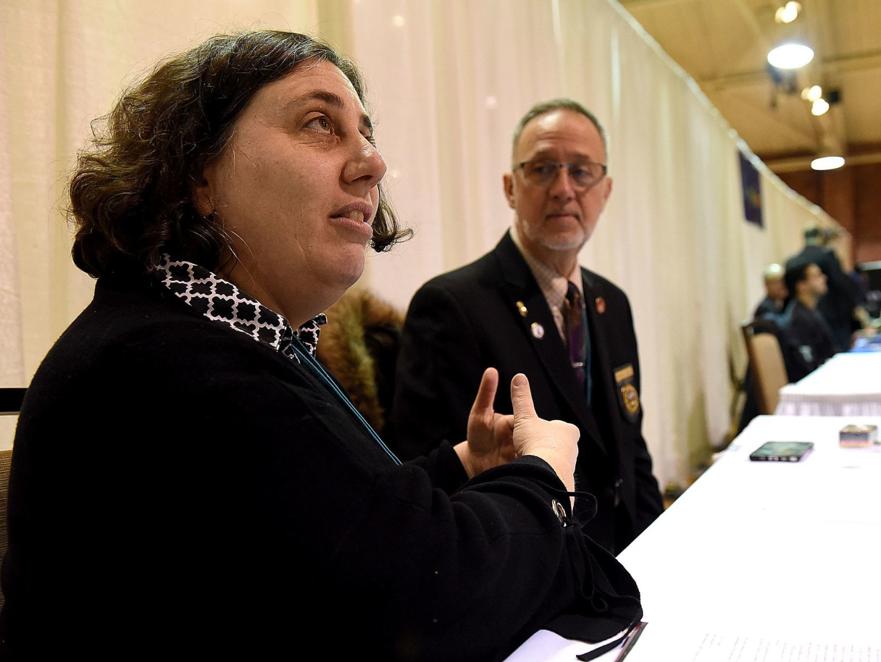 "I don't think they're going to get that many people in, but the thing about the people involved in the Free State Project, and I will give them credit for this, they are very, very active in politics … so their influence far outpaces their numbers."
The FSP is a nonprofit organization, not a political party. But the state's liberty movement counts more than 30 members of the Legislature among its ranks. And Get Involved PAC, which seeks to recruit candidates, financially supported 78 different campaigns in the 2018 elections, albeit in small amounts.
Merav Yaakov, who moved to Manchester from Colorado eight years ago and runs Get Involved PAC, said the first question she asks any potential free- staters is where they want to live. The second question is whether they'll run for office.
While the blue wave that saw Democrats take control of the state Senate and House in the last election was a huge disappointment to many libertarians, the liberty caucus actually gained seats and power within the Republican minority, said Hershel Nunez, a state representative from Pelham.
"That group of people have a voice," he said. "This is the first year that I've noticed the Republican leaders have asked liberty legislators to be policy advisers."
Among its political accomplishments, the liberty movement counts legislation that curtailed civil asset forfeiture at the state level and a separate bill that allowed anyone to purchase the overdose-reversing drug Narcan.
But one of the driving forces behind the FSP was the frustrating results for libertarians seeking statewide or national office, and the movement has yet to make substantial inroads in those races in New Hampshire.
The 2016 libertarian candidate for governor, Max Abramson, won 4.3 percent of the vote. In 2018, Jilletta Jarvis earned just 1.4 percent.
And in 2016, the former chair of the FSP, Aaron Day, helped play spoiler to incumbent Republican Sen. Kelly Ayotte, who lost to Democrat Maggie Hassan by 1,017 votes. Day got 17,742 votes (2.4 percent) as an independent, and official Libertarian Party candidate Brian Chabot received 12,597 votes (1.7 percent).
FSP organizers said they're not recalibrating their goals or going away, but they are looking at new strategies.
"I think that the long-term project is still the same," said Rachel Goldsmith, the FSP's executive director. "We want to create a community in New Hampshire that acknowledges, recognizes and promotes the power of personal choice."
The organization is starting a podcast-based campaign to ramp up recruiting, she said. And Sorens, who is on the FSP board, added that there are several plans in the works that the group isn't ready to announce yet.
"Our most significant focus right now is fundraising," he said. "I think if we're going to build on our momentum and achieve the kind of movement numbers that we consider acceptable we would need to scale up."