The plot thickened in the computer fraud scheme as a second ex-aide to Sen. Maggie Hassan, D-NH, was charged in federal court Wednesday.
We had already known this former aide, Samantha Deforest Davis, who had worked as a staff assistant from August 2017 until last December was involved in this case of stealing government documents and targeting Republican senators with online threats.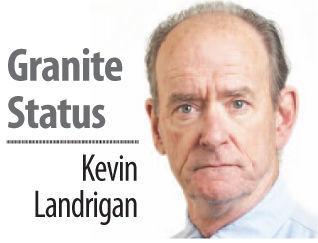 Hassan had learned last December from Capitol Police that Davis was linked to the work of another ex-Hassan aide, Jackson Cosko, who dispensed the personal information of several Republican senators online during the confirmation fight last year over Supreme Court Justice nominee Brett Kavanaugh.
As soon as Hassan learned this, Davis was fired from the staff, officials said.
Davis had only been a person of interest who wasn't charged until Wednesday, the day Cosko received a four-year federal prison sentence for his felony crimes in a U.S. District Court hearing in Washington, D.C.
"Senator Hassan is grateful to Capitol Police and the U.S. Attorney's Office for their work to bring this individual to justice for the crimes he committed," said Aaron Jacobs, Hassan's communications director.
Prosecutors asked Judge Thomas Hogan to sentence Cosko to nearly five years in prison; Cosko's lawyers had said they would accept a two-year prison term.
In April, Cosko pleaded guilty to five federal felonies.
She was charged with two misdemeanors, one evidence of tampering and then aiding and abetting computer fraud in connection with the scheme; officials said she was expected to plead guilty to these offenses.
Cosko was fired last year after he repeatedly used Davis' keys to get into the office, copied sensitive data and then installed keyloggers that allowed him to capture the computer passwords of Hassan staffers when they logged in.
According to court documents, Davis was involved with the computer crimes from last July 26 to Oct. 2.
"Senator Hassan appreciates the work of Capitol Police and the U.S. Attorney's Office in pursuing justice in this case," Jacobs said of the charges against Davis.
The witness-tampering charge stemmed from Oct. 3, when the indictment said Davis wiped down keyboards and restarted computers to hide evidence of Cosko's crimes.
Republican State Chairman Stephen Stepanek said Hassan has to own up to gross mismanagement of her office.
"Senator Maggie Hassan's office is an absolute disgrace to the state of New Hampshire. The recent Politico report revealing that a second former Senator Hassan staffer was charged in the doxing case is, unfortunately, not surprising," Stepanek said in a statement.
"Senator Hassan has hired multiple individuals so lacking in judgement they would break multiple laws in her office. The question remains to be answered: What did Senator Hassan know, and when did she know it? Senator Hassan needs to be held accountable for her gross mismanagement. To ensure this will never happen again, I am calling for a complete and total investigation into every member of her office."
Bullock lands top NH talent
Montana Gov. Steve Bullock failed to make the top 20 selected for next week's Democratic National Committee-sponsored debates in Miami, but he's managed to land some top talent for his New Hampshire campaign.
Rich Thuma most recently ran the campaign of Democrat Gray Chynoweth of Manchester, who lost a very competitive Executive Council race to former Republican Mayor Ted Gatsas.
"I'm thrilled to join Montana Governor Steve Bullock's presidential campaign as his New Hampshire state director" Thuma said in a statement. "As the only candidate who won a Trump state, Governor Bullock will continue his focus on winning back the places Democrats lost and highlighting his strong record of getting dark money out of politics. This weekend and until the first vote is cast, the governor will engage voters across the Granite State and fight to earn every vote."
Prior to the 2018 cycle Thuma had served as a regional organizing director for Hillary Clinton's campaign in 2015 and 2016.
He also worked on the Massachusetts campaigns of Sen. Ed Markey and Joe Kennedy, and two years ago managed the winning campaign of Schuyler VanValkenburg to a seat in the Virginia House of Delegates.
An even more seasoned New Hampshire operative, Nick Baldick is the campaign's national senior adviser.
Baldick was state director here for the presidential campaigns of Bill Clinton in 1996 and Al Gore in 2000.
The new campaign team is putting Bullock through the paces during a two-day visit this Friday and Saturday, stopping at three Manchester restaurants Saturday morning before a house party at the home of former Attorney General Joe Foster in Nashua.
Prime Democratic challenger for council takes a pass
New Hampshire Democrats were hoping the 2020 election year would be the one to retire Executive Councilor Russell Prescott in District 3.
Joe Pace had come close in the 2018 midterm, losing out to Prescott by only 1,050 votes among the 114,000 or so ballots that were cast.
But on Wednesday Pace confirmed this was not the time to mount another council race after having been elected as chairman of the Kensington Board of Selectmen.
This council district is not easy for a Democrat, but as a former selectman in Exeter, Pace had buried Prescott in that suburb, which made him a very appealing candidate.
He was also a fan favorite among organized labor.
"I have a job my neighbors in Kensington have elected me to do," Pace said in a statement announcing his decision.
"I'm not ruling out appearing on the 2020 ballot in some capacity but I will not be running for this office at this time."
Sununu negotiating with Dems on budget but still fundraising off them
Gov. Chris Sununu clearly isn't completely satisfied that House and Senate budget writers refuse to bend on his desire for them to keep in place the business tax cuts that took effect earlier this year.
They have met him halfway on some of his other issues -- building a secure psychiatric hospital and taking the paid family and medical leave issue and a capital gains tax out of the trailer bill to the budget.
But on Wednesday, conservatives got a ChrisSununu.com-sponsored ad on Facebook.
"Governor Chris Sununu is holding the line against Democrats' liberal policies but he needs your help. Can he count on you to take a stand and chip in today?" the ad asked, calling Sununu "a champion for conservatives."
Sununu birthday celebration coming up
This Saturday the Republican State Committee is sponsoring a fundraiser to mark the 80th birthday of former Gov. John H. Sununu.
The event from 2-4 p.m. is at the barn of Jim and Patti Betti at 218 Wallis Road in Rye.
Tickets are $80 apiece or $160 per couple and people can spend anywhere from $50 to $1,000 to get their place in a birthday memento book.
"The funds raised will make sure the NH GOP has the resources to take back the State House, Senate, and Executive Council next year, and save our New Hampshire Advantage," said Chris Sununu in an invitation to the event.
Court fight over Medicaid work mandate goes on
A coalition of groups for the poor and uninsured have asked a federal court judge in the District of Columbia to strike down the Trump administration's approval of a Medicaid waiver for this state to permit a work or community service requirement for most low-income adults in the Medicaid expansion population.
The National Health Program, New Hampshire Legal Assistance and lawyers for the National Center for Law and Economic Justice filed these motions representing Medicaid recipients, who they said would face hardship if the waiver is permitted to stand.
These lawyers maintain New Hampshire's waiver was illegal because a federal judge had already rejected a work requirement for the state of Arkansas.
Meanwhile Sununu must decide in the coming weeks whether he will veto legislation that would eliminate the work requirement if it leads to a significant enough number of residents getting kicked off the program.
Pick of AG as Sup. Ct. chief justice looks solid
The political reality is governors invariably get confirmed their nominees — good, bad or somewhere in between — for the state's highest court.
This is likely to happen next month when the Executive Council votes on the nomination of Attorney General Gordon MacDonald to be the next chief justice.
While MacDonald politically had an early career as a partisan Republican staffer and fundraiser, he's sure got an eclectic group of admirers in the New Hampshire bar.
Jay Surdukowski of Concord, a Democratic political activist, organized a lengthy letter in support of MacDonald from lawyers that included former Democratic Gov. John Lynch's attorney general, Mike Delaney; ex-Democratic Party lawyer Wilbur Glahn; ex-Lynch Legal Counsel Kate Hanna; and former Obama administration U.S. Attorney John Kacavas.
MacDonald has had his critics. A pair of lawyers active in the reproductive rights movement question whether MacDonald would support legal restrictions on abortion, given his past political associations.
Former Democratic Party chairman Kathy Sullivan said MacDonald would become the first person to become chief justice of the court in nearly 70 years to have had no judicial experience.
"There are a number of critical issues that will be argued before the Supreme Court in the next few years — education funding, voting rights, potential additional litigation involving Northern Pass, and the like. New Hampshire deserves a Supreme Court that will not look at these matters through a partisan eye, but one that will interpret the law as objectively as possible," Sullivan wrote in an op-ed for the Union Leader.
"The Executive Council should not wave this nomination through, but should take a hard look at whether Sununu is imposing an ideological stamp on what has been a non-political body."
Dems promote minimum-wage hike petition
New Hampshire Democrats collected in a single day several hundred petitions Tuesday in support of legislation to raise the state's minimum wage.
The petition urges Sununu to sign the measure, something this two-term Republican has not at all supported.
The state GOP has called the bill a "job-killing policy."
The petition points out Sununu, unlike his last two predecessors, had taken the governor's full salary of $132,500, which is $22,000 more than former Gov. Hassan received.
Democrats criticized Sununu for also proposing to hike his salary to more than $140,000.
Sununu's staff pointed out the higher salary for the governor was mandated by state law to be included with his two-year state budget plan.
That's because it represents what was the result of a collective bargaining agreement that affected not only non-political but also politically appointed or elected state workers, like the state's chief executive.
House and Senate negotiators are expected to come to an agreement on a compromise bill to increase the minimum wage from the federal minimum of $7.25 per hour to $12 an hour by Jan. 1, 2022.
Gillibrand pushes family rights agenda
While campaigning in New London late last week, 2020 presidential candidate and U.S. Sen. Kirsten Gillibrand, D-NY., promoted her Family Bill of Rights plan. It includes a federal paid leave law, universal pre-K, improving maternal care, better rural access to obstetricians and gynecologists and affordable nursery care for newborns.
"Paid family leave and, in particular, paid maternity leave, is fundamental to a healthy society," said Dr. Oge Young, who served on a panel Gillibrand hosted.
"It provides the framework for a precious, priceless childhood -- the foundation on which responsible, healthy, caring adults grow. Senator Gillibrand has long been a leader on this issue fighting to establish national paid leave since 2013."
State Rep. Allison Nutting-Wong, D-Nashua and an expectant mother, also praised the plan.
"We need leaders who will focus on the real issues facing New Hampshire families, and Senator Gillibrand's Family Bill of Rights platform does just that. From improving access to maternal care to establishing national paid leave, Gillibrand's proposal offers innovative and thorough solutions to problems that have been ignored for too long," Nutting-Wong said.
Kuster names new spokeswoman
Rep. Annie Kuster, D-NH., is making changes in her staff, with communications director Nick Brown returning to New Hampshire to become district director.
Replacing Brown as Kuster's chief spokesperson in DC is Jen Fox, who had worked with Rep. Lucy McBath, D-Ga.
Brown's move up was the result of some shifting in Hassan's office, as her own state director, Mike Ollen, recently left to head up the presidential campaign of Beto O'Rourke.
Hassan tapped Kuster's former state director, Corey Garry, to become deputy director of her office.
Jennifer Kuzma was named by Hassan to be her state director.
U.S. House advances Hassan crackdown on Big Pharma
Hassan has worked on bipartisan legislation with Sen. Bill Cassidy, R-La., to close a loophole in the Medicaid rebate program that permits pharmaceutical companies to overcharge taxpayers.
On Wednesday night the House passed a companion bill to this Fair and Accurate Medicaid pricing Act of 2019.
"I am excited that the House of Representatives passed our bipartisan bill to prevent big pharmaceutical companies from taking advantage of a loophole and overcharging taxpayers for Medicaid costs," Hassan said. "I will continue urging my colleagues in the Senate to hold pharmaceutical companies accountable by passing this bipartisan bill as quickly as possible."