Here's one sure way to light the fuse of New Hampshire political hostility after two tragic mass murders in Texas and Ohio last week.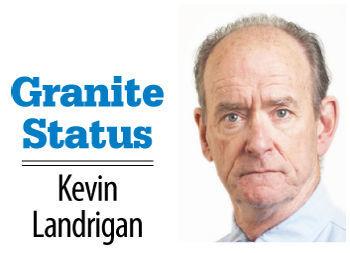 Rep. Chris Pappas, D-N.H., had been in El Paso, Texas, visiting the border with colleagues on Friday, the day before a gunman opened fire at a Walmart, killing 20 people.
Accuse the Democratically-led leaders in the NH Legislature of deliberately holding onto gun control legislation until after these acts of senseless violence to put the pressure on Republican Gov. Chris Sununu to let them become law.
That's just what Republican State Committee Communications Director Joe Sweeney accused House Speaker Stephen Shurtleff and Senate President Donna Soucy of, and yes the blaze is now fully involved in the body politic.
Sweeney struck the first match with his Twitter feed on Tuesday after a jam-packed room of gun control activists rallied in support of the three gun control bills.
"According to Senate President Soucy's own statement on Monday, she deliberately signed off on the legislation after unspeakable tragedies took place this weekend," Sweeney posted.
"By holding bills for months after they have passed they are delaying critical changes to New Hampshire law that impact the lives of all Granite Staters."
Sweeney pointed out these three bills were enrolled last June 27 and over that 39-day period, another 150 different bills have been wrapped up and sent to Sununu's desk.
"This latest move, to withhold anti-Second Amendment pieces of legislation until after a national tragedy struck, was crystal clear," Sweeney summed up.
House Speaker Shurtleff, a Vietnam veteran and retired deputy U.S. marshal, was irate after he saw Sweeney's statements retweeted by yours truly, @KlandriganUL.
Shurtleff fired off an angry letter to House Republican Leader Dick Hinch of Merrimack calling on Hinch to condemn these statements.
"The NH Republican Party accused myself and the Senate President of "politicizing the tragedy" and "purposely withholding the legislation for months until tragedy struck." This is outrageous and demagoguery at its worst," Shurtleff said in the letter released to Granite Status.
"I have signed all the bills I receive as quickly as I am able and to insinuate that we could predict two mass murders and hold these bills until they happen is preposterous."
Should anyone be surprised when apprised of this letter, Sweeney would double down — because that's what he did.
"Speaker Shurtleff's letter makes it clear that Senators Soucy and (Senate Majority Leader Dan) Feltes are playing partisan political games with the laws of this state. The Speaker has validated what everyone knew from the beginning: the arrival of those bills on the Governor's desk yesterday was no coincidence and was entirely politically calculated," Sweeney concluded.
Let's review how bills become law.
There's no question legislative leaders can execute special timing for certain bills.
For example, Shurtleff and Soucy quick-footed the repeal of the death penalty bill because they wanted to vote on the override of Sununu's veto before lawmakers were sent home for the summer — and they did.
It's also typical for the legislative draftsmanship, enrolled bill amendment and final signing process to go on for months after rank-and-file legislators have already left Concord for the summer.
The more complicated pieces of legislation can and do take a few months.
The final enrollment date on the legislative history of each bill often isn't the last time each bill is handled by staffers on the way to get the last needed signatures.
Final countdown begins
Now let's bring you some real news.
The Granite Status has confirmed that Soucy finished with all three gun control bills early Wednesday and a staffer with Secretary of State Bill Gardner walked them down to Sununu's office.
This means the clock is ticking. Sununu has until Monday to act on all three — sign them, veto them or allow them to become law without his signature.
Clearly the gun control activists were rooting for the latter scenario when many pleaded with Sununu to "let them become law."
The three bills would create a criminal background check for buyers of firearms, require a three-day waiting period before a purchased gun could be taken home and form a gun-free school zone.
Sununu has voiced support for "universal background checks."
But so did former U.S. Sen. Kelly Ayotte, R-NH.
She voted for a Republican alternative that beefed up financial resources to go after violators of existing criminal background checks — minutes after she had opposed the bipartisan, Manchin-Toomey amendment, which would have expanded background checks.
Democratic legislative leaders expect Sununu to veto all three and believe he will do so out of fear that doing anything else would invite a conservative Republican primary challenge to his reelection bid in 2020.
Sununu has simply said there's no need for any further regulations on guns in one of the safest states in the nation that's never had a school shooting incident.
Bolduc fires off at Booker
U.S. Senate candidate and retired Brig. Gen. Donald Bolduc wasn't impressed by the campaign of Democratic presidential contender Cory Booker, which called on President Trump to focus on passing federal gun control legislation and cancel his planned rally a week from today at the SNHU Arena in Manchester.
"Maybe if DC politicians like Jeanne Shaheen and Cory Booker did their damn job instead of politicizing a national tragedy, we could actually bring bipartisan agreement to tackle the root issues of mass violence," Bolduc said in a statement.
"Taking away rights of law-abiding citizens won't do anything to protect our citizens. It will take a new approach to handling extremism and hateful ideologies while addressing the mental health crisis in our country. I spent my career in the military working on those issues — and will bring that insight to create real solutions when I'm in Congress. "
Sununu seeks to close state gaps in driver records
Sununu vowed within a few weeks to have the results of an internal review of how the NH Department of Motor Vehicles has done in keeping track of driver license infractions received from counterparts in other states.
In the wake of the Randolph tragedy, we saw the Massachusetts registrar resign in disgrace after it was revealed that hundreds of driver license suspension records from other states had been sitting in a warehouse in Quincy, Mass.
If those records had been seen, Massachusetts authorities surely would have suspended the commercial trucking license of the West Springfield, Mass. man accused of mowing down and killing seven motorcyclists in Randolph on June 21.
On Wednesday, Sununu released a letter he sent to Anne Ferro, president and CEO of the American Association of Motor Vehicle Administrators, regarding opportunities to ensure uniformity and consistency in states' processing, sharing and maintenance of driver records.
"The initial review is now complete, and we look forward to releasing the results of the comprehensive, in-depth report in the coming weeks. In two weeks, key members of our team will be attending the annual meeting of the American Association of Motor Vehicle Administrators to implore motor officials from across the country to work together so we can streamline processes that will result in safer driving throughout America," Sununu said. (For more Granite Status, go to www.unionleader.com)
Lewandowski plays talk show host, gets A-list guestsThe week after
Corey Lewandowski
confirmed he's seriously exploring a U.S. Senate run in 2020, the Windham resident was a fill-in radio talk show host subbing for the vacationing
Howie Carr
And the former Trump campaign manager was able to get some top talent to come on for his debut; former Trump adviser Steve Bannon and current aide Kellyanne Conway got on the line with him.
Conway tried to get Lewandowski to talk about his campaign plans, but he was having none of that.
Lewandowski asked Bannon if the Democrats can win back the key states that helped deliver Trump his upset 2016 win — Pennsylvania, Wisconsin and Michigan — and Bannon brought up the Trump economy while referencing the El Paso murders.
"Let's talk about this horrible situation in El Paso the other day. You know, it was at a Walmart at 10:30 in the morning. That's part of the Trump economic miracle. What you had is El Paso, which I think is 80% Hispanic-Americans, you had citizens over there from Mexico. They're in the Walmart because the economy's booming. We have the lowest Hispanic unemployment in this country in, what, 50 years? Right. And you have another one of these monsters, right, another one of these monsters that go in there," Bannon said.
"But what they're attacking is the Trump miracle. What President Trump is saying is that he is, through his immigration policies, his economic policies, his trade policies against China and, you know, these other countries, he's bringing back the supply chain, he's bringing back economic opportunity to working class people, to the Hispanic working class, the African-American working class. You see the job reports the other day that wages are starting to rise again. So this is the Trump economic miracle, and I don't see any of these candidates addressing that."
New Hampshire Democratic Party spokesman Josh Marcus-Blank criticized Bannon's remarks and said Lewandowski should have distanced himself from them.
"The fact that Corey Lewandowski and Steve Bannon are connecting the tragedy in El Paso to their own campaign talking points on the Trump economy is sickening. Lewandowski and Bannon have come up with a response to this shooting that is even worse than the Congressional Republicans who are refusing to act on commonsense gun safety legislation," Marcus-Blank said.
Losing our minds over dog days pollGiven it is the lazy, hazy days of summer, we can forgive some for over-analyzing a poll of likely New Hampshire primary voters the Boston Globe and Suffolk University would do at least five months before the first-in-the-nation ballots are cast.
But some clearly need to find a shady spot, especially those who suggest that
Joe Biden's
strong showing (21 percent) is a sure sign this race is hardening and it may be too late for some well back in the pack to make a move.
Bernie Sanders was in second (17 percent), Elizabeth Warren took up a solid third (14 percent) followed by Kamala Harris (8 percent) and Pete Buttigieg (6 percent).
Let's go to the numbers. For starters the actual number of people who picked Biden in the poll (107) was only slightly higher than those who said they were undecided (104) even though they were given nearly two dozen names to choose from.
The sample had a staggering 43 percent involvement of self-identified independent voters
Independents in large numbers will vote in this first-in-the-nation primary this winter but wouldn't a large sample of them in this poll favor the more "centrist" Biden to the detriment of Sanders and others more liberal? Of course.
Then among the 37 percent who said they watched both nights of debate in Detroit last week the candidate judged as doing the worst than expected of the entire group was Biden (26.9 percent)
Who did better than expected? These voters picked Warren first (15 percent) followed by Booker (14.6 percent) with Tulsi Gabbard tied with Biden for third (13.9 percent).
The most accurate finding of all may have been the 58 percent who said the most important thing for them is to pick the candidate who can beat Trump; 36 percent said it was essential to nominate the candidate who "reflects my priorities and values."
Bennet camp gets we try hardest awardEvery campaign looks for the silver lining but this takes it to another level.
The followers of Colo. Sen.
Michael Bennet
celebrated his getting 1.6 percent support in the poll; that means eight people out of the 500 surveyed picked him.
"As more voters get to know Michael, they agree he is the best candidate to beat Donald Trump and move the country forward," said Bennet for America spokesperson Shannon Beckham. "It's unfortunate that the DNC has arbitrarily decided that this well-regarded survey — which FiveThirtyEight ranks as a quality poll — does not count toward its equally arbitrary debate criteria. The good news is, Michael is gaining ground where it counts: with voters in early states who believe he has the strength and experience to win in 2020 and unify our country."
All these candidates need to reach a minimum threshold in enough Democratic National Committee-sanctioned polls to get invited to the next round of debates, but this survey wasn't one of them.
Role of pharmacy benefit managers examinedAn eclectic group hosts a news conference Thursday to talk about the role they say pharmacy benefit managers play in driving up the prices of prescription drug prices.
Jim Bouley
Tony Guinta
will be joined by AFL-CIO President
Glenn Brackett
Robert Stoker
of Asthma and Allergy Foundation of New England and pharmacist
Antonio Ciaccia
The PBM Accountability Project is aimed at educating the public about how these middlemen make money from complex drug pricing schemes that divert savings into profits at the hands of New Hampshire patients and purchases.
Vigil, visibility planned prior to Trump visit.Environmental activist and Executive Council Democratic candidate
Mindi Messmer
is promoting a solidarity vigil this Sunday night in Portsmouth in front of the North Church in Market Square.
"The very serious function of racism … is distraction. It keeps you from doing your work. It keeps you explaining, over and over again, your reason for being," Messmer said in marketing the 7 p.m. event.
Meanwhile, former U.S. Rep. Carol Shea-Porter, D-NH, was hyping an anti-Trump event in Manchester next Wednesday on the eve of the President's visit.
"United to Defeat Hatred" is set for 6-8 p.m. at the corner of Elm and Granite streets near the parking garage at 65 Granite St., Shea-Porter said.
"We want to remind him before he speaks here that cruel attacks and racist language are not welcome in New Hampshire. If you are sickened by the violence and hatred in our beloved country, stand up against toxic speech and violence," Shea-Porter added.
Manchester Dem rep joins Booker teamState Rep.
Donald Bouchard
, D-Manchester, joined more than 50 who have endorsed Booker's presidential campaign and his decision came a day after the candidate spoke against white nationalism in Charleston, S.C.
"From his time as mayor to his tenure in the Senate, Cory Booker has shown that he knows how to fight for solutions to the biggest challenges we face as a nation — and get results," Bouchard said.
That's why I'm proud to endorse him to be our next President."
NH Dem activists praise Warren, Buttigieg plansBoth Warren and Buttigieg had no problem finding New Hampshire supporters for their latest plans.
Warren last week unveiled an aggressive trade plan to enforce tough standards and get more access to generic drugs.
"Our current system puts the interests of corporations above all else," said state Rep. Pat Long, D-Manchester.
"I'm proud to support Elizabeth because her approach would ensure that labor, environmental, and consumer groups have a voice in the development of our trade agreements."
Rep. David Meuse, D-Portsmouth, said Warren's plan would help working families.
"America should use our trading power to protect workers, our planet, and defend basic human rights worldwide," Meuse said.
"By enforcing strong trade standards Elizabeth's trade policies will help families here at home get ahead, as well as people all across the world."
Buttigieg provided his own robust legislative and policy package to fight white nationalism and the gun lobby to include a federal gun licensing system, a ban on high-capacity magazines, red-flag laws and preventing domestic abusers from getting guns.
"There is something deeply broken with our country when we must live in constant fear of another mass shooting. With Pete's plan, we are poised to put an end to the senseless violence of mass shootings," said Giovan Shepard, a UNH Law student and policy director for the NH Young Democrats.
"His plan takes positive steps toward a future where innocent people no longer have to fear for their lives when leaving their homes for work, school, or otherwise by keeping deadly weapons out of the wrong hands and tackles hatred head-on."
Next phase of press help arrivesYou know presidential campaigns are starting to reach critical mass in New Hampshire when they are bringing on press reinforcements.
Andrew Taverrite
is joining the Warren team as its New Hampshire communications director.
He'll be joining Kristen Morris who heads up Warren press operations.
Then there's Communications Associate Ben Friedman who last week joined the campaign of Democratic hopeful Amy Klobuchar.
A Lexington, Mass. native who worked on a special congressional election in Pennsylvania, Friedman will augment the work of chief spokeswoman Kelsi Browning from the Minnesota Sen. Klobuchar's campaign.