After Corey Lewandowski's testimony before the House Judiciary Committee Tuesday, the state Democratic party wasted no time attacking the potential U.S. Senate candidate.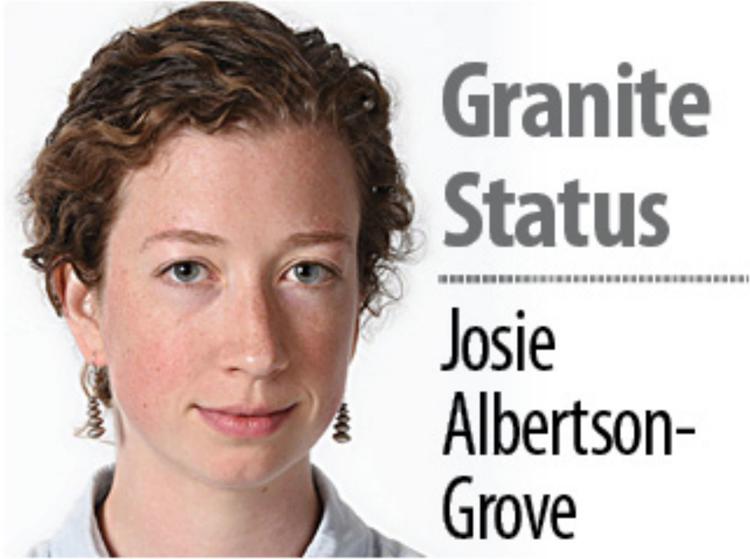 "Lewandowski is demonstrating once again that he works for those shady clients and Trump, not the people of New Hampshire," wrote state party spokesman Josh Marcus-Blank in a statement blasted out during the hearing.
The state Democratic party also delivered a cake for Lewandowski's birthday Wednesday to his firm's Washington headquarters. In blue frosting was a quote from Lewandowski's testimony: "I have no obligation to be honest." Lewandowski was talking about speaking to the media when he said that Tuesday.
During a break from his testimony, Lewandowski tweeted out a new website "to help a potential senate run." A political action committee supporting Lewandowski's Senate run was also registered with the Federal Election Commission Tuesday.
One of the people behind the committee is Michael Biundo of RightVoter, LLC. The consulting firm has worked on many New Hampshire campaigns, including Manchester mayoral candidate Victoria Sullivan's.
Former New Hampshire House Speaker Bill O'Brien will be one of Lewandowski's opponents for the Republican nomination — if Lewandowski runs, of course. Reached Tuesday, O'Brien declined to attack Lewandowski's testimony: instead he sighed at what he called the "kabuki theater" of the hearing.
O'BRIEN ENDORSEMENT NEWS COMING SOON:  O'Brien was seen Wednesday boarding a plane at the Manchester-Boston Regional Airport heading to Washington, D.C.
Internally, the O'Brien camp has said there would be a "major endorsement" in the near future.
On social media, some wildly questioned whether this meant O'Brien would exit the race and endorse Lewandowski.
"THEY'RE GOING TO TAKE YOUR GUNS": The state Republican party seized on Beto O'Rourke's call for mandatory buybacks of certain semi-automatic rifles.
"Hell yes, we're going to take your AR-15, your AK-47," O'Rourke said during the Democratic debate on Sept. 12.
The next morning, the New Hampshire Republican Party sent an email to prospective donors. Subject: "They're going to take your guns."
Why bother responding to O'Rourke, who is polling between 1 and 2 percent among New Hampshire voters? State GOP spokesman Joe Sweeney said he does not want to write anyone off.
"It's September in New Hampshire — a lot happens between now and February," Sweeney said. "He's still a major presidential candidate."
BOOKER CALLS FOR MINIMUM WAGE HIKE, REVAMPED TAX CREDIT: On Wednesday, Sen. Cory Booker of New Jersey rolled out a raft of proposals around workers' issues, including raising the federal minimum wage to $15 per hour.
Booker also wants to roll back state laws that ban closed union shops, require companies to offer paid family leave, and crack down on companies that mis-classify workers as independent contractors. New Hampshire's Department of Employment Security inspections found 1,901 workers had been mis-classified in 2018, up from 745 in 2015.
Booker has also proposed a bigger Earned Income Tax Credit, and the elimination of several tax deductions that he says benefit wealthy households.
LONG VISIT FOR A LONG SHOT: Presidential candidate Joe Sestak, a three-star Vice Admiral in the Navy and three-term congressman from the Philadelphia suburbs, is planning to spend two weeks in New Hampshire, maybe three. Sestak entered the race in June, and polls put his support right around 0 percent in New Hampshire.
Sestak's communications director, Evan O'Connell, said he thinks the extended swing through New Hampshire will give Sestak a chance in the primary. The candidate will visit local Democratic groups, and wants to reach nonpartisan groups like Lions and Rotary clubs, and American Legion posts.
"I think there's plenty of time to still connect with people," O'Connell said.
DARK MONEY ADS TARGET N.H. SENATORS:  The New York Times reported last week that a group calling itself "Doctor Patient Unity" was funded largely by two private equity-backed owners of physicians' practices and emergency rooms. The ads criticized Sen. Jeanne Shaheen and praised Sen. Maggie Hassan after the two introduced bills, both designed to limit "surprise bills" from hospitals.
"It's unfortunate that the voices of Granite Staters who are struggling to pay surprise medical bills can be drowned out by wealthy special interests that have a vested interest in putting profits over patients," Shaheen said in a statement. "I'm not intimidated and am adamant that tackling surprise billing must remain at the top of Congress' to-do list."
Hassan spokesman Aaron Jacobs said the dark money-backed ads were harmful to the effort to pass legislation to end surprise medical billing.
"The bad faith actors behind these ads have only one goal: to preserve the status quo that is enriching corporate special interests at the expense of patients."
Editor's note: This is reporter Josie Albertson-Grove's first Granite Status column. However, State House Bureau Chief Kevin Landrigan hasn't put down his columnist pen. Starting this weekend, he'll author the State House Dome column in the New Hampshire Sunday News.
Granite Status' Josie Albertson-Grove can be reached at jgrove@unionleader.com. Kevin Landrigan contributed to this article.