A third Republican is taking a giant step Thursday toward a 2020 bid for the U.S. Senate.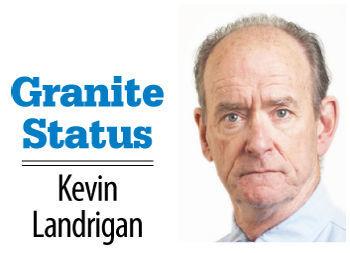 Successful trial lawyer and Army Ranger vet Bryant "Corky" Messner is filing paperwork with the Federal Election Committee to create an exploratory committee for a campaign to challenge the reelection of U.S. Sen. Jeanne Shaheen, D-NH.
The Union Leader first tweeted Wednesday afternoon this news about the Wolfeboro Republican.
"I am deeply humbled by the encouragement I have received in my travels all across New Hampshire," Messner said in a statement. "Voters understand that Democrat Socialists in Washington are determined to radically transform America by abandoning the core values that made our country the greatest in the history of the world.
"They demonize our free market capitalist system while boosting the same ideas that have failed time and again everywhere they have been tried. Jeanne Shaheen is unwilling to stand up to defend our values. I did during the Cold War and I will today."
A West Point graduate, Messner stood guard at the Berlin Wall during the Cold War and built a large, Denver-based law firm that represented dozens of Fortune 500 companies.
Next Tuesday, former House Speaker Bill O'Brien, a Nashua Republican, is expected to officially enter the Senate field.
Retired Army Brig. Gen. Donald Bolduc of Stratham announced his own bid last month.
Bolduc takes a swipe back at O'Brien
For the past several weeks, O'Brien has been touting his conservative credentials while questioning the New Hampshire bona fides of his potential rivals, including Bolduc and Messner.
On Wednesday, Bolduc struck back during an interview on "NH Today With Jack Heath."
"Bill O'Brien and I are, you know, very different people. He's a career politician. I am not a career politician," Bolduc began.
"I spent 33 years in the military fighting for my country. I'll certainly fight for the state of New Hampshire. We are two very different people in our approaches and our personalities. I'm a grassroots guy; a guy that likes to get with the people; a guy that likes to stand with people. I am a blue-collar guy. I am from the state of New Hampshire. I was born and raised in New Hampshire.
"And so, you know, I know the people of New Hampshire and I can relate to them. I understand their problems. So, you know, I think there's a huge contrast there between him and I as we move forward in this election process."
Last May, O'Brien said he was the outsider candidate and not the establishment pick.
"Sure. You know, we're going to see how the field gels out. I know I'm going to be as I was in 2010, not the establishment candidate," O'Brien said referring to his first successful bid to run the NH House of Representatives.
"I know the establishment Republicans will pull out any number of generals, any number of people who might have a vacation in New Hampshire and decide you know, 'I'd like to go on a semi-retirement and I have three million dollars to throw into a race and so I think I'll move to New Hampshire.'"
The Washington Post last week rated the New Hampshire Senate race as the ninth most competitive in the country for 2020.
And one of the primary reasons for that high ranking, the column noted, was Bolduc's pedigree. It made no mention of O'Brien.
"Republicans are going to make a run for Shaheen, though, and they're excited by the entrance of retired Brig. Gen. Donald Bolduc, who is running on his military record, which includes 10 tours in Afghanistan, five Bronze Star medals and two Purple Hearts," the Post wrote. "Given he's not widely known in the state, Democrats are curious to see how much Bolduc can raise and whether he faces a primary fight."
Bolduc will face a primary fight all right.
Trump defense in NH turns to slavery
The President's controversial tweets have attracted plenty of support from his fervent base including from New Hampshire circles.
Former state Senate candidate Dan Hynes got the talk rolling on his Facebook account.
"This is why no one believes the media. If Trump is the most racist President in American history, what does that say about all of the other Presidents who owned slaves?" Hynes posted.
Three-term State Rep. Werner Horn, R-Franklin quickly responded, "Wait, owning slaves doesn't make you racist."
Hynes followed up with, "I guess not. Which is surprising since everything else makes someone a racist. I have been called a racist plenty of times by Democrats."
Horn concluded, "It shouldn't be surprising since owning slaves wasn't a decision predicated on race but on economics. It's a business decision."
During a telephone interview Wednesday, the three-term Rep. Horn said people have been enslaved by others since the beginning of time.
"Slavery later on in the American South was not about the color of the skin of the slaves but their value as workers on the plantations," Horn said.
"The U.S. had abolitionists since the start, people who felt slavery wasn't moral but they weren't enslaving black people because they were black. They were bringing in these folks because they were available."
"What they were looking at was whether they were fit enough to do the demanding work that needed to be done. It was an economic reality."
Democratic Party Chairman Ray Buckley condemned the comments.
"Sununu's silence on Trump's racism has sanctioned this kind of behavior from his Republican Party and has permitted comments like these with impunity. It's disgusting," Buckley said.
Sununu wasn't silent about Trump's tweets; he said they were "toxic" and but he wouldn't say if they were racist.
Horn said they weren't racist.
"It was certainly rude but he's just tossing gasoline on the fire that started the previous week when these liberal Democrats took on Pelosi," Horn said.
Beto reveals his own family ancestry connection with slavery
Just as 2020 Democratic presidential candidate Beto O'Rourke was wrapping up his latest New Hampshire visit Sunday he had a startling revelation.
"I was recently given documents showing that both Amy and I are descended from people who owned slaves. Along with other possessions listed in their property log were two human beings, Rose and Eliza," O'Rourke wrote in an e-mail to supporters.
"A paternal great-great-great grandfather of mine, Andrew Cowan Jasper, owned these two women in the 1850s. There are also records showing that a maternal great-great-great grandfather, Frederick Williams, most likely owned slaves in the 1860s ("most likely," because we are not certain that the Frederick Williams who is my ancestor and the Frederick Williams who owned slaves are the same person, but there's enough circumstantial data to lead me to conclude that it's likely)."
The candidate said records show his wife had an ancestor who owned slaves and another who was a member of the Confederate Army
The former Texas Congressman O'Rourke has spoken often on the campaign trail about racial injustice and "two Americas" and has made a fervent appeal for support from minorities.
"In the aggregate, slavery, its legacy and the ensuing forms of institutionalized racism have produced an America with stark differences in opportunities and outcomes, depending on race," O'Rourke wrote.
Later O'Rourke added, "I benefit from a system that my ancestors built to favor themselves at the expense of others; that only increases the urgency I feel to help change this country so that it works for those who have been locked out of or locked up in this system.
"As a person, as a candidate for the office of the presidency, I will do everything I can to deliver on this responsibility."
Anti-Muslim speaker slips in, out of NH
A week ago at the Radisson Hotel Nashua on Tara Boulevard, a controversial speaker appeared very much under the radar.
Brigitte Gabriel is a best-selling author, founder and chairman of ACT for America.
The invitation promised that "she throws political correctness out the window in a no holds barred speech on illegal immigration, the left's culture war, and radical Islamic terror."
The 6:30-9 p.m. was also closed to the media and anyone attending was warned that "all persons and property can be searched."
The liberal Southern Law Poverty Center has labeled ACT for America as an anti-Muslim hate group.
Gabriel has been quoted as saying practicing Muslims "cannot be loyal citizens of the U.S." and the country has been infiltrated at the "CIA, at the FBI, at the Pentagon and at the State Department" by "all levels of radicals who wish to harm America."
Sununu to make NASCAR news, Dems poke fun
Gov. Chris Sununu will be appearing with Planet Fitness CEO Chris Rondeau and NASCAR champion Joey Logano Thursday to make an announcement about the Teen Summer Challenge.
Meanwhile, state Democrats will be posting a mock photograph that depicts the two-term governor in a fire suit emblazoned with the names of corporate sponsors that have been donors to Sununu's past campaigns such as Eversource NH, Bank of America, pharmaceutical and fossil fuel energy companies.
This comes as the Foxwoods Resort Casino 301 comes to the Magic Mile and the New Hampshire Motor Speedway in Loudon this Sunday.
Thaw in Concord may be coming
We shouldn't make too much about a single meeting, but the private session that Sununu had last week with Democratic legislative leaders and state budget writers was described as "productive" and "encouraging" by some who were in the room.
In the days that followed, Sununu was spreading bipartisan good cheer at bill signings dealing with workforce training and also more enlightened awareness on post-traumatic stress disorder among first responders.
There will almost assuredly be more vetoes to come; the temperature is sweltering on the outside of the State House but seems to be cooling a bit indoors.
Two NH polls reveal the big five
Former Vice President Joe Biden continues to lead but competing polls in New Hampshire this week showed his rivals are coming up fast.
A University of New Hampshire Survey Center poll for CNN had Biden with 24 percent, closely followed by Sens. Elizabeth Warren and Bernie Sanders, both with 19 percent.
South Bend, Ind. Mayor Pete Buttigieg was in fourth with 10 percent, and Sen. Kamala Harris, D-Calif., was in fifth with 9 percent.
A Saint Anselm College poll for the New Hampshire Institute of Politics was more startling for Sanders, who fell to fifth place in that poll at 9.9 percent.
Biden led with 21 percent, while Harris and Warren were close behind with 18 and 17 percent, respectively. Buttigieg had 12 percent.
"It is still very early in the process," said NHIOP Executive Director Neil Levesque.
"However, there are some trends emerging as voters sort through a couple dozen options. Joe Biden is a familiar, well-liked and well-respected figure in the Democratic Party, but between them, Kamala Harris and Elizabeth Warren demonstrate a significant appetite among younger, more liberal voters for a progressive standard-bearer to send against President Donald Trump.
"It is also becoming increasingly difficult for lower-tier candidates to get the attention they need to gather support as even formerly solid contenders have seen their support dissipate and gather behind the emerging top tier of candidates."
Former Mayor, Councilor endorses Sullivan for Mayor
Ex-Manchester Mayor and longtime Executive Councilor Raymond Wieczorek is endorsing Victoria Sullivan's bid for mayor of Manchester.
The move is another sign Sullivan has gotten the Republican Party establishment and activist base in her corner, but of course she'll need more than that to unseat Mayor Joyce Craig.
"It is time for the taxpayers of Manchester to have a leader who will respect them and fight for them, one who recognizes that the citizens voted for a tax cap because they don't trust the politicians to keep spending down, one who will make our city safer and improve city services," Wieczorek said
Sullivan said you can't get more high praise.
"Ray Wieczorek's friendship, counsel, and support are incredibly important to me," Sullivan said. "Ray has spent his life working to make Manchester a better place to live and raise a family. If given the honor of leading our great city, I hope to continue to build on his passion for economic growth, his fight for lower taxes, and his understanding that if we work together we can make the Queen City shine again."
Sanders national co-chair firing up NH troops
National Co-Chair and former Ohio state senator Nina Turner will engage in two days of grass roots advocacy here Saturday and Sunday to include officially opening Bernie Sanders' field office in West Lebanon.
"We are thrilled Sen. Turner will be joining us this weekend," said Bernie 2020 NH Deputy State Director and Communications Director Carli Stevenson. "Sen. Turner is not only an inspirational speaker, but a seasoned organizer. She knows what it takes to build the deep grassroots movement needed to win New Hampshire and the nomination for Bernie Sanders."
Turner starts Saturday morning at 10 with a volunteer training session at the Manchester field office.
Student advocacy leads to breakthrough for young women
Earlier this week Sununu signed legislation mandating that menstrual hygiene products had to be available in public middle and high school girls and gender-neutral restrooms.
"This legislation is about equality and dignity" Sununu said. "SB 142 will help ensure young women in New Hampshire public schools will have the freedom to learn without disruption – and free of shame, or fear of stigma."
Hanover Democratic Sen Martha Hennessey brought this one forward after high school student Caroline Dillon of Rochester brought the issue to light.
"Being an adolescent middle or high-schooler is hard enough without the fear and embarrassment of lacking proper care products during the school-day because you cannot afford them," said Rep. Polly Campion, D-Etna, and a co-sponsor.
Conservative think tank slams E-cig tax
The Josiah Bartlett Center for Public Policy said for tax and health reasons it would not be a good idea for the Legislature and Sununu to expand the state tobacco tax to electronic cigarettes.
The state budget Sununu vetoed and the one he proposed had advocated that change.
In a policy brief, the center points out e-cigarettes contain no tobacco and some studies show it can be a more effective way to quit cigarette smoking than nicotine-replacement therapy and other alternatives.
The Food and Drug Administration continues to look at the health effects of e-cigarettes, especially among the nation's youth.
Executive Director Drew Cline said the financial implications of this tax change are troubling given how neighboring states are moving to heavily tax the product.
"On July 1, Vermont's 92% tax on e-cigarettes took effect. Maine's governor this month signed a law taxing e-cigarettes at 43% of the wholesale price. Massachusetts is considering a 75% vaping excise tax," the brief concluded.
"As our neighbors attempt to squeeze revenue out of products proven to help smokers quit, New Hampshire would be wise to remain an island of sanity and sound policy. New Hampshire's lack of a tax on these products would encourage cross-border sales and further entrench the New Hampshire Advantage. Following our neighbors in adopting a poorly reasoned tax that comes with negative health effects would be a mistake."
Fitting legacy to public servant
A scholarship fund has been created at the New Hampshire Charitable Foundation in memory of former Securities Regulation Director and 2016 Democratic candidate for governor Mark Connolly of New Castle.
Last weekend a memorial service for Connolly announced the fund and that $30,000 had already been pledged to support opportunities for young people to study and then give back to their communities. Early supporters of the fund included Terri Lareau, Susan and David Wolowitz, Barbara and Tom Sedoric, Martha Fuller Clark and Geoffrey Clark along with Jude Blake, Michael Simchik, Karina and Ben Kelley, and Kathryn Drew.
"We lost Mark much too soon, but his fund will continue to give back to the community, as Mark would have done," said Colin Pio, a spokesperson for the fund.
Biden picks up NH supporters, health care plan fans
Biden won some new converts and some fans of the health care plan he unveiled several days ago.
His new backers included Rep. Denny Ruprecht, D-Landaff, and the youngest lawmaker, Rep. Richard Komi, D-Manchester, and a former Nigerian refugee, along with Strafford County Commissioner George Magleras and substance misuse treatment advocate Olivia Dupell.
The campaign will be holding a National Day of Action this Saturday with 12 canvass kickoffs in Portsmouth, Hampton, Manchester, Londonderry, Keene, Claremont, Concord, Berlin, Nashua, Salem, Dover, and Durham.
Harris hits Big Pharma, two more sign on
Sen. Harris earlier this week unveiled a "People Over Profit" plan to dramatically lower out-of-pocket prescription drug costs. Two Granite State activists endorsed her — Pam Jorgensen, co-chair of the state Democrat's Senior Caucus, and former state representative and disability rights advocate Lisa DiMartino.
Harris also got the backing of William Boc and Jack Buckley, two former mayors of Dover, during her Strafford County stop last week.
Booker gets another senior legislator
Rep. Peter Leishman, D-Peterborough, has served in the Legislature for 20 years and he joined Booker's team after the New Jersey senator's campaign visit here.
"Cory Booker is a proven leader who knows the opioid epidemic and mental health crisis won't be solved by sending millions of people to prison and throwing away the key — but instead by reforming our criminal justice system so that we treat every American with dignity," Leishman said. "I know this from personal experience. My son, Jordan, suffered from addiction for 12 years, he got caught up in the system, and then we lost him. What we're doing now is not working.
"I'm proud to support Cory for president because he thinks of people like my son when he gets up every morning to find solutions to the toughest challenges facing our country."
Conservatives announce climate change debate
While 2020 Democratic hopeful and Washington Gov. Jay Inslee tries to convince his national party leadership to sponsor a debate on climate change, a New Hampshire conservative group is going ahead with its own.
The 603 Alliance is offering "Climate Change: Challenges and Solutions" on July 29 at the New Hampshire Institute of Politics.
Speakers confirmed for the event include Lord Christopher Monckton, an author, journalist and UK Independence Party member as well as former Accuweather forecaster Joe Bastardi.
Former state representative Fran Wendleboe said all Democratic presidential candidates polling at 1 percent or higher have been invited to participate.
The event will be free to attend. Pre-registration is required, Wendleboe said
Hassan has new press secretary
U.S. Sen. Maggie Hassan's office announced Laura Epstein has come aboard as the junior senator's new press secretary.
Epstein has worked in both the U.S. Senate and House, including a stint as the press person for the Senate Homeland Security and Governmental Affairs Committee on which Hassan services.
Communications Director Aaron Jacobs made the announcement.
NH incumbents continue to rake in $$
There's one undeniable reality on Capitol Hill.
As re-elections approach, incumbents raise big money and New Hampshire sees it as well.
Sen. Jeanne Shaheen had a very good second quarter, taking in $1.9 million over the past three months and giving her more than $2.8 million in the bank.
The campaign maintains this was a record for this quarter. The previous high was Republican Kelly Ayotte, who raised $1.5 million in 2015 and Shaheen, who raised $1.22 million in 2013.
About 95 percent of her donations were less than $250 and more than 11,700 individuals have donated.
Meanwhile, U.S. Reps. Annie Kuster and Chris Pappas, both D-NH, are getting a head start on their competition.
Kuster took in $403,000 and most recently had $1.6 million at the end of June.
Pappas raised $327,000 over the previous three months; he has $574,000 in cash.
The only Republican opposing any of this trio that filed a report was Nashua Republican Steve Negron. He ran against Kuster in 2018 and was vowing to run again.
A former NH House member, Negron raised just over $13,000 and had about $80,000 in his account.