S ecretary of State William Gardner knows how to turn paperwork into a party.
As he does every presidential cycle, Gardner opened his office to presidential aspirants Wednesday morning for the start of the filing period for the first-in-the-nation primary. His office filled with reporters and cameras ready to record candidates handing over the $1,000 filing fee and filling out a short form.
Standing behind an old roll-top desk, Gardner was in his element, regaling the journalists jammed into his office with New Hampshire primary history.
Anyone who meets the constitutional requirements to be President, and can pay $1,000, can appear on New Hampshire's primary ballot, so the filing period often attracts extreme long shots. It ends Nov. 15.
Mark Stewart Greenstein was the first to file Wednesday morning — he was also the first in line in 2016. Rocky de la Fuente, another perennial candidate, also filed Wednesday morning.
But Pete Buttigieg's filing was the main event.
The South Bend, Ind., mayor's appearance attracted a swarm of reporters and a few hundred supporters to Concord. Buttigieg fans in black "Boot Edge Edge" shirts were hauling signs up Main Street to the State House more than two hours before the candidate arrived, preparing for a rally outside the State House.
A few dozen people pushed into the Capitol to chant "Pete, Pete, Pete!" as Buttigieg made his way to Gardner's office on the second floor around 11:30 a.m.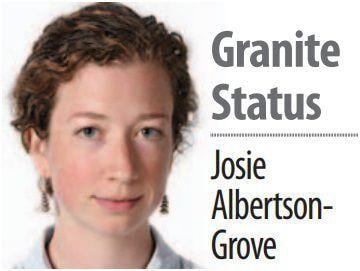 Gardner looked on as Buttigieg filled out the form.
"It's official," Gardner told Buttigieg. "You're on the ballot."
Buttigieg told reporters he saw a path to victory in New Hampshire, though a poll released Tuesday showed that he was the first choice of just 10% of likely primary voters — behind Sens. Bernie Sanders and Elizabeth Warren and former Vice President Joe Biden.
Buttigieg said he thinks many voters are still undecided and could still vote for him, and said if elected, he would be the most progressive President in his lifetime. He said he wanted to attract moderates and "Never-Trump" Republicans too. "To me, it's not about pretending to be conservative, but about being straightforward with my values," he said.
He thinks his sizable New Hampshire staff — more than 60 people in 13 offices across the state — is setting him up for a strong showing in New Hampshire, even though he is still in fourth place in the polls.
"Even recognizing and respecting that most voters may not make up their minds until the last 10 days, we know that the work we're doing in the next weeks will really set the tone for that and build the relationships that are going to pay off in those crucial final days," Buttigieg said.
Harris 'all-in on Iowa'
In a memo to staff and supporters, Sen. Kamala Harris' campaign announced it will go all-in on the Iowa caucus — and focus less on the New Hampshire primary. Politico first reported the shift Wednesday afternoon.
Campaign manager Juan Rodriguez said the campaign was focusing resources on Iowa because of an "incredibly competitive resource environment," with 18 other candidates competing for the same donors' dollars.
Rodriguez wrote that some field staff from New Hampshire, as well as Nevada, California and the campaign's headquarters, will be stationed in Iowa until the caucus on Feb. 3. A New Hampshire spokesman for the campaign would not elaborate when asked what the realignment would mean for the Harris campaign in New Hampshire, its four field offices and the people who work there.
Harris has not been in New Hampshire for almost two months, since the state's Democratic Party convention on Sept. 7. By contrast, her campaign reports Harris has spent 15 of the last 30 days in Iowa, and will spend Thanksgiving there.
Meanwhile, former South Carolina governor and congressman Mark Sanford is planning to move his headquarters to New Hampshire, as he campaigns for the Republican nomination for President.
The New Hampshire Republican Party is holding a presidential primary election — unlike Sanford's home state of South Carolina.
Cruz-ing NH
Sen. Ted Cruz, R-Texas, is set to speak at the Josiah Bartlett Center for Public Policy annual dinner on Nov. 14. The dinner will be his second visit to New Hampshire in less than a month — Cruz was in Bedford over the weekend at a fundraiser for former state Rep. Bill O'Brien's U.S. Senate campaign, and spoke at another O'Brien fundraiser in Boston.
Cruz endorsed the former House Speaker in September — the two stayed in touch after O'Brien served as a chair for Cruz's 2016 presidential run.
"It's not unusual for someone like Cruz to visit New Hampshire to help a friend," said Jim Merrill, a veteran of New Hampshire presidential campaigns. "It's also done with a purpose."
"These trips are typically made to remind friends of that friendship, and lay the groundwork for what I fully expect to be a future campaign," he said.
Merrill said he thought Vice President Mike Pence's plan to file President Donald Trump's candidacy papers on Nov. 7 could be interpreted in a similar way.
"Pence coming to file in person sends two messages," he said "One from Trump campaign, that they're very serious about New Hampshire. And one from Mike Pence that he wants to make friends and maintain relationships up here," for a presidential run of his own in 2024.Spooky stuff: Hassan bill to examine "deepfake" videos
Put simply, deepfake videos involve manipulating video in a way that can make it look and sound like a person is saying things they did not actually say. The technology uses machine learning to map how a person looks and sounds, and then uses that information to create a new video. Sen. Maggie Hassan is part of a bipartisan group of senators sponsoring the "Deepfake Report Act," which passed the Senate last week.
The bill would direct the Department of Homeland Security to study deepfake technology every year: how the technology is evolving, how foreign and domestic entities might use it, countermeasures, and the effects on national and election security.
"Deepfake technology is a national security risk, and it also undermines our ability to separate truth from lies, directly threatening our democracy," Hassan said in a statement.