AFTER THE U.S. SENATE passed measures Wednesday designed to help the United States compete with China's technological innovation and manufacturing, Sen. Maggie Hassan pointed out several provisions she had pushed — from a measure to help high-schoolers take college classes, to a move for the Department of Homeland Security to identify risks to critical infrastructure, and funding to help U.S. companies compete in the 5G equipment field with Chinese firms like Huawei.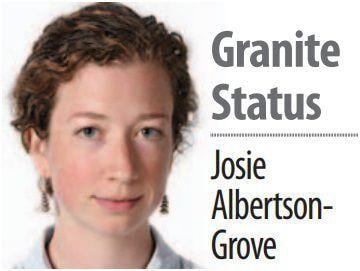 Hassan noted the list of Republicans she worked with on the United States Innovation and Competition Act — Sens. Ben Sasse (R-Neb.), John Thune (R-S.D.) and Todd Young (R-Ind.)
President Joe Biden praised Republican and Democratic leaders alike in a statement, saying the bill includes some of the measures in his infrastructure plan.
What remains to be seen is if such a broad coalition can be assembled again — or if competition with China is the only issue that can unite Congress.
Echoing notes Biden often sounds about the future of democracies in a world where autocracy seems to be on the rise, Hassan said in a statement that the bill's passage sends the message that divided democracies can still get things done.
"By passing the United States Innovation and Competition Act, our country has sent a strong message to the rest of the world that we are united across political parties to continue to be the world's leading military and global economic power," Hassan said. "Members on both sides of the aisle agree that we need to take on the Chinese government in order to strengthen America's national security and economy."
Hassan said she hoped the Senate could build on the cooperation, and keep working together.
Could the desire to out-compete China help drive consensus on, say, an infrastructure package? Biden has posited infrastructure as key to making sure the U.S. stays competitive.
Infrastructure bill
Then again, maybe competing with China isn't enough to bridge ideological divides.
Americans for Prosperity-NH, the local chapter of the national fiscal-conservative advocacy group, held an event in Exeter Wednesday aimed at Biden's infrastructure proposal, terming it a "spending spree."
The event is part of what Americans for Prosperity is terming a "seven-figure" national campaign to oppose Biden's $1.7 trillion infrastructure proposal, and the proposal to raise taxes on large businesses and people who make over $400,000 a year — though a possible bipartisan compromise put forward Wednesday by a group of moderate Senators, including Sen. Jeanne Shaheen, would not raise taxes.
The campaign promises ads, events with local officials like the Wednesday event with state Reps. Michael Vose (R-Epping) and Hershel Nunez (R-Pelham), and "aggressive direct outreach to Hill offices." Pity the summer interns taking those "aggressive" calls.
Tax on water companies
Shaheen and Sen. Lisa Murkowski (R-Alaska) are taking another run at undoing a piece of the Tax Cuts and Jobs Act of 2017 that has left local water companies with higher tax bills than before.
The Union Leader reported in 2019 that the Hampstead Area Water Company was stuck with an unanticipated $1.15 million tax bill for a project in Atkinson. The Tax Cuts and Jobs Act took away a tax exemption for water and wastewater utilities — Shaheen's bill would put it back.
In a statement, Commissioner Bob Scott of the state Department of Environmental Services said the tax made it harder for water utilities to undertake big projects that will make drinking water safer.
"These critical investments must be made without sticking local communities with an unexpected bill," Shaheen said in a statement.
Shaheen introduced a bill to deal with the issue in 2019, Rep. Annie Kuster introduced a companion bill in the Senate last year. Neither the House nor the Senate took any action on that bill. Shaheen's office said they were not sure how much revenue was generated when the tax exemption was undone.
This column has been corrected and updated. Sen. Shaheen introduced a bill reinstating a tax break for local water companies in 2019, and Rep. Kuster sponsored the House version of the bill in 2020. A previous version of this column stated Shaheen introduced the bill in 2020.