STATE HOUSE SPEAKER Steve Shurtleff has heard some grumbling from members who want to get back into the State House.
He said members of both parties voted to keep the State House closed, for the safety of members and legislative staff.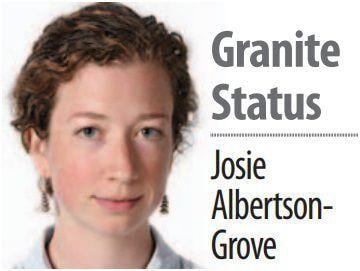 "We told members if you need to get into the State House to get paperwork, let us know ahead of time and we can make arrangements," he said.
Shurtleff said he is working at the State House most of the time, but other members and staff are still mostly working from home.
"We'd love to have the doors open, have it back," he said, but it's still not safe.
So legislators met again this week at the Whittemore Center Arena at the University of New Hampshire.
If some members were homesick for the State House, others made themselves right at home in the hockey arena.
House Sergeant-at-Arms J.B. Cullen informed Shurtleff near the end of Wednesday's veto override session that a dozen empty beer cans had been found in the trash.
"To me it's not funny. This chamber is hallowed," Shurtleff told the House. Anyone drinking during the session ought to be ashamed, he said.
"If you want to be the village idiot, go back home. Don't do it here."
The meaning of 'clean'
After Sen. Jeanne Shaheen proposed a "clean campaign" pledge for her reelection campaign against Republican Corky Messner, Messner agreed only to the parts of the pledge already covered by election law.
Messner did not agree to limit the influence of outside organizations, including political action committees and so-called dark money groups in the election, as Shaheen proposed. All are legal, but are not subject to the same contribution limits and disclosure laws that candidates have to follow.
Shaheen has benefited from outside spending in previous elections and numerous political action committees have been raising money to support and to oppose her. A political action committee has already spent to help Messner, in his Republican primary election earlier this month.
To Shaheen's proposal, Messner made one addition. He asked Shaheen to return any money donated by people who live in the state of California, and said he would do the same. Messner did not ask that any other states be excluded, and did not say why California donors should be excluded.
Messner was endorsed by Citizens United earlier this year, the conservative group made famous by the Citizens United v. FEC Supreme Court decision in 2010.
End Citizens United, a group advocating for legislation to undo the Citizens United decision, slammed Messner's revised "clean campaign" pledge, calling it a "watered down" version of Shaheen's proposal.
"He's putting a for-sale sign on his campaign by giving these groups the green light to flood the state with negative and nasty attack ads to try to buy this race for him," End Citizens United President Tiffany Muller said in a statement this week.
Shaheen calls for no recess
Back in Washington, D.C. on Wednesday, Shaheen called on the U.S. Senate's Republican leaders not to call a recess before a new COVID-19 agreement is passed.
"I have no more important responsibility than to help Granite Staters get through this crisis," Shaheen said in a statement. "Under no circumstances should Congress recess before the election without delivering a bill to the president's desk that provides financial assistance to families, supports our struggling hospitals, delivers additional tests and protective equipment, and helps our state and local governments maintain critical services.
Mike Biundo, senior adviser to Messner's campaign, said he thought Shaheen should have voted for a Republican relief bill last week. 
"To now pull a stunt like this is insulting, and after spending the last week in NH campaigning is insulting to all those who are hurting," Biundo said.