SENATE REPUBLICANS blocked a bipartisan infrastructure bill from moving forward on Wednesday, but New Hampshire's senators said they remain optimistic about the possibility of a deal involving both parties.
After the bipartisan bill failed to garner 60 Senate supporters, Sens. Jeanne Shaheen and Maggie Hassan — along with 20 other senators working on a bipartisan infrastructure bill — said they still believe they are nearing a deal for a $1.2 trillion infrastructure bill, including almost $600 billion in new spending.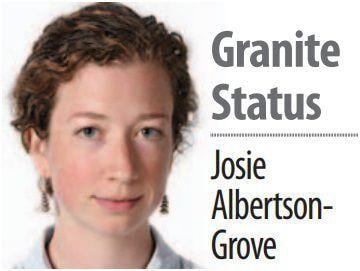 "We will continue working hard to ensure we get this critical legislation right — and are optimistic that we will finalize, and be prepared to advance, this historic bipartisan proposal to strengthen America's infrastructure and create good-paying jobs in the coming days," read the joint statement issued Wednesday afternoon.
Senate Democrats are also advancing a larger infrastructure bill with the "reconciliation" process, which could pass with just 50 votes. The bill is expected to be much larger, about $3.5 trillion, and include more than just funding for roads and bridges.
The specter of the more-expensive, more-progressive reconciliation bill is being used in ads targeting Rep. Chris Pappas and 12 other moderate Democrats in swing districts.
Americans for Prosperity, a national libertarian group, is spending "seven figures" on online advertising in 13 congressional districts to tar the reconciliation infrastructure bill, and link the moderate representatives to the less-moderate Sen. Bernie Sanders (I-Vt.).
Greg Moore, director of Americans for Prosperity-New Hampshire, said he opposed the health care provisions likely to be part of the reconciliation package. The bill is expected to have an expansion of Medicare benefits to include dental, vision and hearing coverage for retirees, and would make permanent the expanded subsidies for insurance plans purchased on the Healthcare.gov marketplace. Moore said he opposed any expansion of the role of the federal government in health care.NH family planningRep. Annie Kuster and Pappas are asking the U.S. Health and Human Services department to help figure out a way to keep New Hampshire family planning centers afloat until federal rule changes take effect.
In a letter this week to U.S. Health and Human Services Sec. Xavier Becerra, Pappas and Kuster asked Becerra to figure out a way to fund family planning centers that withdrew from a federal grant program. Under the Trump administration, the program granted federal funding on the condition that grant recipients not advise patients about abortion. The letter states 70% of family planning centers in New Hampshire withdrew from the program after that policy took effect in 2019.
The Biden administration is rolling back the policy, but the policy change takes time. Kuster and Pappas said they worried some New Hampshire centers might be left without public funding for a time, because of cuts in the state budget.
House advances PFAS bill
New Hampshire's representatives celebrated the House passage of the PFAS Action Act. If the bill is passed into law, PFAS chemicals — sometimes called "forever chemicals" and including PFOA and PFOS — would be regulated as hazardous substances by the Environmental Protection Agency.
Pappas and Kuster cosponsored the bill, and added provisions that would block EPA approval of new PFAS chemicals, and create standards for PFAS chemicals in water. The bill passed the House with support from more than 20 Republicans.
On the other hand, that means 183 Republican votes against the PFAS bill — which is the angle the Democratic Congressional Campaign Committee chose to highlight in a news release Wednesday afternoon.
Cotton: Focus on 2022
Visiting New Hampshire over the weekend, Sen. Tom Cotton (R-Ark.) said he was focused on the midterms, not the presidential primary he is expected to enter.
Cotton said the Republican activists he met with last weekend were proud of the budget and the controversial elements in the budget rider — including restrictions on abortions, and the prohibition on teaching discrimination that Cotton termed a "critical race theory ban."
Cotton praised the New Hampshire's law as going further than other states' bans, because New Hampshire's law includes a provision allowing people to file civil rights complaints or lawsuits to stop teaching they see as discriminatory.
"There's no question New Hampshire will be a critical state in 2024 as it usually is," Cotton said. But he said he is focused on energizing Republican activists ahead of 2022 races.
"My travels outside of Arkansas are guided right now by the midterms," Cotton said. "New Hampshire will be a competitive Senate race."