UPDATE: Gov. Chris Sununu is at a crossroads with his Democratic-majority Executive Council.
Surely the council's 3-2 vote against Sununu's nomination of Attorney General Gordon MacDonald Wednesday as N.H. Supreme Court chief justice could not have come as any great shock.
As we noted, first-term Councilor Mike Cryans' strong statement in opposition a few weeks ago signaled the likelihood all three Democrats on the council would follow suit.
And the Union Leader has confirmed Thursday that Councilor Debora Pignatelli, D-Nashua, met privately with Sununu prior to the council vote to tell him that MacDonald had come up short.  At that session, Pignatelli was permitted to reveal that Councilor Andru Volinsky, D-Concord, would join her and Cryans in opposing the AG for the judgeship.
She had urged Sununu to spare MacDonald the political embarrassment of a rejection vote.
Sununu ignored that overture.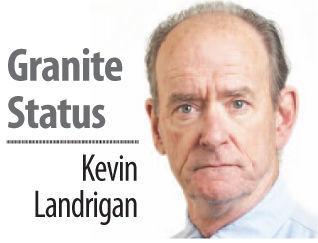 MacDonald and his allies refused to give up.
There was also no talk of allowing the likable AG to save face by letting his nomination die on the table and never be brought up for a vote.
MacDonald left everything on the field in this contest. Over the past several weeks, his team did not let a single criticism of him go without being challenged by his many supporters from both political parties across the state.
Sununu was wise to say after the vote he'll take a pause before bringing forward another nominee to replace Chief Justice Robert Lynn, who retires in August.
This is the least busy time of the year for the state's high court and a full docket of public hearings does not ramp up until after Labor Day.
Much like Sununu's feud with the Democratically-led Legislature over the budget, the two sides probably do need a cooling-off period.
All three Democrats made the point that Sununu not only did not consult them before nominating MacDonald, but would not discuss the matter with them.
Some of MacDonald's legal allies say there is a qualified jurist on the federal bench, but that judge would have to be willing to leave that judicial system and likely take a pay cut.
Like MacDonald, U.S. District Court Judge Joe Laplante of Nashua has many fans in the New Hampshire Bar Association.
Former state senator and retired lawyer Peter Burling, a Cornish Democrat, said some of this campaign was also about the ongoing desire of those from the big law firms in the Manchester-Concord axis to dominate the choice of who gets to be a judge and who doesn't.
"That's really not about party politics or even about judicial experience, while both those issues figured into this nomination," Burling said.
Veto drum beat goes on
Sununu allies had been warning us that the two-term governor was just getting his veto pen warmed up.
Indeed on Wednesday, Sununu struck down another 10 bills the Legislature had passed. All of this latest batch was sponsored by Democratic lawmakers.
Three of them were authored by Senate Majority Leader Dan Feltes, D-Concord, a potential Democratic primary candidate for governor in 2020.
Feltes said this makes for a modern-day record of 24 bills Sununu has vetoed, counting the repeal of the death penalty, which the Legislature put into law by overriding that veto.
"New Hampshire voters elected divided government and sent us all to Concord to work together for the betterment of our state, but we can't do that when Governor Sununu prefers to engage in obstructionist governing by veto pen," Feltes said. "From paid leave to Medicaid provider rates to campaign finance reform and workers' rights, Governor Sununu is the one barrier to progress New Hampshire faces."
Most of the vetoed bills are not high-profile ones, though two of them were veto targets of the Business and Industry Association of New Hampshire as they dealt with employee privacy when it came to their credit records or their salary history with past employers.
Sununu policy adviser D.J. Bettencourt tweeted that if they want fewer vetoes, then the solution is simple.
"The current New Hampshire legislature has demonstrated that Red Auerbach was right: 'All records are made to be broken.' Looking forward, the equation is simple: responsible legislation = fewer vetoes," Bettencourt tweeted.
NH GOP does gov's bidding
We're now seeing the difference between Gov. Chris Sununu 1.0 and 2.0.
The newer version is intent on not allowing the better-financed Democratic Party machine in New Hampshire to own the message.
That's why he helped ensure the New Hampshire Republican State Committee had enough money to begin the TV attack war over the vetoed state budget.
The ad opens with a not-very-flattering image of Feltes and invokes his name in targeting the Senate Democrats.
There can be no doubt this is the legislative chamber Sununu is more focused upon changing in 2020.
He knows it's harder to flip the Senate, while the House almost automatically has gone back and forth from Democratic to Republican control over the past 12 years.
"In the midst of a booming economy, New Hampshire Democrats want to take us in the wrong direction, passing a budget that raises taxes, making financial promises that cannot be kept, giving massive handouts to special interests," the NH GOP ad states. "We can't let Dan Feltes and his Democrat friends destroy the New Hampshire Advantage. Call Senate Democrats and tell them we can't afford more taxes; too much is at stake."
In 2017-18 this didn't happen.
Sununu and the state GOP did not pay any early attention to then-Democratic candidate for governor Molly Kelly and some in his inner circle believe that made the race closer than it should have been.
That was then; this is now.
Protests likely to become the norm
Sununu also experienced on Wednesday what the leaders of both sides of this bitter budget battle should get used to and that's open warfare.
North Country education supporters were out in force to picket Sununu's appearance at the Littleton Opera House for the council meeting Wednesday.
These folks are upset that Sununu vetoed the budget that boosted education aid by $138 million over the next two years. It would have been the largest increase in 20 years.
"We are here today to urge Governor Sununu to stand with the students and property tax payers of Littleton who are losing out on over $1 million of added education and local aid because of his budget veto, said Barbara Chase, a special education teacher at Littleton High School.
Bernie boosts his NH presence
New Hampshire officials for Bernie Sanders announced Thursday they now had 45 staffers working in NH with most of them focused on field and community organizing.
Sanders will be opening field offices in Manchester, Portsmouth, Dover, and West Lebanon. The Greater Nashua field office was opened last month with Sen. Sanders and Campaign Co-Chair Ben Cohen.
This makes for six offices throughout the state.
 "From day one of this campaign, I have said we will take nothing for granted here in the first-in-the-nation primary. We're building out the organization we need to talk to every Granite Stater in every corner of New Hampshire and earn their vote. I'm proud of the team we put together," said Joe Caiazzo, state director.
Business groups give Sununu a new veto list
As if Sununu doesn't have enough veto prospects of his own, the BIA added three more to his list on Wednesday.
The group's latest targets included offering $25 million a year subsidies for biomass electricity generators, (HB 183); a phased-in mandate for the purchase of more solar energy (SB 168); and altering the definition of "gainful employment" to make those who are partially disabled on the job qualify for higher rates of pay.
"While well-intentioned, these bills would hurt New Hampshire businesses and unnecessarily raise the cost of doing business in the Granite State," BIA President Jim Roche said of the utility bills. "We can't implement laws that make electricity more expensive at a time when costs in New Hampshire are 50-60% higher than the national average year-round."
The BIA is in a strong position of political leverage these days.
Their support of Sununu's state budget veto was critical.
This is a theme the governor will continue to emphasize as he spends the summer making trips to New Hampshire businesses to defend his budget moves.
Planned Parenthood gets far-less controversial win
While Sununu and the council were at loggerheads over abortion rights given MacDonald's past views on the subject, Planned Parenthood of Northern New England got to celebrate another victory with far less controversy.
A bipartisan council voted 4-0 to approve contracts going to PPNNE for preventative services that include substance abuse treatment, HIV testing and pre-exposure prophylaxis.
Councilor Ted Gatsas, R-Manchester, abstained on the vote, while the rest of the council voted for it.
The early-intervention services for HIV were developed in 2017 after there had been an uptick in sexually-transmitted diseases that coincided with the state's substance abuse crisis. The grants run through June 2021.
These contracts are especially helpful to this organization because the state budget veto has held up funding for the state HIV/STD prevention program.
Co-Quotes of the Week:
"For instance, he has already shown his hand on the issue of taxpayer funding of religious schools. Some see me as a partisan, but I face the voters every two years and am not nominated for the state's most important appointment to age 70. I have voted for conservatives to our Supreme Court but never for a partisan activist." — Councilor Debora Pignatelli, D-Nashua, who cast the deciding vote to doom MacDonald's nomination.
"I am absolutely disappointed for Gordon. To have one of the most qualified and widely supported nominees in the state's history treated in this way because of politics is reprehensible enough, but just as concerning is the damage done to our process." — Gov. Sununu.
Sununu taped auctioning veto, flags
If Sununu is concerned that he might have gotten too amped up when he auctioned off one of his vetoes at a July 4th Lakes Region GOP event, his flippant response would suggest he's not in the least.
A Democratic Party tracker's camera was rolling when Sununu showed up at a Wolfeboro fundraiser where they auctioned off for $400 a copy of his veto of SB 1 to create a paid family and medical leave program in New Hampshire.
The Democratic Governors Association piled on with many other partisans who pilloried Sununu for also auctioning off flags that had been flying over the State House on the day of that veto.
"This story proves what we already knew: Chris Sununu has sold out New Hampshire to the highest bidder at the expense of the people he was elected to represent. Sununu may not care if it's legal to do so, but working Granite Staters are the ones dealing with the consequences of his paid family and medical leave veto," said DGA Communications Director David Turner. "Sununu knows that forcing people to choose between taking care of their loved ones and their jobs is no laughing matter, but it frankly seems like he just doesn't care. He owes the people of New Hampshire an apology."
Sununu's office said the governor's involvement was not planned, he had not supplied these items and the chief executive himself said his critics were grasping at straws.
"If I auctioned off every bad piece of legislation passed by the Democrats, I could triple the state's rainy day fund and I'm also available for Bingo nights," Sununu said in a statement.
Kuster co-hosts military sex trauma forum
U.S. Rep. Annie Kuster, D-NH, will preside with her three co-chairs for a roundtable discussion Thursday afternoon on Capitol Hill regarding the issue of military sexual trauma. Last April this Bipartisan Task Force to End Sexual Violence had a discussion about cyber harassment and abuse.
The speakers for this afternoon's forum include Jane Stapleton, co-director of the Prevention Innovations Research Center at the University of New Hampshire, along with officials from the Department of Defense and private industry.
NH senators use EPA appt. to push PFAS agenda
U.S. Sens. Jeanne Shaheen and Maggie Hassan, D-NH, are doubling down on their calls for the federal Environmental Protection Agency to classify PFAS as a hazardous substance under the Superfund Law.
The call comes on the eve of a confirmation vote on Peter Wright to become assistant administrator at EPA in charge of the Superfund program.
"While communities throughout New Hampshire – and the nation – continue to face PFAS contamination in their water supplies, the Trump administration is dragging its feet on responding to this pervasive problem. More than one year since the Environmental Protection Agency (EPA) pledged to designate PFAS as a hazardous substance under the Superfund law, we've seen no action made toward this goal. That's unacceptable," Shaheen said. 
Former EPA administrator Scott Pruitt had promised to make this designation.
"As the Senate considers the nomination of Peter Wright – the man who would be tasked with overseeing the cleanup of hazardous PFAS chemicals – the EPA still has not taken action to designate PFAS as a hazardous substance," Hassan said. "It is completely unacceptable that communities across New Hampshire have to question the safety of their drinking water, and it is long past time that the EPA take this important step to speed up cleanup efforts across the country."
Steyer's in, Swalwell's out
Aides to billionaire Tom Steyer said the newest Democratic presidential candidate will be campaigning in the first-primary state later this month.
But Steyer didn't wait to use his vast fortune, with two TV ads airing on cable nationally and on network affiliate stations in New Hampshire, Iowa, South Carolina and Nevada.
"I started a tiny investment firm in 1986 and grew it to 36 billion dollars," Steyer stated in one. "In 2010, I signed the Giving Pledge to fund good causes. Then I left my business to combat climate change, fix our democracy, and hold President Trump accountable. Last year, we ran the largest youth voter registration in history, helping double turnout and win back the house."
Steyer's about-face as someone who months ago ruled out running for this office is the latest twist in a Democratic primary that has had its share.
U.S. Rep. Eric Swalwell, D-Calif. returned from his pre-Fourth of July holiday visit to New Hampshire with a decision to end his campaign and confirm he'd seek another two-year term in the U.S. House next year.