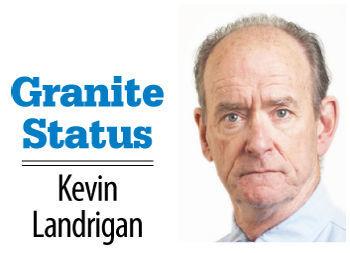 REPUBLICANS ARE STILL waiting for a confirmed candidate to take on U.S. Sen. Jeanne Shaheen in 2020.
But at least they've got some in the GOP willing to take a look at it.
Most observers don't think Gov. Chris Sununu will pass on seeking a third term as chief executive next year, and will instead take a flyer on trying to take out New Hampshire's senior senator.
Then there's former House Speaker Bill O'Brien of Nashua, who's seriously exploring a campaign and continues to meet with state and national GOP figures about the idea.
We also have New London venture capitalist Jay Lucas. He hasn't ruled out a 2020 run, but over the past year is singularly focused on his project to revitalize his native hometown of Newport.
Now there's somebody different and he's very intriguing.
Retired Brig. Gen. Donald Bolduc is by no means close to making a decision, but several GOP sources have said he's listening to folks who think he'd be a great candidate.
By any measure, the Laconia native resident is an authentic American hero.
He's one of the soldiers depicted in "12 Strong," a movie about a horseback-riding Special Forces team that fought the Taliban in Afghanistan soon after the terrorist attacks on Sept. 11, 2001.
Bolduc's decorated career included serving as commander of special operations command in Africa and 32 years of service, during which he received two awards for valor, five Bronze Star medals, 10 deployments and two Purple Hearts.
He became a national evangelist for helping soldiers who were dealing with brain injuries and mental health problems.
Bolduc came to grips with the fact he had suffered from post traumatic stress disorder.
Bolduc has been a member of the Juvenile Parole Board, adjunct professor at Southern New Hampshire University and an adviser to several organizations that supported wounded veterans, deployed troops and children at risk.
Bolduc resides in Stratham and he and his wife, Sharon, have three sons and three grandchildren.
Hassan trip agenda
Sen. Maggie Hassan, D-NH, spent several days this week traveling with Sen. Chris Coons, D-Del., to Japan, South Korea and China, where they met to discuss the U.S.-South Korea alliance and efforts to denuclearize the peninsula.
The senators met with young people who had defected from North Korea and learned English with the help of U.S. government exchange programs.
In a statement Hassan, a member of the Senate Homeland Security and Finance Committees, stressed the goal has to continue to be to get North Korea to abandon its nuclear ambitions.
"President Trump did the right thing walking away from a deal at Hanoi without getting serious, concrete offers and specifics that would help guide us to the next stage of a denuclearization agreement and so it was very important that the President recognized no deal was better than a bad deal," Hassan said.
"We all understand that when you enter complex negotiations between parties that have long been not only at a distance, but have created mistrust for each other, that you need to do things to build confidence. But to suggest that relieving sanctions before there is denuclearization, I think it's not something that people in the United States would support."
Shaheen sets 2020 agenda; prez candidates in state
On Monday while five major Democratic candidates were in the state for town hall forums, Sen. Shaheen wrote to all the 2020 hopefuls to enlist them to get behind overturning a GOP-led state law that requires new voters be notified of obligations to register a car or get a driver's license once they vote here.
"Here where the first-in-the-nation Presidential Primary makes voting a special responsibility, a new voter suppression law means tens of thousands of young people could lose their right to vote. They are being disenfranchised by photo ID requirements, arbitrary challenges to residency, and unfounded allegations of fraud," Shaheen wrote in her letter.
"I am asking every candidate for President to stand up for these students, condemning these tactics and protecting the integrity of New Hampshire's voting process by signing a petition publicly denouncing this voter suppression law."
It had the desired effect.
Only two days later, 16 candidates had endorsed the letter, including Sens. Kamala Harris, Bernie Sanders, Amy Klobuchar, Kirsten Gillibrand, Cory Booker and Elizabeth Warren along with Reps. Tim Ryan, Seth Moulton, Eric Swalwell, Mayor Pete Buttigieg, California author Marianne Williamson and former Reps. John Delaney, Beto O'Rourke, ex-Gov. John Hickenlooper and former HUD Secretary Julian Castro.
"We live in a moment where cowardly Republican governors are trying to suppress the vote," Sanders declared during his CNN town hall forum on the campus of Saint Anselm College.
In signing the legislation last year, Gov. Chris Sununu said that it amounted to common sense reforms to ensure all who voted here understood the consequences of becoming voters in New Hampshire.
GOP jumps on Senate-passed paid leave
The Republican State Committee releases a new digital ad with an old topic, "Dan Feltes' Income Tax."
State GOP officials say "significant resources" were put behind the ad, which is critical of the mandatory paid family and medical leave bill Senate Majority Leader Dan Feltes of Concord has promoted.
"Dan Feltes' income tax holds Granite State families' hard-earned wages hostage — and he can't even guarantee the income tax won't skyrocket," the ad states.
Later the ad closes with, "Call Dan Feltes today and tell him no income tax for New Hampshire, not now — not ever," the ad closes.
Feltes said his proposal gives workers and businesses several different options to finance the paid leave program and it's not an income tax.
The Senate Democratic leader has said Governor Sununu's concept of a voluntary leave program with Vermont is unpopular, unworkable and a non-starter.
Harris pushes gun control
Kamala Harris used her second trip to New Hampshire to press for gun control.
During Monday's CNN forum at St. Anselm College, Harris vowed if elected President, she would sign executive orders if Congress fails to act on gun control within 100 days.
She said she would issue a background check requirement for "anyone who sells more than five guns a year."
"We have got to have reasonable gun safety laws in this country, including universal background checks and a renewal of the assault weapons ban," Harris said during a town hall at Keene State College Tuesday.
"I will tell you guys, I am a former prosecutor, I have sat with more mothers and family members of gun violence victims than I care to tell you. This is a serious matter in our country. We need leaders to lead, and they have failed to have the courage."
Meanwhile the Los Angeles Times and Daily Beast were among media outlets that over the past week returned to speculation Harris isn't focusing on New Hampshire as much as other major hopefuls.
"It is very important for me to be here," Harris told reporters in Keene. "I intend on coming back frequently and making it a significant time when I'm here."
Border congressman coming to NH
Executive Councilor Russell and Susan Prescott are hosting at their Kingston home a fundraiser Friday, May 3. U.S. Rep. Will Hurd, R-Tex., will appear as its guest speaker.
This will be Hurd's first visit to the state.
Hurd, 41, is a former CIA officer and the only African-American Republican in the U.S. House.
He's also the only remaining GOP incumbent from a district along the U.S.-Mexican border.
Hurd has frequently appeared on the network TV talk shows on immigration, technology and other issues.
Tickets for the event are $10 apiece and benefit the Rockingham County Republican Committee.