As we hit and pass the halfway mark of 2019, it's time for Joe Biden's campaign to ramp up its senior staff.
The top leadership of the Biden team in New Hampshire has just doubled with four more joining the campaign.
Eisha Misra was named digital director after having been in that role for the New Hampshire Democratic Party. Prior to that she worked on digital content for Hillary Clinton's presidential campaign in Pennsylvania. She graduated from Penn State University.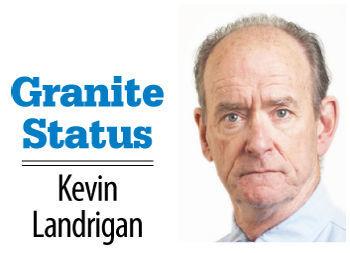 Kaytlynn Jacobs-Brett was named political director and in 2018 she had ran Joe Pace's impressive campaign for the District 3 Executive Council race.  She also was political director for Maura Sullivan's 2018 primary bid for the 1st District seat here and managed the reelection campaign of Portsmouth Democratic Sen. Martha Fuller Clark in 2016. She's a University of New Hampshire graduate.
Evan Medina was named data director and in the past was data and analytics director at the ONE campaign fighting poverty in Africa as well as serving in that role for the Virginia Democratic Party in 2016.  He graduated from the University of Pennsylvania.
Laura DeLucia was made operations director of the campaign and she worked on Barack Obama's campaign in 2008 and then in the White House office of presidential personnel. She was a graduate of George Washington University.
This quartet joins the four who were already on the ground for Biden led by State Director Ian Moskowitz, Deputy Director Laura O'Neill, Organizing Director Peter Dougherty and Communications Director Meira Bernstein.
All may not be lost for AG's court bid
Many political observers assumed the opposition of Executive Councilor Mike Cryans, D-Dover, to Attorney General Gordon MacDonald's bid to become chief justice of the New Hampshire Supreme Court would likely croak his candidacy.
After all, Cryans is the least senior of the three Democrats on the five-person council. Cryans is serving in his first term.
Councilor Debora Pignatelli, D-Nashua, returned to the council last November and previously had served a decade there.
Councilor Andru Volinsky, D-Concord, is in the middle of his second term.
The assumption was if Cryans was getting out in front with his opposition that likely meant Volinsky and Pignatelli would follow suit.
The other two Democratic councilors peppered MacDonald with questions about his personal views on abortion rights and his lack of judicial experience.
But a member of the Republican political establishment and someone who may have some inside intel said it's too premature to declare the MacDonald nomination a failure just yet.
"Gordon MacDonald is an excellent appointment who would serve with honor, intellect and decency," tweeted Tom Rath, former attorney general and head of the prominent Concord law and lobbying firm.
"I believe that he will be confirmed and NH will be better for his service and that those who vote to confirm will be proud of their vote."
Rath's lead partner is Michael Pignatelli, Councilor Pignatelli's husband.
To get that third vote for MacDonald on the court may require Sununu to name senior justice Gary Hicks as the chief on the Supreme Court.
Hicks, 67, then would serve only three years in that role until he reached the mandatory retirement age of 70.
Under this plan, if Sununu were to win reelection in 2020, he would be around to promote MacDonald to become a chief justice when Hicks wrapped up his service.
For those who are seeking on the high court someone with judicial experience, the dilemma for Sununu has been that many of those serving in the  lower court system were put there by former Democratic governors Jeanne Shaheen, Maggie Hassan and John Lynch.
One of the exceptions would be Rob Stephen, who has been presiding justice of the circuit court in Salem, the hometown of Sununu's family.
Buttigieg campaign pounding pavement for Craig
The 2020 presidential campaign of Pete Buttigieg is using the opening of its first campaign office to mobilize support for Manchester Mayor Joyce Craig's reelection campaign.
The state campaign is asking all of its supporters on July 28 to turn out and then spend the day working for Craig in her campaign office or by going door to door on her behalf.
Buttigieg's campaign office at 266 Mammoth Road is right next door to the headquarters of Craig's reelection campaign.
"This campaign is about more than just a news cycle or election, it's about building a better future for the people of New Hampshire," said Pete for America NH State Director Michael Ceraso. "That's why Team Pete is proud to support Mayor Joyce Craig and mobilize our volunteers and organizers behind her re-election. Whether it's securing additional funding for our schools or effectively combating the substance use disorder crisis, Mayor Craig has delivered for the people of Manchester and built a stronger, more innovative city. Mayor Craig has addressed the challenges facing Manchester head-on and is exactly the type of leader we need more of in politics."
Bolduc makes major TV news debut
U.S. Senate Republican candidate and retired Brig. Gen. Donald Bolduc got his taste of major media coverage with an interview on Fox News Tuesday morning.
Bolduc was introduced as a "genuine American hero," given his Afghanistan war exploits that resulted in multiple medals and commendations.
As a "native and favorite son," Bolduc said he's confident that if he wins the Republican primary he could prevail over Sen. Shaheen, who has won statewide office five times, losing only once narrowly to Republican John E. Sununu in 2002.
"We have political machines. In Jeanne Shaheen, she has one of the biggest political machines in the country," Bolduc said. "They are self-serving and they are not getting the job done."
Bolduc said by any definition his economic and national security views would be in the conservative mainstream but that he remained "very concerned" about other issues including affordable health care, education and the opioid crisis.
"Our leaders in Washington are failing us. They have failed to offer solutions and are not supporting our President on the crisis affecting this country," Bolduc said referring to immigration. "It is time for a change."
Volinsky puts out his extensive network
With the regular business of the 2019 legislative session drawing to a close, save for a lengthy upcoming fight over the state budget, Volinsky decided this was a good for him to reveal the breadth of support for his exploratory run for governor.
We knew from the campaign finance report of his political action committee that Volinsky had parlayed his work on the council to activism on the education funding issue to attract many financial backers.
"The challenges facing New Hampshire are immense, whether it's our school funding crisis or the growing gap between rich and poor, or the existential threat of climate change," Volinsky said in a statement. "Chris Sununu is not the right person to guide our state through these challenges. I appreciate the broad range of support from the members of the exploratory committee."
Berlin School Board Chair Nicole Plourde said Volinsky if elected would galvanize support for dramatically increasing state aid to public schools.
"I know Andru well, and I've come to see how deeply he personally cares about the need for every single child to receive a world-class education," Plourde said.
"Andru understands New Hampshire's school funding crisis better than any individual in or out of elected office, and as an advocate for stronger educational opportunities, that counts for a lot with me. Should he choose to run, his election will go along way towards helping school children and school taxpayers around the state."
Mohmmad Saleh, a Cheshire County activist for immigration reform, said Volinsky would find common ground even if Republicans were in control in Concord.
"Andru not only can talk to everyone, he knows how to listen," Saleh said. "Amidst a moment of unprecedented political division and vitriol, these essential skills will serve him well, and allow him to help make government work for all of us again, not just for the powerful."
Dog breeders irate at 11th-hour budget move
The Dog Owners of the Granite State that represent breeders are some kind of upset that a major change to animal cruelty laws was tacked onto the so-called trailer bill of the proposed state budget that Sununu vetoed last Friday.
As my now-retired colleague David Solmon first reported, Senate Majority Leader Jeb Bradley, R-Wolfeboro, managed to convince the House and Senate budget negotiators to create a $200,000 Cost of Care Fund.
The change also makes a much larger group of breeders to state licensing and inspection by defining pet breeders as any that transfer 25 or more animals in a year.
The current definition is 50 animals or 10 litters in a year.
D.O.G.S. President Angela Ferrari said she was stunned to find the Humane Society of the United States was calling the shots in these negotiations.
"When I met with the primary sponsor of the original bill, Senator Jeb Bradley, to raise concerns for NH citizens directly affected by it, I was told that he would have to run my concerns by the NH State Director at The Humane Society of the United States," Ferrari said in a statement.  "It is unbelievable that a Washington Lobbyist has any control over the language that ended up in House Bill 2, which bypassed the House Environment and Agriculture Committee and additional public hearings."
Sununu's veto obviously means this topic is by no means settled and likely will be debated again when lawmakers return to state budget negotiations later this summer.
NH Rebellion walkers step off Sunday
Those fighting the influence that big money has on our democracy will kick off another walk on the Seacoast this Sunday.
The NH Rebellion walkers will start at 2 p.m. in Kittery, Maine, and head to Market Square in Portsmouth.
This effort has included walks totaling more than 40,000 miles that were started by the late Granny D. Haddock of Dublin who, at age 90, had marched across the country for campaign finance reform. 
"With the 2020 elections ahead of us, the time is now to reform the way elections are funded," said Olivia Zink, executive director of Open Democracy in Concord. "The current system of private financing of our elections, means of elected officials are only talking to the donors. We want voter owned elections so that politicians are accountable to the people."
Speakers at this event will include Adam Eichen, author of the book "Daring Democracy" and local college activist Ella McGrail.
Stage is set for 1st special election of 2019
State Democratic leaders are feeling much better about their chances of winning an open seat in the NH House of Representatives that Epping voters will pick this fall.
Former congressional staffer and 2018 congressional candidate Naomi Andrews filed for the Rockingham County House seat that Republican Sean Morrison has vacated with his resignation.
Andrews was chief of staff to former U.S. Rep. Carol Shea-Porter, D-NH, and also had managed two of Shea-Porter's winning campaigns.
On Oct. 8, she will face the winner of the Republican primary on Aug. 20 with Selectman Cody Belanger facing off against former State Rep. Michael Vose.
In a statement, Belanger was dismissive of Andrews' credentials.
"This past week Democrats put forward former failed congressional candidate Naomi Andrews. A top Democrat operative and former chief of staff for failed Congresswomen Carol Shea-Porter who doesn't have NH's interests and particularly Epping's interests at the forefront of her mind. Where has she been?" Belanger asked.
Veteran liquor agency worker takes number two post
Nichole Brassard Jordan was recently confirmed by the council as deputy commissioner, capping a career of more than 30 years working for the New Hampshire Liquor Commission.
Jordan joined the agency as a retail store clerk in 1988 and then became manager of major outlet stores in Bedford and Hooksett.
She's credited with helping that agency's wine sales explode during her role as the wine marketing specialist from 2002 to 2013.
For the past three-plus years, she's been the director of marketing, sales, merchandising and distribution for the agency.
"Nicole has worked tirelessly during her more than three decades with NHLC and possesses an unmatched knowledge of our brand and the industry," Commission Chairman Joseph Mollica. "I am confident that in her new role she will continue to drive sales success for the benefit of the state of New Hampshire."
The StateWays Magazine that follows the state-run alcohol sales industry named New Hampshire the best liquor and wine control state in the country.
"As I shift from my current role into that of deputy commissioner, I will draw upon my previous experiences and continue to focus on serving our 11 million annual customers and increasing NHLC's robust sales," Jordan said. "NHLC plays a significant part in supporting critical state services in New Hampshire, and I am proud to be a part of this team that makes that possible."
UNH grant helps deal with opioid crisis
The state's all-Democratic congressional delegation said a $700,000 grant for the University of New Hampshire's nurse practitioner program should help address the behavioral health and opioid crises.
The grant fills a critical need in the health care field, officials said.
"Current and anticipated shortages in primary care across NH are paralyzing the state's healthcare system," says Marcy Doyle, Clinical and Quality Improvement director at UNH's Institute for Health Policy and Practice and adjunct professor in the Department of Nursing. "Our UNH team is so grateful for the Health Resources and Services Administration's Advanced Nursing Education Workforce funding for The UNH Partnership for Academic Clinical Telepractice. These funds will support nurse practitioner training and emphasize the use of technology for patient care and learning."
The grant provides money for 23 nurse practitioner students each year and targeted for high need areas of the state.  Currently more than 65 percent of these students commit to working in rural and undeserved areas.