Editor's Note: This is a second edition this week of Kevin Landrigan's Granite Status column that also runs weekly every Thursday.
Sometimes the calendar is not your friend.
Administrative Services Commissioner Charles Arlinghaus learned that as he was doing due diligence, searching for any state agency spending glitches that could occur while the state operates without a signed, two-year state budget.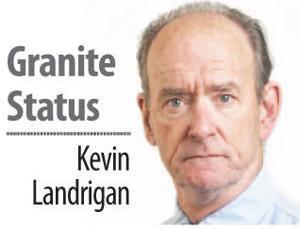 Here's a big oops with Quarter 1 in 2019 compared to Quarter 1 in 2018.
The 90-day continuing resolution New Hampshire operates on now is based on the six pay periods all state workers received during the first three months of the budget a year ago.
The problem is this year's first quarter has seven pay periods for employees who receive a check every two weeks.
"This is no small fix. We're talking about roughly $10 million in additional state spending, $5 million alone in the Department of Health and Human Services," Arlinghaus said.
The Department of Corrections needs the second-largest amount in part because so many of their correction officers work lengthy overtime shifts.
Arlinghaus worked with longtime Assistant Commissioner Joseph B. Bouchard to delve into all the other pay quirks that had to be addressed.
They came up with eight different cases, like if someone's job gets reclassified and that person is given a boost in pay due to new duties since last year.
In this tight labor market, Arlinghaus said a job a year ago that might get filled starting at step one on the salary scale now requires giving that new worker pay at a step two or step three rate.
"In a 12-month budget all these things manage to work themselves out and we have both a salary and benefit adjustment accounts just for this purpose," Arlinghaus said.
"Those don't exist in this continuing resolution environment so we've got to scope out the details now."
Last week the Legislative Fiscal Committee on a single voice vote endorsed 42 different agency requests to make these payroll fixes.
GOP leaders are playing a big role, too
Democratic legislative leaders and Gov. Chris Sununu are getting the most focus as these principals try to work out a compromise budget to replace the one Sununu vetoed in June.
This doesn't mean Senate Republican Leader Chuck Morse of Salem and House Republican Leader Dick Hinch of Merrimack lack any cards to play as well.
As we first reported last week, one fallout from the slumping state revenue estimates is that Sununu may need House and Senate GOP votes to pass a compromise state budget.
There could be some liberal Democrats, especially in the House of Representatives, that may initially balk at the first redone budget that comes back with much less spending than the one they sent to Sununu.
We hate to get into the parliamentary weeds here but there's another big reason they need the GOP on board.
Any state budget deal coming into the Legislature this fall or even later will require a two-thirds majority vote just to be taken up.
That's because the usual operating budget debate rules will need to be suspended.
During interviews last week both Morse and Hinch said Sununu has kept them in the loop with their own private briefings.
Morse was a former Senate budget writer before he became Senate president, losing the latter post in last November's elections.
"I have an idea for a proposal that would get us there. It wouldn't be pretty but it's doable," Morse said.
The owner of a landscaping business, Morse said it should not include going back on business tax cuts that took effect last January.
"That's a promise we made to the business community. You saw the revenues and the growth in the labor force both worked out pretty well when we did it," Morse said.
The route to any compromise requires Democrats in charge to give up some of their spending demands, Hinch said.
"I don't know when, if ever, they will get real on spending. If they don't, who knows how long this could go on," he added.
PUC pick dripping with irony
Gov. Sununu's nomination of Associate Attorney General Dianne Martin of Deerfield to be chairman of the state Public Utilities Commission is expected to sail through as she's well-regarded and well-qualified.
Her public hearing before the council is set for Sept. 16.
And the pick is dripping with political irony.
Martin would replace outgoing chairman and past Democratic lawyer Martin Honigberg of Concord for a seat on the NH Superior Court.
The Democratic majority on the Executive Council had been pressing Sununu to bring Honigberg up for a vote even after the council rejected Sununu's pick for chief justice of the NH Supreme Court, Attorney General Gordon J. MacDonald.
Sununu relented and brought Honigberg forward for a vote earlier this month at the council's meeting in Dover.
Who's Honigberg's replacement on the PUC?
Well, Martin is also AG MacDonald's chief of staff.
Governor practices good marketing
When it comes to this ongoing budget battle, it is all about branding and marketing.
So as Sununu dealt with the pent-up demand of local educators for the permanent $138 million in aid to public schools in the budget he vetoed, the two-term Newfields resident knew last week he was losing the propaganda war.
Enter the new, seven-page letter he sent to educators Thursday with his "latest offer" to increase aid to education by $131 millon over the next two years.
That's some big cash over current school aid for cities like Manchester ($16.3 million) and Nashua ($8.5 million), and even bigger amounts per capita for the property-poorest like Berlin ($4 million), Claremont ($3.6 million), Franklin ($1.9 million) and Pittsfield ($1.1 million).
A closer look revealed nearly half of that increased aid from Sununu was one-time money ($60 million for school infrastructure).



Craig to chair Dem convention
Manchester Mayor Joyce Craig was named to chair the NH Democratic Party Convention Sept. 7 at the SNHU Arena in the city.
The Democrats are showcasing municipal leaders on the front lines naming as co-chairs Mayors James Donchess of Nashua, Jim Bouley of Concord, Dana Hilliard of Somersworth and Caroline McCarley of Rochester.
They also have named as officers some other fresh faces on the ballot in municipal and special election ballots this fall including Manchester alderman candidate Hassan Essa and Naomi Andrews of Epping, the former congressional staffer seeking an open House seat that Epping voters will fill Oct. 8.
"These mayors, municipal leaders, and activists are working every day to expand opportunities for all Granite Staters and to create an economy that works for everyone – not just those at the very top," said Ray Buckley, Democratic Party chair.
Buckley isn't talking much about it but he'd love to build a bigger crowd for his event where all the presidential candidates have been invited to speak than the overflow that President Trump drew earlier this month.