Former New Hampshire Republican State Chairman Jennifer Horn of Nashua resigned her seat on the national board after the Log Cabin Republicans endorsed Donald Trump for President in 2020.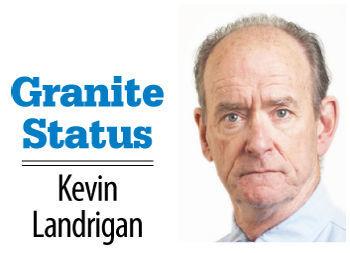 Horn, a Union Leader columnist, joined Robert Turner, the former president of the Log Cabin Republicans, and Jordan Evans, the first openly transgender Republican elected official, in condemning the decision to back Trump and leave the organization, which advocates for equal rights for lesbian and gay Americans.
"I know there are those in the party who would prefer I would go quietly away but a long time ago I made the personal choice that if I had to defend Republican principles or a Republican candidate, I would choose principles every day," Horn said during a telephone interview.
In a Thursday commentary in The Washington Post, Log Cabin Republicans Chairman Robert Kabel and Vice-Chair Jill Homan announced their endorsement, praising Trump for his "commitments to the United States, including taking bold actions that benefit the LGBTQ community."
Kabel and Homan pointed out Trump's stated desire "to end the spread of HIV/AIDS in 10 years," and his international efforts to "end the criminalization of homosexuality." They also cited multiple economic initiatives like his tax cuts, which they said have benefited LGBTQ families and businesses.
But Horn said Trump has been an intolerable President for many Americans who aren't like him.
"It's not just the LGBTQ community this President targets. When we look at immigrants, people — anyone that he thinks he can somehow use to anger his base — he doesn't care if he has to divide on racial lines, on ethnic lines, on educational lines," Horn said.
"He will divide and damage and destroy this country in any manner he thinks he needs to advance his own political power."
Since her announcement Monday, Horn said the reaction has been generally positive.
"There are always the ugly attacks but I won't be bullied into silence just because other people disagree with me and get ugly about it," Horn said.
The decision had nothing to do with Horn's past association with 2020 Republican primary rival Bill Weld's campaign, Horn said. She managed Weld's fledgling effort for a few months until leaving in mid-June.
"We just had a different idea of how the campaign should move forward," Horn said of her amiable breakup with Weld.
"I am hoping the President faces some short of serious opposition, a serious challenge. For the good of the country frankly, as well as the good of the party, he must face a tough primary."
Other GOP candidates could emerge
President Trump doesn't consider any of them serious enough yet to earn a mocking nickname, but several other Republicans continue to keep their options open about 2020.
Former Ohio governor and 2016 New Hampshire GOP primary runner-up John Kasich's organization confirmed he will return to New Hampshire either next month or in early October.  Supporters are evaluating a series of potential appearances for Kasich in the first-primary state, but there are no final decisions.
Former South Carolina Congressman Mark Sanford said he'll decide around Labor Day if he's going to mount a primary challenge to Trump.
While testing the waters here last week, Sanford said a challenge would be a "long-shot" bid, but he was encouraged by the response here.
Then there's former Arizona Sen. Jeff Flake, who told news outlets that potential GOP donors he declined to name have come at him again with renewed urgency about his running in 2020.
And former Illinois Congressman Joe Walsh, now a conservative radio talk show host, said as a Tea Party leader he apologized for putting who he called an "unfit conman" in the White House. Walsh said he's in and it will be a "bar fight."
Ex-deputy to Lewandowski condemns Senate run
Ted Maravelias said more than a decade ago he promoted Corey Lewandowski to become the state director of Americans for Prosperity while he took the post of deputy director.
Boy has that relationship soured.
As the state chair of the America First Party of New Hampshire, Maravelias said he won't keep silent about the prospect of Lewandowski running for the U.S. Senate in 2020.
Maravelias said he was upset and moved to comment after President Trump praised Lewandowski and stepped right to the edge of endorsing him last week.
"I am afraid. He is just ruthless. He all but has President Trump's endorsement. He has not announced officially. I hope he doesn't run," Maravelias said.
"When Senator Gregg called Corey a thug, he got it about right."
Maravelias said Lewandowski will not help the Trump ticket by being on it against U.S. Sen. Jeanne Shaheen, D-NH.
Instead he's backing the rival GOP candidacy of former House Speaker Bill O'Brien of Nashua.
"Corey will drag the New Hampshire Republican Party and President Donald Trump to certain defeat next year if voters make the momentous miscalculation of voting for him in the Republican primary. Conservative Republicans deserve a better candidate" Maravelias said in a statement.
"Conservative Republicans in New Hampshire have a better candidate. His name is former Speaker of the New Hampshire House of Representatives, Bill O'Brien. He is a man of impeccable character and a universally respected gentleman with a meticulous, well-documented, proven conservative voting record. He is the real deal."
Maravelias admits it's hard for him to be objective about Lewandowski.
"He's all about using and abusing, discarding people. He back-stabbed me," Maravelias said. "I will not accept him as our nominee; I will not vote for him."
Lewandowski said this is nothing more than a disgruntled underling who deserved to be sacked and still can't get over it.
"He was fired long ago. He had nothing to do with me building one of the largest grassroots networks in the state and wishes he still worked for me," Lewandowski said in response.
Maravelias said Lewandowski "didn't renew my contract" but agreed the pair had a falling out and that Lewandowski had deliberately frozen him out of AFP activities before he was gone from the organization.
Shaheen trying to turn Lewandowski challenge into $$$
Nearly since the moment Lewandowski dipped his toe into the 2020 U.S. Senate, the state's senior senator has been trying to turn that challenge into ready campaign cash.
There were daily fundraising emails by Team Shaheen using Act Blue and other easy-to-donate platforms to try to take advantage of Lewandowski's exploration, especially while Trump was here in the state.
"SENATE UPDATE: Trump is recruiting Corey Lewandowski for New Hampshire's Senate seat – and CBS News says this seat "could decide who controls the Senate"!" Shaheen herself tweeted while Trump was in Manchester.
"Donate now to stop Lewandowski and defend New Hampshire's Senate seat. Every dollar will be MATCHED!"
Senate Conservative Fund kicks in for Bolduc
There's one prominent conservative organization that is doubling down for the Senate candidacy of retired Brig. Gen. Donald Bolduc of Stratham despite Lewandowski's new interest in running.
The Senate Conservatives Fund reported to the Federal Elections Commission that in the past week it has spent another $16,000 for Bolduc, bringing its total independent support for Bolduc to $26,239.
The latest spending included $10,300 for email marketing, $3,453. for digital advertising and $698 for "processing."
New Bolduc video shares personal saga
Bolduc debuted a new video that talks about his "Why," which is a hand-held memorial he carries around representing three U.S. soldiers in Special Vet Forces that didn't come back alive from an Afghanistan operation depicted in the movie, "12 Strong."
"You have to figure something bigger than you, more important than you and drill down on it," Bolduc said.
For him it was admitting that he was psychologically as well as physically wounded by the struggle.
"You have to have the courage to say I had post-traumatic stress; I had a traumatic brain injury," Bolduc said.
Later he added, "Until I had all this taken care of, I was miserable."
The motivational address ends with Bolduc urging citizens to find their "Why."
"Something has to be more important than your next promotion or your next star, whatever it is and for me it's people," Bolduc said.
"We are in a crisis in this country at all levels and we have to start by getting it right but it's about doing the right thing and telling the truth."
Warren offers NH impacts for her criminal justice plan
So many 2020 Democratic presidential candidates put out detailed policy plans without offering any specifics on what they mean for the early-state voters they are trying to win over.
Massachusetts Sen. Elizabeth Warren didn't make that mistake this week with her criminal justice policy and here are some examples:
• As of 2018, there were approximately 5,300 people incarcerated in New Hampshire, including 2,100 in local jails and 2,700 in state prisons. An additional 6,200 are out on probation or parole.
• Blacks represent 1% of New Hampshire's population but 7% of the prison population. Latins represent 3% of New Hampshire's population, but 7% of the prison population. Sen. Warren's plan would address discrimination and structural race problems in policing, in court, during sentencing and incarceration, and upon reentry.
• A total of 45% of the people released from NH prisons in 2014 returned within three years of release; supervision violations resulted in 50% of admissions to New Hampshire's prisons in 2017. Warren's plan increases spending on rehabilitative programs and encourages states to use more probation/parole requirements, with fewer housed behind prison walls.
Former Democratic Party legal counsel and noted criminal defense lawyer Paul Twomey was impressed.
"This is an astonishingly awesome set of comprehensive and fully integrated proposals," Twomey said.
"I've never seen anything even close to it in terms of getting at all of the dysfunctional nature in the criminal justice system. I especially like how it ties into other aspects of her anti-poverty platform."
Biden gets civil rights leader ahead of NH visit
Former Vice President Joe Biden's campaign got a prominent civil rights leader in the state while his wife, Jill, was campaigning in Nashua last Monday.
Former State Rep. Harvey Keye also had served as chairman of the New Hampshire Commission for Human Rights and still serves as a board member.
Keye also was once chairman of the Nashua City Democratic Committee.
"Joe Biden has worked on both sides of the aisle for decades, and he can beat Trump at the polls," Keye said.
Impressive GOP primary win.
Former state lawmaker Michael Vose of Epping made easy work of Epping Selectman Cody Belanger in Tuesday's special election GOP primary.
Belanger, 25, had the backing of the NH Young Republicans, but Vose got just under 80 percent of the vote in the 312-79 victory.
"We worked hard. My team and I have worked hard this entire election," Belanger said. "The people of Epping spoke today and I respect that. But it doesn't stop here. There will be more opportunities to serve my community and represent Epping in the future."
"In this election, I support Michael's movement forward. My team and I wish him well in the general election and will do what we can to help him. I will continue serving Epping as their selectmen and will do so diligently."
In the Oct. 8 special election, Vose now faces Naomi Andrews, the chief of staff to former U.S. Rep. Carol Shea-Porter, D-NH. Andrews ran for the Democratic nomination to replace Shea-Porter in the 1st Congressional District last fall.
The liberal, pro-abortion rights EMILY'S List endorsed Andrews on Wednesday.
Stephanie Schriock, president of EMILY's List, released the following statement:
"Naomi Andrews is an engaged public servant who has consistently demonstrated her enthusiasm for serving the people of New Hampshire," President Stephanie Schriock said in a statement.
"With her vast government and policy experience, as well as her love for Epping, Naomi will continue to champion issues that affect the community that invested so much in her. EMILY's List is proud to support her candidacy to represent the people of New Hampshire's Rockingham District 9."
Coal dumping in front of State House
Activists for climate change dumped buckets of coal on the State House steps Tuesday to protest coal burning in the state.
The Climate Disobedience Center said in a statement it is determined to close the Merrimack power plant in Bow, calling it the largest one in New England without a shutdown date.
The activists said they walked onto the plant property over the weekend without permission and "removed" about 500 pounds or 16 buckets of coal.