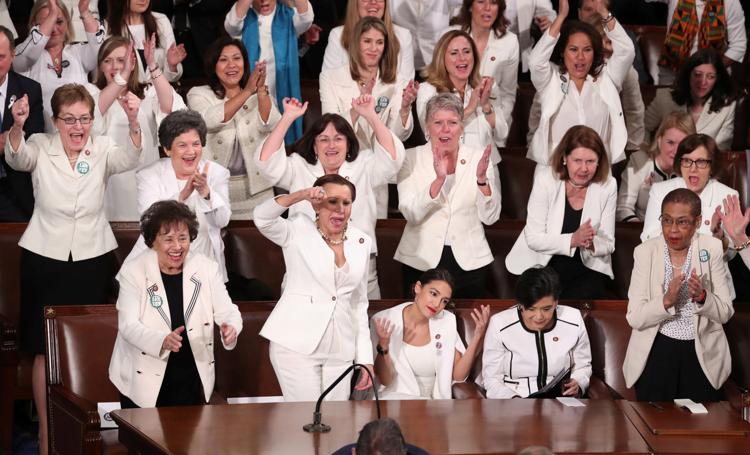 In a sea of white, U.S. Rep. Annie Kuster, D-NH, stood out at President Trump's State of the Union speech Tuesday night.
And it wasn't just because Kuster was strategically sitting in the middle of a delegation of House Democratic women all dressed in white to honor the women's suffragette movement — and right behind rock star AOC (Alexandria Ocasio-Cortez).
On a night when newly resurrected House Speaker Nancy Pelosi was keeping the charges on their best behavior, Kuster knew when the time was right to bust out.
Trump said that women had filled 58 percent of all jobs created during the past year.
On cue with Pelosi leading them, Kuster and company leaped to their feet.
Trump told the group of women lawmakers to keep standing: "Don't sit yet. You're going to like this," he said.
"We also have more women serving in Congress than in any time before."
While the delegation hooted their delight, Kuster led them in a "raise the roof" gesture that went viral on the web and was replayed over and over on 24-7 cable news.
The following morning, Kuster sent out her own video of the impromptu celebration.
"When you get to celebrate the record number of women in Congress; when you get to celebrate that your party represents the diversity and strength of the American people!" Kuster tweeted.
Kuster spokesman Nick Brown said Kuster and AOC have been seen publicly together quite a bit, but don't read too much into that.
"Kuster and AOC are friendly but there isn't any greater friendship there than Kuster has with other colleagues in the caucus," Brown said.
"She's been trying to serve as a resource and a mentor" to a number of the new members.
Then on Wednesday, Kuster did a shout-out from the well as she got to preside over the House for the morning and lead the House in the pledge of allegiance.
New Democrat not shy
Two years ago it was state Rep. Sherry Frost, D-Dover, who wasn't shy about calling out conservative colleagues, sometimes with colorful language.
In 2019 it's state Rep. Rosemarie Rung, D-Merrimack, who managed with three others to break through and win in a very GOP rock-ribbed town.
She started with tweeting to fellow first-term Rep. Gates Lucas, R-Sunapee, and the son of former representative and GOP nominee for governor Jay Lucas.
"Gates, so glad you found your way to Concord! Unfortunately, you have yet to fulfill your committee responsibilities. You've missed 12 public hearings and Executive Sessions on 4 bills. We need you! Please help us! #NHPolitics," Rung tweeted recently.
Then she opted to take on her senior colleague, five-term Rep. Jeanine Notter, R-Merrimack, who spoke out against the House reimposing the ban on carrying concealed guns in the House chamber and gallery.
"What message does this send to our children? That if you don't agree with a rule, it's okay to disobey it? This rule, which was in effect from 1971-2011 (by Republicans) and again in 2013-2014, was passed with a clear majority of state representatives and in compliance with House rule-making procedure. Does Rep. Notter think it's okay to carry her gun in court, on planes, and in the myriad of other places where they are banned just because she may want to?" Rung asked rhetorically in a recent letter to the Union Leader
"Merrimack residents deserve a lot better from her."
Notter did not respond to the shot, but the conservative GraniteGrok sure did, with a stinging commentary last week.
"Rung is selling Notter's decision as setting a bad example when it is Rosemarie who is standing out as the threat," GraniteGrok wrote. "If a simple majority of House Democrats feel compelled to infringe on this right at the first opportunity what must they have in store for all of our others? Inalienable rights our constitutions exist to protect from capricious infringements by part-time populist mobs.
"Is that the voice the town of Merrimack expected when they sent Rung and three other Democrats to Concord?"
Don't look for this war of words to be called off anytime soon.
You didn't think the New Hampshire Democratic Party would celebrate the state's governor getting invited to a global announcement in the United Arab Emirates regarding Dean Kamen's celebrated FIRST Global program, did you?
Aides to Gov. Chris Sununu stressed the World Government Summit invited Sununu and was footing all the expenses of the five-day visit.
"It is an honor to represent New Hampshire at this FIRST Global announcement," Sununu said.
"I have the tremendous opportunity to sit on a global stage with world leaders in government and business to share best practices on how government can open up opportunity and find solutions to some of the world's most pressing economic inequality issues as well as discuss all that New Hampshire has to offer."
Democratic Party Chairman Raymond Buckley said Sununu should stay in the state and pay attention to the second two-year budget he has to present the Legislature later this month.
"No one should be surprised when the budget Sununu presents guts education, health care, and other essential services for thousands of Granite Staters because he would rather be in Dubai than doing his job at the State House," Buckley said.
"The very least Chris Sununu can do is tell us — New Hampshire's taxpayers — how much this trip is going to cost us, who is traveling with him, and who is covering his staff's expenses."
Sununu has stressed there will be no taxpayer money spent for any purpose on this trip.
On Twitter Tuesday night Buckley was even more cheeky with his response.
"HISTORY! While Sununu is off to Dubai for next five days, it means Senate President Donna Soucy is acting governor! For those days NH will have a Dem governor, entire Dem congressional delegation, Dem majorities on council, in House and Senate! I feel better already!" Buckley tweeted.
Getting closer to 2020 run
Former Colorado Gov. John Hickenlooper returns to the first primary state next week as he edges closer to joining this very big Democratic field.
He is making plans to visit a Londonderry business next Wednesday and also speak at a Manchester house party. The following day Hickenlooper will speak at New England College.
Big staff move in Shaheen's office
As the two-term senator prepares a third run, Sen. Jeanne Shaheen, D-NH, loses a longtime trusted member of her inner circle with Chief of Staff Maura Keefe leaving at the end of the month to join the private sector.
Keefe, the sister of two-time Democratic candidate for congress and ex-party chairman Joe Keefe, has been with Shaheen since she first won the Senate seat in 2008.
"Working for Senator Shaheen and for my home state for the last 10 years has been the great joy and privilege of my professional career," Maura Keefe said.
National Journal named Keefe in 2015 one of the "20 Most Powerful Women Staffers on Capitol Hill" by the National Journal.
She was also chair of the weekly meeting of Democratic chiefs of staff in the Senate.
"Maura's management of my office has been an incredible asset as we've worked together to improve the lives of Granite Staters," Shaheen said. "I'm going to greatly miss her daily doses of wisdom and wit. Her counsel has always been invaluable to me and I can't thank her enough for her dedicated service."
Replacing Keefe will be Chad Kreikemeier, a Shaheen and Obama Administration alum who has most recently been employed by the Senate Intelligence Committee. Kreikemeier served for five years as Shaheen's foreign policy and defense adviser, ending in 2013. He then served in senior roles at both the State Department and the Obama White House.
"I know from his previous stint on my staff that he has tremendous depth of knowledge and experience that will be instrumental in helping me serve New Hampshire," Shaheen added.
New GOP chairman asks where's NH Dem outrage over VA gov?Republican State Chairman
Stephen Stepanek
pointed out while 2020 presidential candidates could not wait to weigh in and condemn, none of the state's congressional delegation has opined on whether Va. Gov. and Democrat
Ralph Northam
should step down after confirming he once dressed up in black face as Michael Jackson to win a dance contest.
"We've given our New Hampshire Democrat federal Delegation every opportunity to comment on Virginia Democrat Ralph Northam. Do they agree with other Democrats from across the country who have called on him to resign? This is a national issue with all Democrat presidential candidates calling on him to step down, including New York Senator Kirsten Gillibrand while campaigning in FITN New Hampshire this past weekend," Stepanek said.
House Clerk continues transparency reformsLongtime House Clerk and ex-State Rep.
Paul Smith
continues to try to bring more transparency to the ebb and flow of legislation with another reform announced this week.
The House is now publishing roll call votes of committee actions on bills. They will be attached to the online docket of the legislation.
"We hope you'll like this new feature," said Smith, a former Auburn Republican prior to becoming the House's parliamentarian and keeper of all official actions of the body.
Ind. mayor, 2020 Democrat heads to NHTwo-term South Bend, Ind. Mayor
Pete Buttigieg
makes his first visit to New Hampshire as a 2020 presidential candidate on Saturday, Feb. 16.
The Raymond Democrats are sponsoring a meet-and-greet event with Buttigieg and the event is free and open to the public.
Buttigieg, 37, is in his eighth and final year as mayor.
He was most recently elected in 2015 with 80 percent of the vote.
Two years ago he lost a bid for chairman of the Democratic National Committee.
A Rhodes Scholar at Oxford and graduate of Harvard, Buttigieg lives with his husband Chasten and their two rescue dogs, Truman and Buddy.
Hassan gets award from anti-drug groupSen.
Maggie Hassan
, D-NH, won the Congressional Leadership Award from the Community Anti-Drug Coalitions of America for her work on combating the opioid crisis.
New Hampshire has 12 drug-free community coalitions financed through the CADCA's drug-free communities program.
Senate top Republican offers tax break to keep seniors in NHSenate Republican Leader
Chuck Morse
, R-Salem, has proposed to double the exemption under the state Interstate and Dividends Tax for all residents over 65 years old.
"With record low unemployment, anything we can do to encourage those people near retirement to stay in the New Hampshire workforce rather than retire to Florida is worth pursuing," Morse said. "We must do everything we can to encourage young families to move or stay in New Hampshire, but we also need to retain our talented older workforce in the state as well. If demographic trends continue, nearly one third of New Hampshire's citizens will be over 65 years old by 2030, a population that we cannot lose to other states with more favorable tax codes."
Two top 2020 Democrats may share NH stageThe schedules aren't out yet but both Sens.
Kamala Harris
Cory Booker
, D-N.J., may be in the Granite State at the same time.
Booker is making his first trip as a candidate to Iowa this weekend but said at his announcement he would be in New Hampshire on "President's Day weekend."
Meanwhile, the Harris campaign has also said she'll be visiting the state for the first time Feb. 17-18.
"We are still making final arrangements so there are no details as yet to release," said Craig Brown, Harris' state campaign director who managed Joyce Craig's winning campaign for Manchester mayor and Molly Kelly's bid for governor
Booker landed some pretty good talent to staff up his New Hampshire campaign.
Erin Turmelle is New Hampshire state director and most recently was director of the Democrats' coordinated campaign that won everything but the governor's race last November. She worked for Hillary Clinton's 2016 campaign.
Longtime Democratic operative Sean Downey will be a senior adviser to the state campaign and held senior roles in winning campaigns of Annie Kuster, former Gov. John Lynch and President Barack Obama. He's been a partner with Hilltop Public Solutions New England.
Emma Tyler is Booker's deputy state director and had been organizing director for the party's coordinated campaign and also was a Hillary Clinton campaign alumnus.
Sherrod Brown headlines Young Democrats eventAs he explores whether to run in 2020, Ohio Democratic Sen.
Sherrod Brown
comes to New Hampshire this Friday and Saturday. It starts with a family friendly roundtable at Winnacunnet High School in Hampton.
Brown has been promoting his Dignity of Work Tour that will also have stops in Berlin, Laconia and Concord on Saturday before he keynotes the New Hampshire Young Democrats' Granite Slate Awards Saturday night at the Currier Museum.
Among the award winners at the event will be Sen. Shaheen as the honorary young Democrat, Goffstown Selectwoman Kelly Boyer as the young elected of the year and Somersworth's Crystal Paradis as the progressive of the year.
Pulitzer writer/producer wraps up film tour
Hedrick Smith
, the Pulitzer Prize-winning former New York Times reporter and Emmy Award-winning documentary producer for PBS and PBS Frontline, has been in the state for four days to discuss his newest film, "The People vs. The Politicians."
The trip wraps up today with appearances in Concord at Gibson's Bookstore starting at 4 and then at the Unitarian Universalist Church at 6:30 p.m.